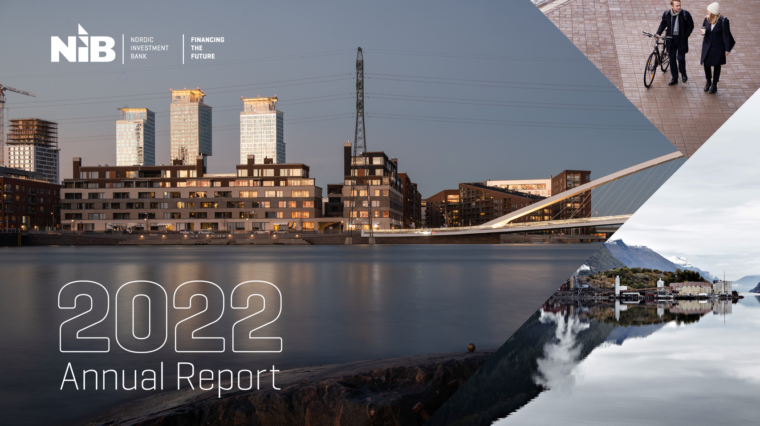 28 Feb 2023
NIB in 2022: Strong increase in demand for long-term lending
Demand for NIB's long-term lending increased significantly in 2022, driven by a lower supply of long-term credit in the commercial bank and bond markets, the accelerated green transition and NIB's wider sustainable finance offering. Total disbursements for the year amounted to EUR 3,705 million and lending signed amounted to EUR 4,114 million, up from EUR 2,440 million and EUR 1,852 million respectively in 2021.
"Our mandate to finance projects that improve productivity and benefit the environment is more important than ever. So is our stabilising role. As the energy crisis and heightened economic uncertainty, brought by Russia's war in Ukraine, make other financiers more reluctant to lend, we continue to support our clients," says André Küüsvek, NIB President and CEO.
Disbursements to energy generation (10% of total disbursed loans), transmission and distribution were the largest (16%, similarly) in terms of sectoral composition. Energy investments are mainly driven by decarbonisation strategies and climate targets, with security of supply becoming an additional driver in 2022.
NIB also started to implement the strategy approved by the Board of Directors at the end of 2021. This included more sustainability-linked lending and increased activity in previously less well-served market segments. NIB also joined the InvestEU Programme.
In 2022, projects achieving a "good" or "excellent" mandate rating on NIB's environment or productivity impact accounted for 99.2% of the total amount of rated loans, exceeding a target of 90%. NIB's Board of Directors approved to lift this target to 95% starting in 2023.
"Going forward, we stay well on course with our strategy, further increasing the ambition level for even more targeted financing in the future. The Nordic Investment Bank will continue to play an important role as the international financial institution for the Nordic-Baltic region, supporting it to stay in the forefront of technology and the green transition," says Küüsvek.
The net profit for the year amounted to EUR 139.3 million, compared to EUR 159.2 million in 2021.
"NIB's core interest income increased in 2022 but the year also saw higher unrealised fair value losses on bond holdings from increased credit spreads and net loan losses were less positive than in 2021. Our credit portfolio remains strong and so does our capital and liquidity position", says Kim Skov Jensen, NIB Chief Financial Officer.
The NIB Board of Directors proposes to distribute EUR 25 million in dividends to the Bank's Nordic and Baltic member countries.
You can read more in our combined annual report for 2022, covering our activities, impact, sustainability, and financial reporting. Download the NIB Annual Report 2022 here.
Key figures and ratios
In millions of euros, unless otherwise stated
2022
2021
Net interest income
219
201
Profit before net loan losses
136
133
Net profit
139
159
Lending disbursed
3,705
2,440
Lending signed
4,114
1,852
Lending outstanding
22,195
22,313
New debt issues
9,630
7,028
Debts evidenced by certificates
31,595
31,526
Total assets
39,280
37,553
Equity/total assets (%)
10.4
10.6
NIB is an international financial institution owned by eight member countries: Denmark, Estonia, Finland, Iceland, Latvia, Lithuania, Norway and Sweden. The Bank finances private and public projects in and outside the member countries. NIB has the highest possible credit rating, AAA/Aaa, with the leading rating agencies Standard & Poor's and Moody's.
For further information, please contact:
André Küüsvek, President & CEO, at +358 10 618 001, info@nib.int
Kim Skov Jensen, Chief Financial Officer, at +358 10 618 0209, kim.jensen@nib.int
Jukka Ahonen, Head of Communications, at +358 10 618 0295, jukka.ahonen@nib.int