Stockholm metro
7 Mar 2017
Need better environment and more equality? Take the metro!
Stockholm has one of the best public transport systems in Europe, but the city's growing population is putting pressure on local infrastructure. The Stockholm County Council is looking for new ways to provide sustainable urban mobility, and the expansion of the metro system is part of the strategy.
Over the past decade, Stockholm has received international acclaim for its innovative take on urban transportation. The city boasts a convenient public traffic network with buses, railway connections and boats. Paths for both cyclists and pedestrians can be found nearly everywhere.
Progressive headway has been made in reducing greenhouse gas emissions from road traffic by introducing a congestion charge for cars driving in the city centre, and by running all of the capital region's public transport trains on electricity from renewable sources, like hydro- and wind power.
One reason for the Swedish capital's "green" success story has been attributed to the fact that the Stockholm County Council (SLL), a regional administrative body, is in charge of spatial planning and public transportation in the greater metropolitan area.
"The Stockholm County Council provides a platform for better coherence among the actors that are involved in city and traffic development", explains Stefan Wallin, Manager of Sustainable Development within the County Council's Traffic Administration. "About half of the county's budget is designated for public transport projects."
The SLL has the tools to implement Stockholm's plans for building a lower carbon economy, but these ambitious targets are becoming increasingly hard to maintain.
By 2024, the population in the greater Stockholm region will have grown to over 2.5 million people – a figure demographers had previously predicted would only be reached in 2030. With the population increase moved forward by several years, even major investments in new roads and rail lines will be insufficient.
An underground service accessible to all
To avoid urban sprawl and the related rise in road commuter traffic, enhancing the city's underground network has been identified as one of the key components for maintaining a dense urban centre that offers attractive housing, employment and recreation.
"Improving the capacity of the metro will turn it into a more attractive option for all commuters, and make it possible for them to choose public transport over their private cars", says Mr. Wallin.
This measure is supported by a long-term loan from NIB, earmarked for the acquisition of 48 new trains and the installation of a semi-automatic traffic operating system. The vehicles will run on the "Red Line", which connects the suburban districts in the north-east and south-west to the city centre.
"The new trains will have a greater passenger capacity and departure frequency. This will increase the market efficiency of the network and help to meet the growing demand from the population", Mr. Wallin explains.
"In the tendering process, we considered both environmental and social requirements. These include the choice of non-hazardous chemical ingredients used in materials as well as noise reduction features", he continues. "A life cycle cost analysis was conducted to ensure that the trains will be energy efficient."
"The population growth in mind, we put considerable effort into choosing vehicles that provide accessibility for all our different passenger groups, including children, the elderly and commuters with special needs."
No city is an island
The SLL has to consider how goals for collective sustainable behaviour, such as choosing public transportation, cycling or walking, can be achieved while catering to the individual needs of people going about their daily lives.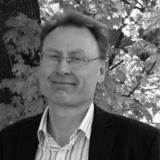 "A convenient, affordable and reliable public transport service is a prerequisite for any urban society aspiring to high environmental standards and social equality, but reshaping the debate on urban mobility and people's behaviour will take more effort."
Stefan Wallin
Manager of Sustainable Development, Traffic Administration
Stockholm County Council
Stockholm has deservedly been ranked as one of Europe's most sustainable cities, thanks to its clear development visions and a public that is aware of environmental issues. But ensuring the critical "staying power" of sustainability measures requires several players to cooperate for the common good.
"Our County Council 'toolbox' can only provide part of the solution. Municipalities and the state need to cooperate by setting restrictions on the use of private cars and stricter parking rules, while prioritizing public transport at traffic lights and so on", Mr. Wallin concludes.