Panel discussion "Unlocking green finance". From left to right: Mārtiņš Lazdovskis, Chairman of the Board at Latvian State Roads, Luca De Lorenzo, Head of Sustainability & Mandate at NIB, Elīna Salava, Head of Sustainability at Altum and Marcos Szutan, Vice President, Head of M&A and Project Financing at European Energy.
25 Aug 2023
Green finance in Latvia: opportunities unlocked
"We are here to help economies cope with the current pressures. We are here to promote growth, to find efficient investments that improve productivity and benefit the environment in both public and private sectors," said André Küüsvek, NIB President and CEO, presenting the Bank's role amidst current challenges in the "Financing the future: unlocking green opportunities in Latvia" event.
On 23 August, NIB and its Board of Directors convened the Bank's stakeholders in Riga to discuss the current economic environment and the potential of green financing in achieving long-term goals while tackling short-term shocks. This event was held a day before NIB opened a new office in the Latvian capital, symbolising the Bank's intent to intensify its presence in the Baltic region.
"NIB's visit and the Bank's plans fit perfectly with our government plans," said Arvils Ašeradens, Minister of Finance of the Republic of Latvia opening the event. "The lack of capital investments is huge in Latvia – that is crystal clear. Therefore in particular, I am welcoming NIB's new office opening in Riga. It will widen our cooperation and bring a lot to the Latvian economy development."
"Nordic–Baltic cooperation is crucial. If the Bank can bring here not only investments, but also knowledge to places where we want to develop, that is very important for the Baltics and for Latvia. The prosperity in the region means stability in the region, and that is the best answer to Russia," said Ašeradens.
André Küüsvek mirrored this sentiment, emphasising that fostering inter-regional ties lie at the heart of NIB's mission. "We want to be a bank that is more than money. We would like to add value with our investments, we would like to crowd in more private sector investments," he said, concluding that NIB's role includes not only providing long-term financing, but also supporting its stakeholders through expertise.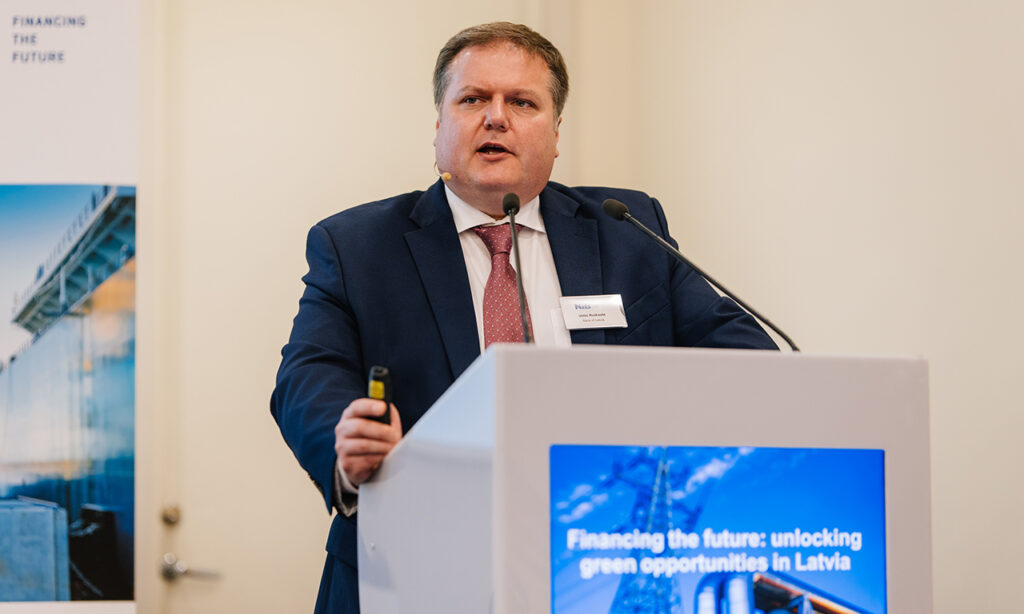 Different shades of green
The second panel aimed to find the distinctions and similarities in green financing across the Nordic-Baltic countries, exploring solutions to unlock new opportunities. "Depending on where you are – in terms of geography, sector, or so on – definition of green can change," Luca De Lorenzo, Head of Sustainability & Mandate at NIB, opened the discussion.
Marcos Szutan, Vice President, Head of M&A and Project Financing at European Energy, agreed that some gaps between green developments remained, giving examples from his own experience of working in different countries. "In the Nordics, the banking sector is willing to take a few more risks to finance projects before they have long-term power purchase agreements because they know that energy will be needed, and that energy is competitive," he explained. "In the Baltic countries, the renewable sector is perhaps not yet in the same place. So perhaps the banking sector is not in the same position in terms of risk-taking in supporting new investments."
Across the sectors, however, the differences are even more visible. According to the panellists, they need to be taken into account to ensure the transformation does not leave anyone behind.
"In more hard-to-abate sectors, the regulatory frameworks should incentivise technological advances that can give the necessary time to act," said De Lorenzo, adding that the regulatory frameworks should match these difference paces.
"We need to remain sensible. By raising these [sustainability] questions too sharply, we could end up in situations where only solar and wind projects will get financed," agreed Mārtiņš Lazdovskis, Chairman of the Board at Latvian State Roads. "There needs to be a balance, and the requirements also need to be fulfillable for hard-to-abate sectors."
Transformation needs to happen across the value chain
De Lorenzo believes roads are a good example of how our thinking on sustainability should be broadened. "Roads are part of mobility. So is the issue the road, or is it how we move on the road?"" he asked rhetorically. "If we are able to move to electric mobility, suddenly the view towards the roads would be different <…> You have to look at the whole package – sustainability works in the whole value chain."
"This is also what we do at NIB," De Lorenzo continued, referencing the Swedish automotive cluster. Here, the Bank is financing renewable energy production for electric battery manufacturing, electric vehicle production using these batteries as well as public sector companies electrifying their fleets. The panel agreed that having such a value-chain approach helps financiers link the industry participants in their shared goal of transitioning.
"If I look at the sustainability map from today's perspective, we are adding a completely new segment that I would call a 'transition'. When you look at the companies operating in sectors with a big CO2 footprint, they are operating in sensitive industries that are highly exposed to business transformation risks, climate physical risks," said Elīna Salava, Head of Sustainability at Altum.
Moments from the event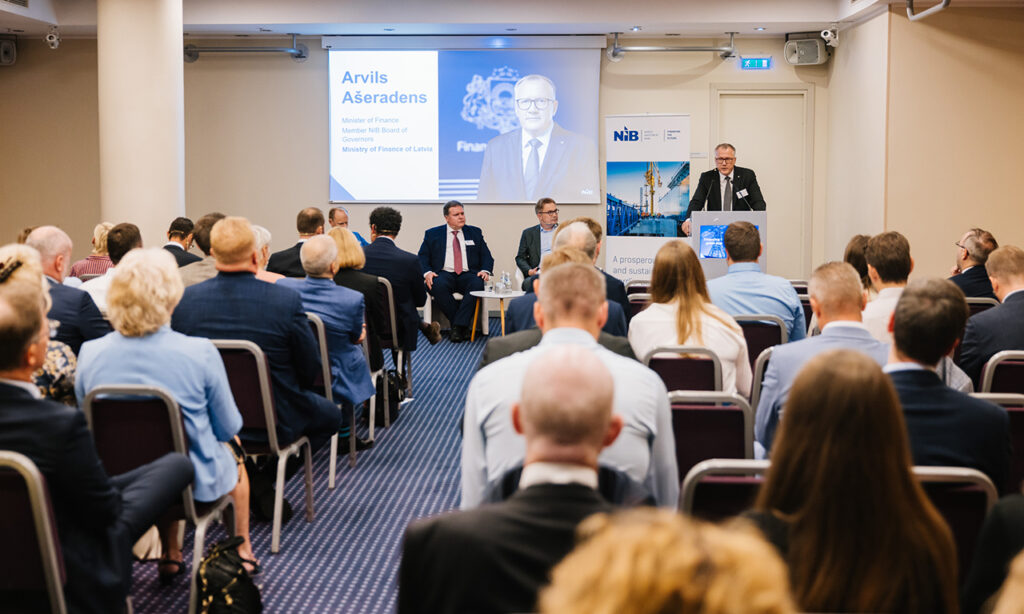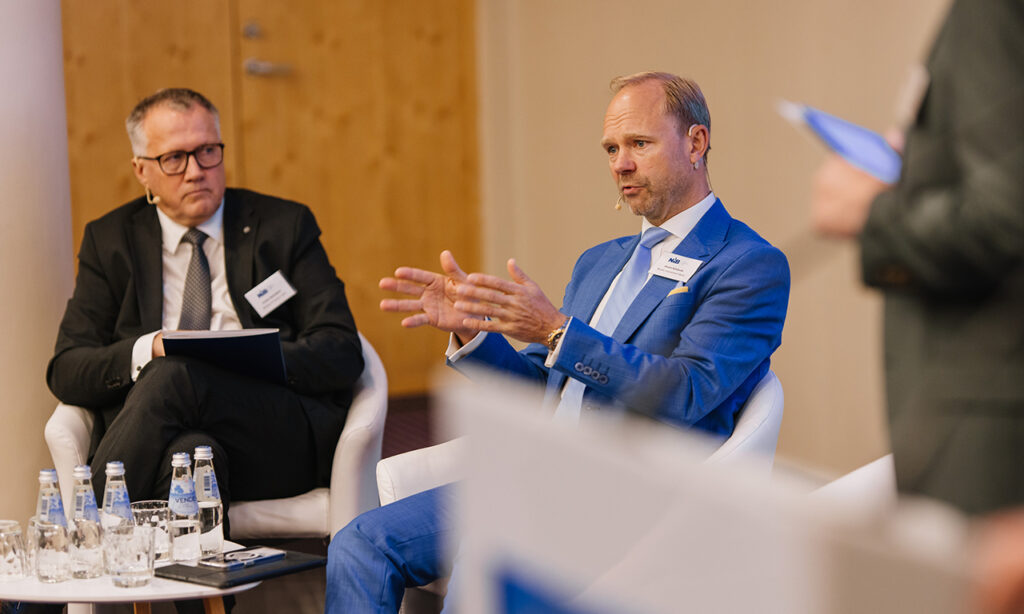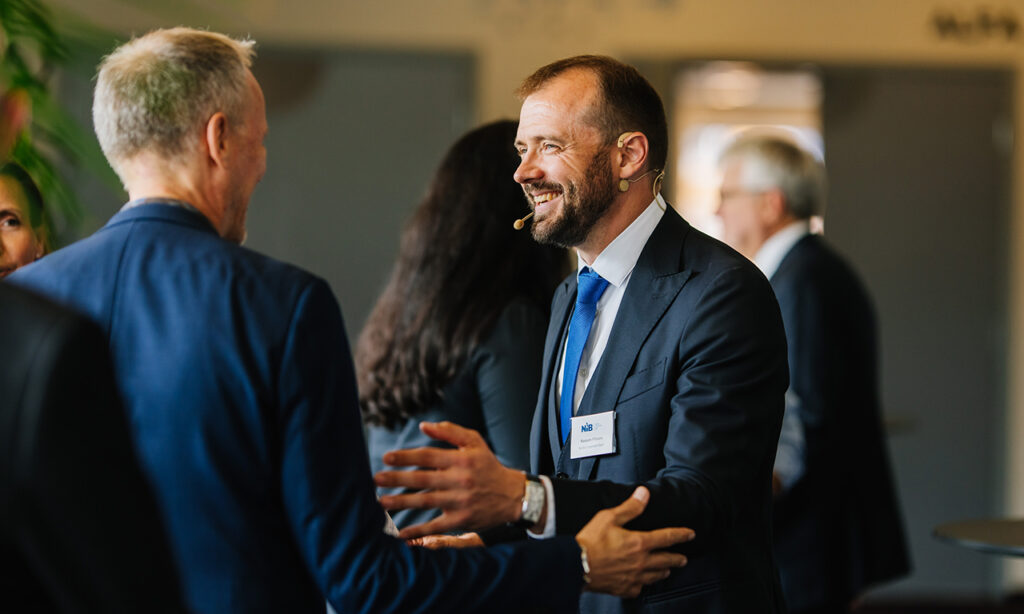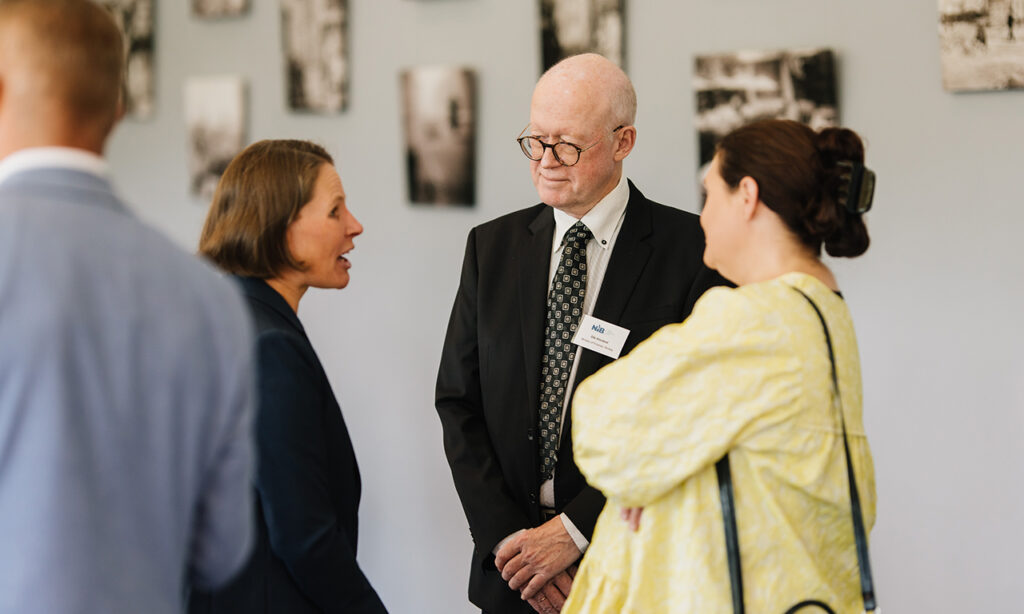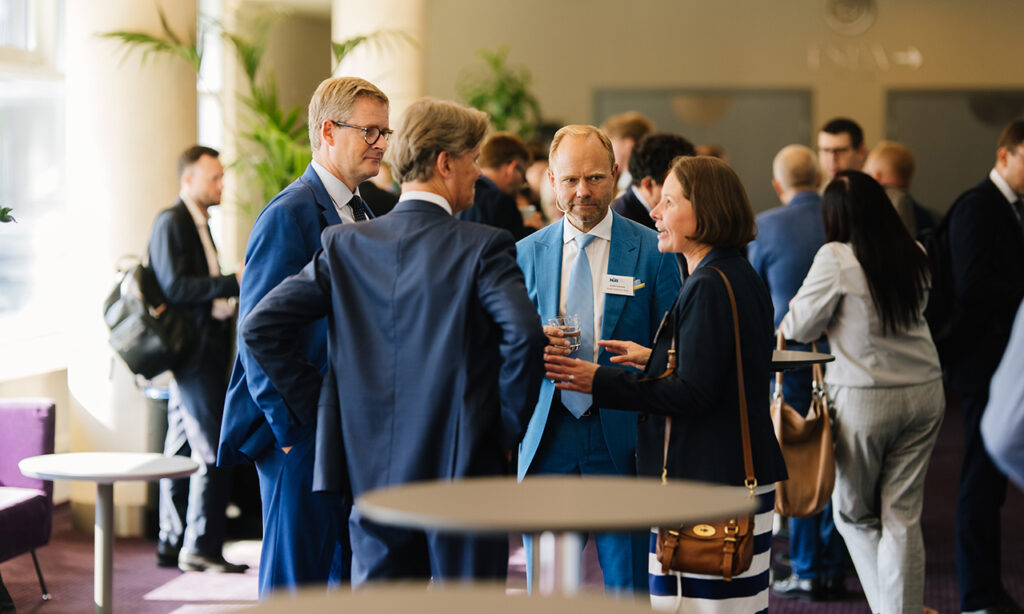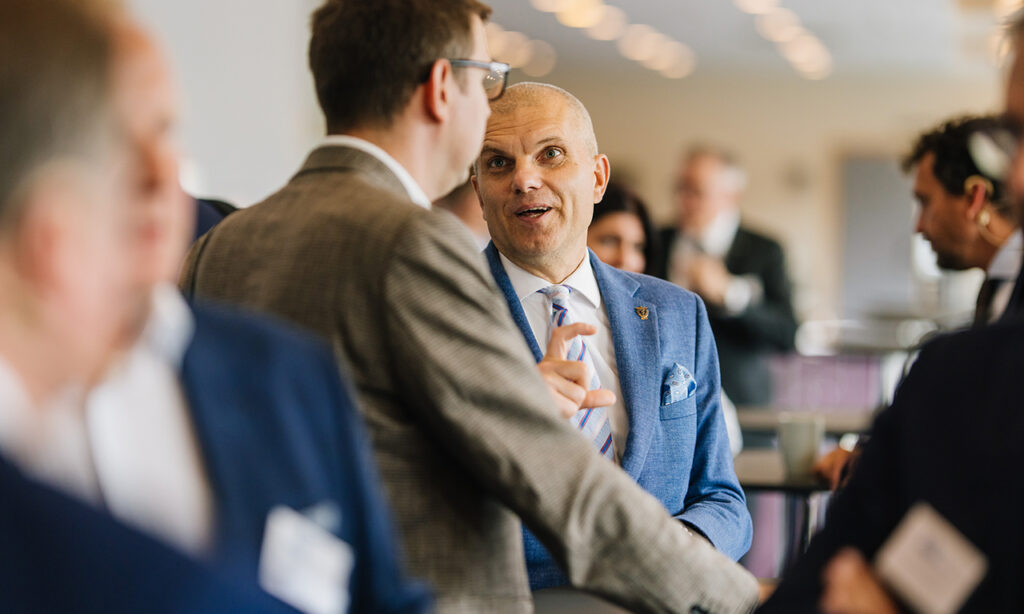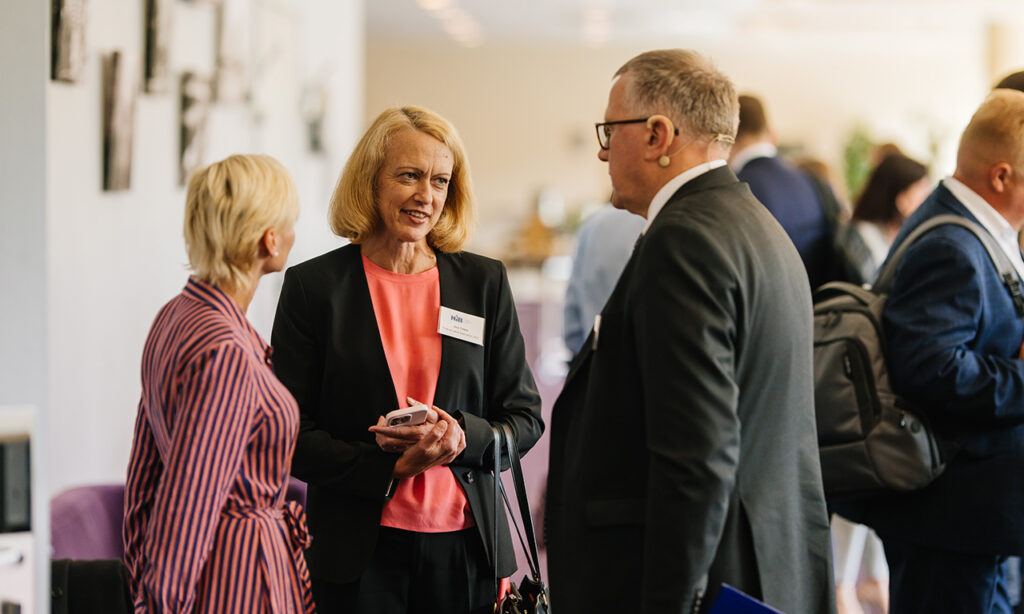 On 24 August, NIB opened its regional hub in Riga. The new office brings NIB closer to its Baltic stakeholders, supporting the Bank's strategic objectives to further enhance the outreach in the region. By establishing a regional hub, NIB aims to increase activities in underserved market segments and expand its lending to Baltic private sector companies.
Latvia joined NIB in 2005 with the other Baltic countries. The Bank has been investing in the country since 1995, providing approximately EUR 1.5 billion in financing to more than 120 projects. Some of NIB's latest financed projects in Latvia are Rigas Siltums' and Latnevergo's investment programmes, the Preses Nama kvartāls developments, and the Ķekava bypass road project.