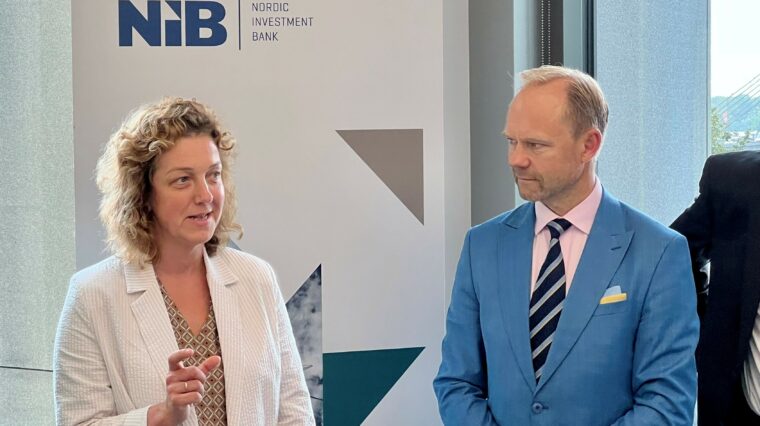 Līga Kļaviņa, Member of the NIB Board of Directors and André Küüsvek, NIB President and CEO at the new office in Riga
24 Aug 2023
NIB strengthens its Baltic presence with new Riga office
On 24 August, NIB opened its regional hub in Riga. The new office brings NIB closer to its Baltic stakeholders, supporting the Bank's strategic objectives to further enhance the outreach in the region.
The Board of Directors of NIB visited the new premises as part of their meeting in Riga. Initially, NIB's new office will serve as a workspace and meeting place, and is expected to become a regional hub that will strengthen collaboration with the Bank's Baltic owners and clients.
Moreover, the opening is in line with NIB's strategy to increase investments in underserved market segments. By establishing a regional hub, NIB aims to expand its lending to Baltic private sector companies.
"Riga is the perfect location for our business hub – it improves the coverage of our client base in Estonia, Latvia and Lithuania, and it also provides efficient travel connections to the other Nordic-Baltic countries. We were delighted with the reception from the Latvian government from the moment we disclosed our plans to set up our hub here," says André Küüsvek, NIB President and CEO.
"NIB Baltic Regional Hub in Riga not only reflects our regional competitiveness and preparedness to host international financial institutions, but also creates a platform for public and private sector entities to engage directly with the Bank. It opens avenues to explore investment projects, particularly in energy, innovation and infrastructure. Emphasising the goal of driving economic growth, we underline the significance of increased investments in Latvia by NIB and other international finance institutions. This approach widens the scope for lending opportunities to support projects where commercial bank financing is limited," says Arvils Ašeradens, Minister of Finance of the Republic of Latvia.
"In recent years, NIB has financed various infrastructure, energy and construction projects in the Baltics, mainly financing companies in the public sector. Looking ahead, our operations will pivot more towards collaboration with privately owned companies and an ever-stronger focus on the green transition," adds Kaspars Pīlādzis, NIB's Senior Banker and Country Lead for Latvia.
NIB's new regional office is in the Citadele Business Centre in the heart of Riga. The location has been selected because of its proximity to other financial institutions, national authorities and business centres.
Latvia joined NIB in 2005 with the other Baltic countries. The Bank has been investing in the country already since 1995, providing approximately EUR 1.5 billion in financing to more than 120 projects. Some of NIB's latest financed projects in Latvia are Rigas Siltums' and Latnevergo's investment programmes, Preses Nama kvartāls developments, and the Ķekava bypass road project.
NIB is an international financial institution owned by eight member countries: Denmark, Estonia, Finland, Iceland, Latvia, Lithuania, Norway and Sweden. The Bank finances private and public projects in and outside the member countries. NIB has the highest possible credit rating, AAA/Aaa, with the leading rating agencies Standard & Poor's and Moody's.
For further information, please contact:
Kaspars Pīlādzis, Senior Banker, Country Lead for Latvia, at +358 10 618 0391, kaspars.piladzis@nib.int
Vytautas Brazaitis, Communications Officer, at +358 10 618 0235, vytautas.brazaitis@nib.int