These trolleybuses were built in the 80s and had been serving commuters in Kaunas for over 30 years until the fleet renewal. Photos: Marius Vizbaras
19 Feb 2020
A happy farewell: Kaunas' trolleybuses renewal
Last month, Kaunas waved goodbye to the last few of its old trolleybuses, which had been serving commuters in Lithuania's second largest city for more than 30 years. The 92 worn-out vehicles were replaced with 85 newly purchased low-floor electric trolleybuses. This was the most substantial fleet modernisation project for the city's public transport provider UAB Kauno Autobusai to date, and NIB took part by financing the purchase.
As a born and bred Kaunas citizen, I have seen my hometown emerge as one of the most dynamic cities in the region over the years. The progress of time seems to have changed almost every bit of the town that once was. Until recently, however, two things were reluctant to embrace modern developments: a classic donut place in the heart of Freedom Alley; and the old Škoda TR trolleybuses, which were built in the Czechoslovak Socialist Republic when Freedom was just an idea.
While I still go to taste my favourite donut with jam whenever I am home, the absence of Škodas left me with no longing sentiments during my last visit. I soon learned Kaunas residents shared similar feelings about the old vehicles. They had been decommissioned in January, paving the way for new models.
Warm welcome to and from the passengers
Alina, who uses a trolleybus to travel to her small butcher's shop, says it did not take long to get used to the changes in her daily commute. "The new trolleybuses are modern and warm—how could there be any nostalgia for the old ones?"
Another commuter, Gytis, goes even further: "Sitting in the old trolleybus felt like riding an electric tractor. You could feel the wind blowing through the windows, and they were incredibly noisy."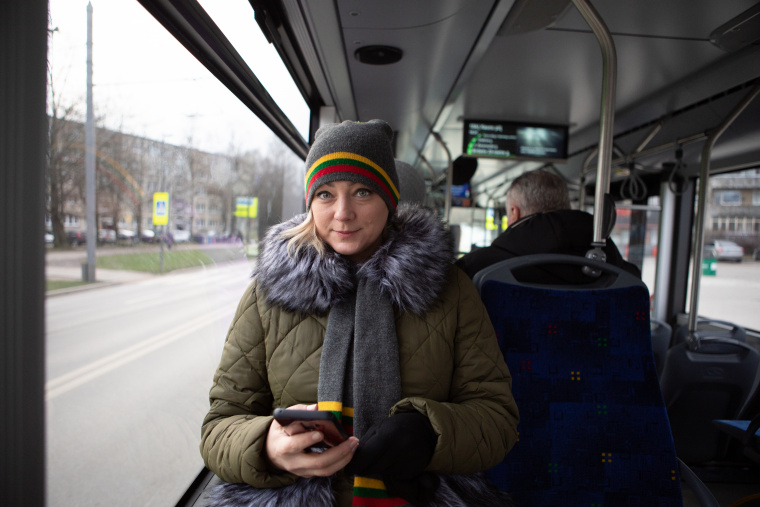 Lina uses a trolleybus several times a week. She says that the new vehicles are faster, more comfortable and spacious, which allows her to take her bicycle on the public transport when needed.
Although not everyone has been as vocal with comparisons, every passenger I met on Kaunas' new trolleybuses agreed the fleet renewal was necessary. Given the age of their predecessors, the increased comfort levels of the new models came as no surprise, and some commuters are already hoping for further improvements in public transport.
"Of course, commuting got more comfortable—the old trolleybuses were full of holes, whereas the new ones are warm and cosy and have good air conditioning," says Ernesta, who was on her way home when we spoke. "However, the timetables could be better aligned. Both trolleybuses going in my direction often pass almost at the same time, and if you miss them, you have to wait for 15 to 20 minutes for another one to come."
Long-term benefits for everyone
Suggestions from the passengers are being taken into account by Kaunas' public transport providers. They say that the timetables should be adjusted at some point following the fleet modernisation.
"The purchase of new Solaris trolleybuses has completed the city's public transport transformation into an entirely low-floor fleet. This allows faster boarding and helps us to improve the quality of service. Based on calculating how long it takes for the passengers to get on and off the trolleybuses, and how it affects their travel habits, we will adjust the timetables in the future," comments Patricija Elžbieta Zarankaitė, public relations specialist at Kauno Autobusai.
The commuters are not the only ones to benefit, however: she adds that the impact of modernisation will affect everyone involved.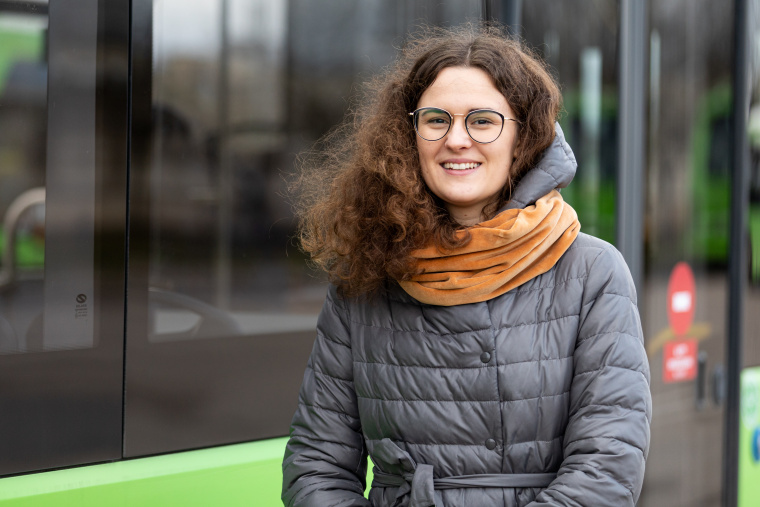 Patricija Elžbieta Zarankaitė, public relations specialist at Kauno Autobusai, says that the impact of modernising the trolleybuses is multifaceted, because it touches both commuters and the company.
"If we are talking about the company, the renewal improves operational efficiency and reduces maintenance costs. The modern vehicles also enable us to recruit new drivers for trolleybuses more easily by offering them a safe and ergonomic workplace. Finally, it helps us attract new passengers as more and more people choose public transport for their journeys."
"This makes the city greener, and we are happy NIB showed interest in financing a project that helped us finally say goodbye antiques, hello novelties," adds Ms Zarankaitė.
Bidding farewell in style
"Goodbye antiques, hello novelties!" was the name of a campaign organised by Kaunas municipality in cooperation with Kauno Autobusai. The project saw around 80 of the soon-to-be-decommissioned trolleybuses decorated with various paintings that reflected the city's development. The vehicles, with depictions ranging from the shapes of Kaunas' industrial factory buildings to the jerseys of its sports clubs, had been running the roads for almost a year prior to their replacement.
"Over their decades of service, our trolleybuses have become part of the city's identity. Street art is also an important element of Kaunas' cultural identity. We decided to combine the two pieces and say our farewell to the Škodas in a unique way – by turning them into moving street art exhibits," vice-mayor of Kaunas, Andrius Palionis, explains how the idea came to life.
"The project was well received by both residents and visitors. Some even started a friendly competition by 'collecting' images of different trolleybuses, trying to capture as many as possible," says Mr Palionis.
Being no stranger to riding trolleybuses himself, the vice-mayor does not seem to miss the piece of Kaunas identity that became history after its renewal. "My wife and I share a car to travel to work, so one of us uses public transport to get home. The differences are incomparable—from the modern exterior to interior features, such as conditioning systems, LED displays and USB plugs," Mr Palionis concludes.
No feelings of nostalgia
Yet if anybody out there might have had a strong connection with the decommissioned vehicles, street artist Karolis Grubis must surely be among them. He was one of more than a dozen artists who took part in the farewell campaign. He also counts the trolleybuses he worked on in dozens.
"I tried counting how many I had helped to paint, and it came to about 30. Of these, four were my personal projects," says Karolis.
Although none of his art pieces can be seen on the streets any longer, Karolis does not feel nostalgic about it. On the contrary, he says that the trolleybus renewal helped him fulfil one of his childhood dreams.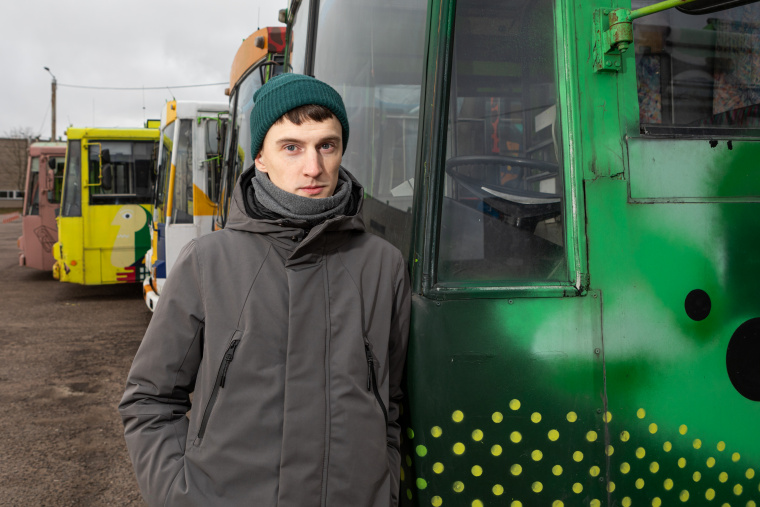 Street art painter Karolis Grubis says it's difficult to pick his favourite trolleybus, but the green one next to him is close to his heart, because it's decorated in the colours of Kaunas's ice hockey team.
"Now, I do not even notice they are not there anymore. The closest I came to nostalgia was during the painting itself. When I was a child, I used to pass by the trolleybus depot and think it would be nice to get my hands on one of them. So, in a sense, my dream has come true. But I could never have expected I would get to paint more than a few, let alone almost 30 of them," says Karolis, adding that he does not use the trolleybuses himself much, as he usually makes his way around Kaunas on foot.
Further developments for greener transport
The public had a chance to see Karolis' artwork in an open exhibition, when all Kaunas' old coloured trolleybuses were parked in line for their last goodbye. While the Škodas are now waiting for bids in an auction to see if they will ever be revived for cultural use, their brand-new substitutes seem to have taken over successfully in the eyes of commuters.
However, the swift replacement was just the beginning of a broader public transport modernisation. As part of the project, Kauno Autobusai has also invested in reconstructing the trolleybus traction infrastructure, which, among other improvements, will enable the full potential of the new vehicles by increasing their speed.
Moreover, a similar transition awaits Kaunas' bus users, because the company had already finalised the acquisition of 100 new hybrid buses. The modern low-floor vehicles, which will replace the diesel buses in current use, are expected to arrive by the end of this year.
"Our estimates suggest that purchasing the new hybrid buses will cut CO2 emissions by approximately 2,500 tonnes every year and provide the city with around EUR 0.5 million in annual cost savings," says Mr Zarankaitė, explaining the scope of the project.
Yet the actual impact of transforming the city's public transport may be even greater. According to other calculations by Kauno Autobusai, every person who leaves a car behind for a bus or trolleybus can help to reduce CO2 emissions by up to 650 kilograms a year.
Given the increasing comfort and attractiveness of public transport that comes with modernisation, the future for Kaunas commuters seems greener than ever before.
Watch the video to learn more about Kaunas trolleybus fleet renewal