1976
Operations begin in August, after Denmark, Finland, Iceland, Norway and Sweden decided in 1975 to set up the Nordic Investment Bank to promote economic growth and cooperation between the Nordic countries. Bert Lindström (Sweden) becomes the first president of NIB.
NIB signs its first loan agreement.
Read more about how NIB came into being in an article by Bengt Dennis
1977
NIB is introduced on the international capital market with a eurodollar loan of USD 40 million.
1981
NIB moves into its new office at Unioninkatu 30, Helsinki.
1982
NIB is awarded the top credit rating, AAA/Aaa, for its long-term bonds.
1983
NIB agrees on its first project investment loan outside the membership area.
1984
Authorised capital doubles to SDR 800 million, loan authorisation to SDR 2,000 million. NIB employs 51 persons.
1986
Jannik Lindbæk (Norway) becomes NIB's president.
1989
The Nordic Development Fund is established. NIB starts focusing on environmental projects.
1990
The Nordic Environment Finance Corporation, NEFCO, is established a special unit within NIB (separates from NIB in 1993).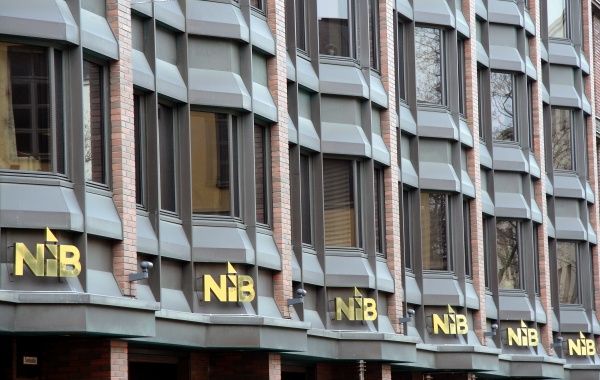 1992
NIB participates in the Baltic Investment Programme, set up by the Nordic countries with the aim of helping to build up the private sector in the Baltic countries.
1993
NIB moves into the office building at Fabianinkatu 34, Helsinki (purchases the property in 1996).
1994
Project investment loans outside the member countries are paid to the private sector for the first time. Jón Sigurðsson (Iceland) becomes NIB's president.
1997
New loan facility established for environmental investment loans to projects on the areas adjacent to the member countries.
1999
A new Agreement on NIB and a headquarters agreement acknowledge the Bank's multilateral status. NIB's authorised capital is raised to EUR 4,000 million.
2001
NIB joins the Northern Dimension Environmental Partnership (NDEP).
2004
NIB expands loan facilities for projects outside the member countries and for environmental projects.
2005
Estonia, Latvia and Lithuania become members of NIB. Johnny Åkerholm (Finland) becomes NIB's president. The authorised capital is increased to EUR 4,142 million.
2006
NIB renews its strategy and introduces the mandate to sharpen the focus on the sustainable growth of the member countries.
2008
NIB allocates EUR 1,500 million for lending facilities earmarked for climate change mitigation and the improvement of the Baltic Sea environment.
2011
NIB issues its first green bond under the new Environmental Bond framework.
NIB's authorised capital is increased to EUR 6,142 million.
2012
Henrik Normann (Denmark) becomes NIB's president.
2014
The Board of Directors conducts a comprehensive review of NIB's strategy. The Bank issues its inaugural benchmark environmental bond.
2015
NIB establishes an Arctic lending facility.
2016
A special lending facility is allocated to invest in green bonds issued by companies and municipalities in the member countries.
2018
NIB renews its mandate rating framework with a focus on improving productivity and the environment in the member countries.
2020
NIB updates its Statutes to strengthen the Bank's operations and ensure continued adherence to sound banking principles.
2021
André Küüsvek (Estonia) becomes NIB's president.