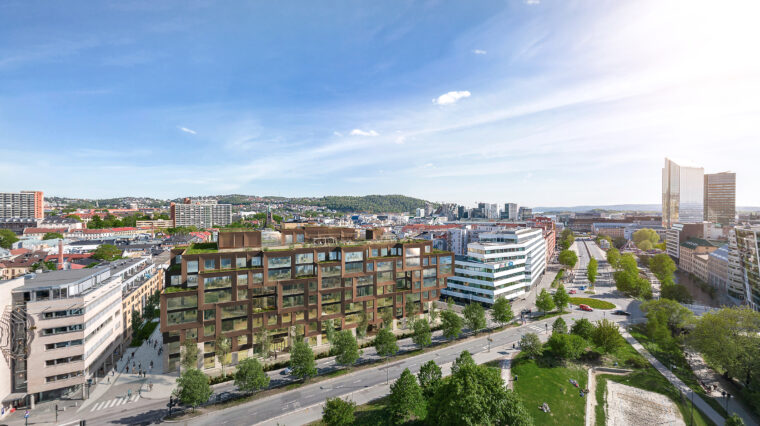 Photo: Eiendomsspar
28 Jun 2022
NIB strengthens cooperation with Eiendomsspar for green office building in Oslo
NIB and the Norwegian real estate company Eiendomsspar AS have signed a 7-year loan deal worth NOK 450 million (EUR 43.9 million) for the construction of a BREEAM Excellent green office building Veksthuset in Oslo, Norway.
Veksthuset is a new commercial office building with a gross area of approximately 24,000 square meters in central Oslo. The building is to be certified in accordance with the BREEAM-NOR Excellent green building certificate, which is the second highest certification class and evaluates the sustainability performance of the building. The project is eligible for financing from the proceeds of NIB Environmental Bonds.
Construction commenced in February 2022 and is expected to be completed in mid-2024, with the European engineering consultancy firm Sweco as the main tenant.
This is NIB's second loan agreement with Eiendomsspar for financing the rehabilitation of the Urtekvartalet block of Oslo's Grønland neighborhood, which in addition to the new building Veksthuset, consists of the two rehabilitated buildings Fabrikken and Drivhuset.
NIB has previously provided an initial NOK 410 million loan for the ground works of Veksthuset and the rehabilitation of Fabrikken. Together, the three buildings have a total area of 45,000 square meters, providing up to 2,000 office workplaces and 2,000 study places.
"We are delighted to continue our cooperation with Eiendomsspar AS to develop the Grønland area in downtown Oslo. We believe that by providing modern and sustainable study and workplaces in central locations, we are supporting both productivity and innovation," says André Küüsvek, NIB President & CEO.
"Eiendomsspar is very glad to strengthen the cooperation with NIB in the Urtekvartalet Project. The new Norwegian headquarters for Sweco will be a landmark in the area both as a design and green building. The addition of several hundred new skilled employees from Sweco will be of great contribution to the neighborhood," says Christian Ringnes, Eiendomsspar CEO.
Founded in 1982, Eiendomsspar AS is one of the largest real estate companies in Norway. The company also manages the property portfolio of Victoria Eiendom and is one of the major shareholders in the hotel real estate company Pandox.
NIB is an international financial institution owned by eight member countries: Denmark, Estonia, Finland, Iceland, Latvia, Lithuania, Norway and Sweden. The Bank finances private and public projects in and outside the member countries. NIB has the highest possible credit rating, AAA/Aaa, with the leading rating agencies Standard & Poor's and Moody's.
For further information, please contact
Patrick Nylund, Senior Banker, at +358 10 618 0329, patrick.nylund@nib.int
Robert Staa, Communications Unit, at +358 10 618 0447, robert.staa@nib.int