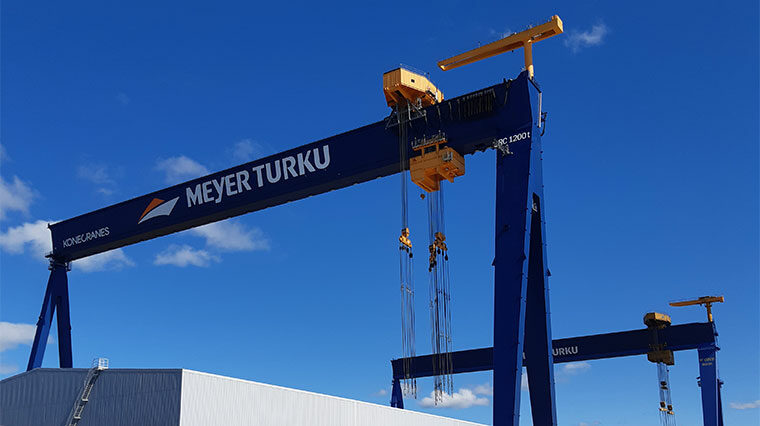 Image: Meyer Turku
29 Jun 2022
NIB provides COVID-19 response loan to shipyard company Meyer Turku Oy
NIB has joined a EUR 1,056 million financing facility for the Finnish shipyard company Meyer Turku Oy (Meyer) with a EUR 100 million participation. NIB's loan will support the company's COVID-19 pandemic related recovery process.
The COVID-19 outbreak in early 2020 had a major impact on the cruise industry, resulting in a 75% decrease in passenger volumes compared to the previous year. Although the impact on the cruise industry market situation was temporary, it affected the borrowers' operations and investment programme. Consequently, the adaptation measures created challenges in the company's financing.
The shipyard in Turku is important for the Finnish marine cluster directly and indirectly through subcontractors. The loan will support its recovery process. The financing facility lead by Commerzbank AG has a tenor not exceeding two years.
"The purpose of this loan is to provide financing to relieve the COVID-19 related economic challenges. NIB supports its member countries and businesses during and after the crisis", says André Küüsvek, NIB President and CEO.
"The COVID-19 pandemic and crisis had a significant effect to our operations at Meyer Turku and to the entire Finnish maritime network. Although we were building and delivering ships to our customers as planned, at the same time we needed to take several adaption measures including financing for dealing with the COVID-19 crisis," says Tim Meyer, CEO Meyer Turku.
"We in Meyer are grateful for NIB's support in this challenging time and are looking forward to continuing our cooperation on a long-term basis. We consider this as the start of a partnership," says Jens Sandmann, CFO of Meyer Group"
The borrower, Meyer Turku Oy, is family-owned by the Meyer family, and one of the leading European shipbuilding companies. Meyer Turku shipyard is specialised in the construction of very demanding, innovative, and environmentally efficient cruise ships. Meyer Turku operates the Turku shipyard in Finland, where vessels have been built since 1737.
NIB is an international financial institution owned by eight member countries: Denmark, Estonia, Finland, Iceland, Latvia, Lithuania, Norway, and Sweden. The Bank finances private and public projects in and outside the member countries. NIB has the highest possible credit rating, AAA/Aaa, with the leading rating agencies Standard & Poor's and Moody's.

For further information, please contact
Kim Krokfors, Senior Banker, Materials & Real estate,
at +358 10 618 0517, kim.krokfors@nib.int
Lotta Forssell, Senior Communications Officer, at +358 10 618 0498, lotta.forssell@nib.int