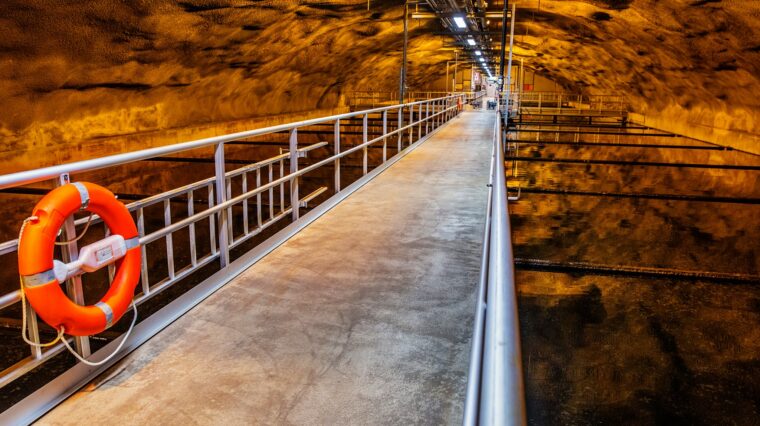 Photo: Turun seudun puhdistamo
30 Sep 2020
NIB provides additional loan for Turku's wastewater treatment modernisation
NIB and the Finnish water services company Turun seudun puhdistamo Oy (TSP) have signed a new EUR 9 million loan agreement for investments in the modernisation of a wastewater treatment plant (WWTP) in Turku, Finland.
The 30-year loan is an addition to NIB's previous financing for the construction of a new wastewater removal channel at the Kakolanmäki WWTP.
"With this additional loan we are responding to an increased need for financing. Investments in wastewater and storm water systems remain vital to mitigate the impacts of climate change and ensure cleaner waters in our region", says Henrik Normann, NIB President and CEO.
The project will separate the wastewater and storm water discharge systems, enabling the WWTP to utilise its full wastewater treatment capacity during extreme weather conditions. It will reduce the overflows of untreated wastewater as well as the nutrient and microbiological load on the environment.
Having a sufficient effluent removal channel will also protect the systems from flooding in the future, as heavy rainfall and maximum sea levels are estimated to increase.
The Kakolanmäki WWTP processes wastewater from approximately 300,000 residents as well as industries in Turku region. Its operator, TSP, is a wastewater treatment service provider that is owned by 14 municipalities, with the city of Turku having the largest shareholding.
NIB is an international financial institution owned by eight member countries: Denmark, Estonia, Finland, Iceland, Latvia, Lithuania, Norway and Sweden. The Bank finances private and public projects in and outside the member countries. NIB has the highest possible credit rating, AAA/Aaa, with the leading rating agencies Standard & Poor's and Moody's.
For further information, please contact
Mr Kari Jaukkuri, Senior Client Executive, Lending, at +358 10 618 0237, kari.jaukkuri@nib.int
Mr Vytautas Brazaitis, Communications Unit, at +358 10 618 0235, vytautas.brazaitis@nib.int