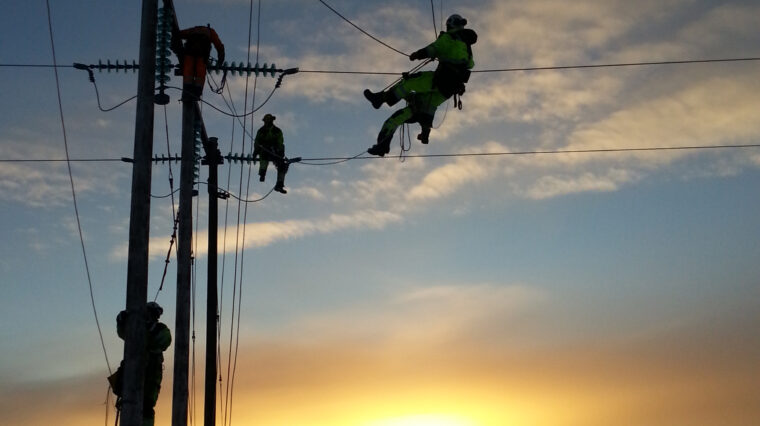 Image: Varanger Kraft
8 Jul 2021
NIB lends to upgrade Varanger Ring grid in Northern Norway
NIB has signed a seven-year loan agreement with Norwegian utility company Varanger Kraft to finance the Varanger Ring electricity grid project in Northern Norway.
NIB's loan of NOK 235 million (EUR 23.1 million) will co-finance three new high voltage (132 kV) lines, four new substations and the refurbishment of two older substations.
"The upgrading and expansion of the Varanger Ring will enhance the security of electricity supply, increase the voltage and enable new renewable energy generation to be connected," says André Küüsvek, President and CEO of NIB.
The project also allows for increased electrification, the supply of renewable power to land and sea vessels, and for the general upgrade and improvement of the grid to ensure supply chain security.
Nearly 150 MW of wind power have been connected by the project to the grid. The total concession approved for wind power is 320 MW, and the Varanger Ring is built to service that capacity. The project will enable an early-stage development project at Varanger Kraft where hydrogen will be produced from wind power.
The total project cost of the Varanger Ring is NOK 625 million, of which NIB is financing 38%.
Established in 1938, Varanger Kraft is a regional utility, grid, transmission, and sales company. It produces renewable energy from hydro- and wind power, provides services to grid operators and power plants, operates power transmission networks, provides telecom services as well as supplies electricity to consumers in Northern Norway. The company is owned by the municipalities of Sør-Varanger, Vadsø, Deanu/Tana, Båtsfjord, Berlevåg, Vardø and Unjarga/Nesseby. Varanger Kraft has 170 employees and is headquartered in Vadsø.
NIB is an international financial institution owned by eight member countries: Denmark, Estonia, Finland, Iceland, Latvia, Lithuania, Norway, and Sweden. The Bank finances private and public projects in and outside the member countries. NIB has the highest possible credit rating, AAA/Aaa, with the leading rating agencies Standard & Poor's and Moody's.
For further information, please contact
Mr Patrik Marckert, Senior Client Executive, Utilities, +358 10 618 0266, patrik.marckert@nib.int
Mr Vytautas Brazaitis, Communications Officer, at +358 10 618 0235, vytautas.brazaitis@nib.int