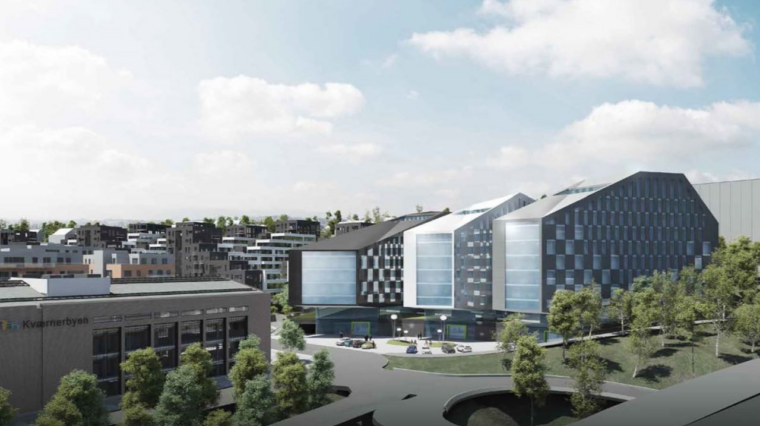 Oslo K. Photo: OBOS Eiendom AS
2 Jul 2020
NIB lends to sustainable OBOS office building in Oslo
NIB and the Norwegian housing developer OBOS Eiendom AS have agreed a seven-year loan for the development and construction of a BREEAM-NOR Excellent certified office building in Oslo, Norway.
The NOK 550 million (EUR 50.84 million) loan finance the construction of OBOS' office building "Oslo K" of 30,000 square metres in Kværnerbyen in Oslo.
The new premises will have a capacity of 1,500-2,000 employees. Energy supply to the building is from the district heating system and power distribution grid. Floor layout design includes flexibility to change the layout at a later stage if needed. Due to the location, access to the building by public transportation is convenient.
The new office building will be completed in the autumn of 2021.
Oslo K will be OBOS' first BREEAM Excellent green building -certified building.
OBOS is the largest housing developer in Norway. OBOS engages in the development and sale of homes and properties, banking and financial solutions, property management, real estate brokerage and other forms of service production in the housing and property sector. The organisation is a cooperative owned by its members and was established in 1929 to provide a solution to Oslo's housing problems.
NIB is an international financial institution owned by eight member countries: Denmark, Estonia, Finland, Iceland, Latvia, Lithuania, Norway and Sweden. The Bank finances private and public projects in and outside the member countries. NIB has the highest possible credit rating, AAA/Aaa, with the leading rating agencies Standard & Poor's and Moody's.
For further information, please contact
Mr Patrick Nylund, Client Executive, Origination, at +358 10 618 0329, patrick.nylund@nib.int
Mr Arild Moen, Senior Communications Officer, at +358 10 618 0496, arild.moen@nib.int