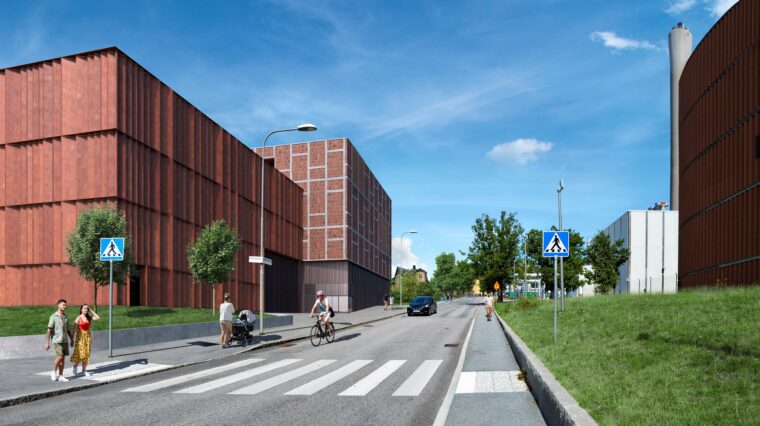 Ellevio's switchyard in Värtan, Stockholm. Illustration: Ellevio AB
31 Oct 2022
NIB lends to rebuild Ellevio's electric substations in Stockholm
NIB signs a 10-year loan with the Swedish electricity distributor Ellevio AB to rebuild and increase the capacity of two existing switchgear stations in Skanstull and Värtan in the City of Stockholm, Sweden.
The SEK 1 billion (EUR 94.10 million) loan is earmarked for financing new station buildings, indoor GIS switchgears for 110kV and 220kV, new transformers and reactors, new cables, and a new control and protection system. Combined, the total expected distribution capacity from the two switchgear stations will increase by around 800 MW, which represents a 40% increase in distribution capacity in the Stockholm region. The combined value is adjusted due to the stations being redundant infeed points and thus cannot be fully loaded at the same time.
Both substations are infeed nodes from the national grid to the regional grid in Stockholm. By expanding these stations' distribution capacity, Ellevio can meet the projected long-term need for increased distribution capacity in Stockholm. Increased demand is driven by a growing population, the electrification of the transport sector, and several electricity-intensive initiatives such as data centres, the electrification of cruising and ferry terminals, and the electrification of big logistics hubs.
"The upgrade and expansion of the substations will ease current constraints and contribute to a sustainable development of society to meet the needs of an increasing population in the Stockholm region," says André Küüsvek, NIB President and CEO.
Ellevio AB is the second largest electricity distribution system operator in Sweden with approximately one million customers in the Stockholm area and the central and western parts of Sweden. Ellevio is owned by the Canadian pension fund OMERS Infrastructure (50%), the Third Swedish national pension fund (20%), Folksam (17.5%), and the First Swedish national pension fund (12.5%).
Ellevio supports Sweden's goal to become fossil free through electrification and to reach net zero GHG emissions by 2045. In 2018, NIB signed a 15-year SEK 1.5 billion loan agreement with Ellevio to finance their power distribution modernisation programme between 2017 and 2019.
NIB is an international financial institution owned by eight member countries: Denmark, Estonia, Finland, Iceland, Latvia, Lithuania, Norway and Sweden. The Bank finances private and public projects in and outside the member countries. NIB has the highest possible credit rating, AAA/Aaa, with the leading rating agencies Standard & Poor's and Moody's.
For further information, please contact
Eva Nickull, Senior Banker, Infrastructure & Project Finance, at +358 10 618 0314, eva.nickull@nib.int
Arild Moen, Associate Director, Communications, at +358 10 618 0496, arild.moen@nib.int