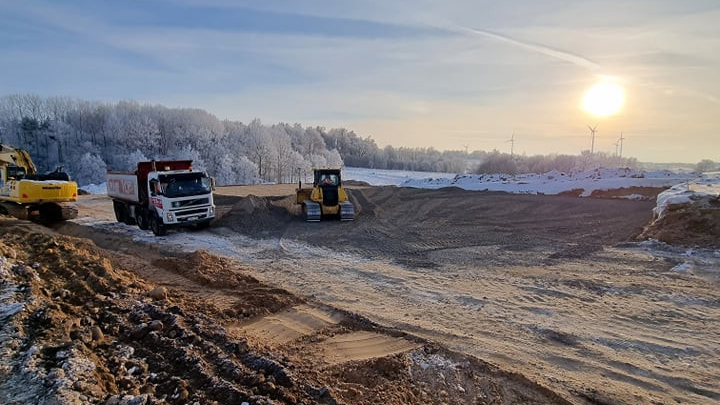 Šilale II construction site Photo: Enefit Green
11 Jan 2022
NIB lends to new wind farms in Estonia and Lithuania
NIB and Estonian renewable energy producer Enefit Green AS have agreed on a EUR 80 million loan for a period of 12 years to co-finance wind power projects in Lithuania and Estonia.
Enefit Green is currently constructing the two wind farms Šilale II and Akmene in Lithuania. Combined, the two wind farms will add 118 megawatts of renewable electricity generation capacity to the Baltic region. The wind farms are planned to become operational by the end of 2023. The Akmene wind farm (75 MW) will then become the company's largest wind farm.
Enefit Green is also planning to build a 20-megawatt wind farm in East of Estonia, with a final investment decision to be taken in the first quarter of 2022.
"Enefit Green is working to increase the availability of carbon-free and environmentally friendly electricity throughout the Baltics. Starting cooperation with a strategic financial partner confirms that the planned projects are sustainable, and that large-scale production of green energy is important for all neighboring countries," says Veiko Räim, CFO of Enefit Green.
"NIB supports Enefit Green's efforts to reduce the dependence on fossil fuel-based power generation. NIB's funding comes complimentary to the local commercial bank and capital market financing, thereby supporting Enefit Green's strategic long-term investments in renewable generation capacity," says André Küüsvek, NIB President and CEO.
Enefit Green AS is a renewable energy producer in the Baltic Sea region. The group produces electricity and heat from wind, as well as municipal waste, biomass, solar and hydroelectric sources in Estonia, Finland, Latvia, Lithuania, and Poland. Enefit Green AS is a subsidiary of Eesti Energia AS, which is an integrated utility company fully owned by the State of Estonia. On 21 October 2021, Enefit Green AS completed an initial public offering and the listing of its shares on the Nasdaq Baltic Stock Exchanges, resulting in Eesti Energia AS retaining a 77% ownership of the company.
NIB is an international financial institution owned by eight member countries: Denmark, Estonia, Finland, Iceland, Latvia, Lithuania, Norway, and Sweden. The Bank finances private and public projects in and outside the member countries. NIB has the highest possible credit rating, AAA/Aaa, with the leading rating agencies Standard & Poor's and Moody's.

For further information, please contact
Ms Kersti Talving, Senior Client Executive, Public Sector & Utilities, at +358 10 618 0245, kersti.talving@nib.int
Mr Arild Moen, Communications Manager, at +358 10 618 0496, arild.moen@nib.int