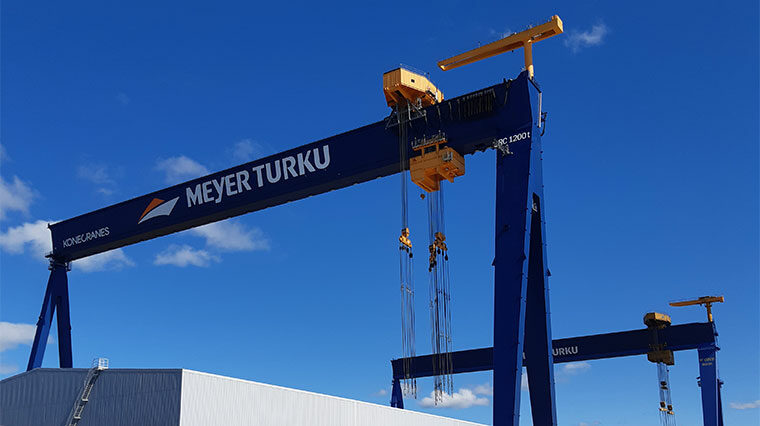 Image: Meyer
7 Jul 2023
NIB joins a financing facility for Finnish shipyard company Meyer Turku Oy
NIB has joined a financing facility for the Finnish shipyard company Meyer Turku Oy (Meyer) with a EUR 100 million participation. The facility will finance the construction of two cruise ships.
The financing facility lead by Commerzbank AG has a tenor not exceeding two years. NIB´s participation in the facility will support the company's recovery process. The shipyard in Turku is important for the Finnish marine cluster directly and indirectly through subcontractors.
The pandemic had a major impact on the cruise industry, resulting in almost 75% decrease in passenger volumes. Although the impact on the cruise industry market situation was temporary, it affected the borrowers' operations and investment programme. In addition, the war in Ukraine affected the shipyard's operation, which has been visible as increased raw material prices, labour supply shortage, as well as the cost of financing, among other things.
"With this loan, we can support member country business in a challenging operating environment and economic uncertainty. The marine cluster plays a significant role in Finland's exports and as an employer", says André Küüsvek, NIB President and CEO.
"It is highly appreciated that NIB joins this financing for two very innovative and environmentally friendly cruise ships which create a lot of work and value for the Finnish industry. Continued support via sufficient access to financing is key for our shipyard. We are all very thankful since this is another important milestone for our shipbuilding business," says Jens Sandmann, CFO of Meyer Group.
The borrower, Meyer Turku Oy, is family-owned by the Meyer family, and one of the leading European shipbuilding companies. Meyer Turku shipyard is specialised in the construction of very demanding, innovative, and environmentally efficient cruise ships. Meyer Turku operates the Turku shipyard in Finland, where vessels have been built since 1737.
NIB is an international financial institution owned by eight member countries: Denmark, Estonia, Finland, Iceland, Latvia, Lithuania, Norway, and Sweden. The Bank finances private and public projects in and outside the member countries. NIB has the highest possible credit rating, AAA/Aaa, with the leading rating agencies Standard & Poor's and Moody's.

For further information, please contact
Kim Krokfors, Senior Banker, Country Lead for Finland, at +358 10 618 0517, kim.krokfors@nib.int
Lotta Forssell, Senior Communications Officer, at +358 10 618 0498, lotta.forssell@nib.int