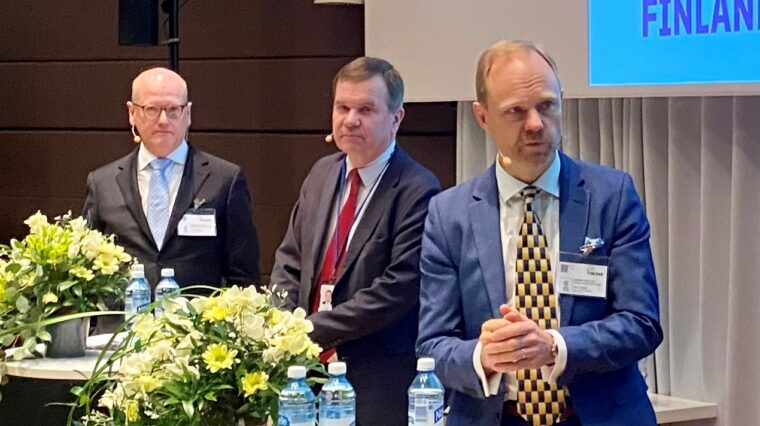 Speaking at the InvestEU launch event at Business Finland were Thomas Östros Vice-President of EIB, Pauli Heikkilä CEO of Finnvera, and André Küüsvek, NIB President and CEO. Photo: Arild Moen
28 Apr 2022
NIB becomes implementing partner to InvestEU
NIB has qualified as one of the first implementing partners to the InvestEU, a EUR 26.2 billion European Union guarantee aimed at mobilising over EUR 372 billion in additional investments to support sustainable investment, innovation, and job creation in Europe during 2021-2027.
NIB will participate in the InvestEU programme with a total lending capacity of up to EUR 480 million initially and is currently negotiating the EU guarantee terms with the European Commission.
The InvestEU investment programme brings together the European Fund for Strategic Investments and 13 other EU financial instruments. The programme ranges across four policy windows including sustainable infrastructure; research, innovation, and digitalisation; small and medium-sized companies; and social investment and skills.
Implementing EU policy
"The EU guarantee is not first and foremost intended to de-risk banks' financing, but to implement EU policy," said Elena Flores, Deputy Director General of Economic and Financial Affairs at the European Commission at the InvestEU launch event in Helsinki on 28 April 2022.
NIB plans to offer long term loans to the corporate sector in its Nordic and Baltic member countries under two of the InvestEU policy windows. These are sustainable infrastructure, and research, innovation, and digitalisation. The EU policy objectives promoted by theses windows are strongly aligned with NIB's mandate objectives of promoting sustainable development and productivity growth in the NIB member country area.
"We picked these two pillars to have sufficient focus, and they are also a good match with NIB's mandate to finance projects that protect the environment. So, we are talking about the green transition, sustainable finance, climate change mitigation and adaptation. The second NIB mandate pillar is productivity, or in the broader sense the competitiveness of our member countries, including Finland. We feel we produce most value within these two, because we analyse each of our projects against these two criteria. That expertise gathered over the years means we can add value to both public and private sector with our projects," André Küüsvek, NIB President and CEO said at the InvestEU launch event.
"If you are small your only chance to survive and remain competitive in the long term is to be clever, fast on your feet and flexible. We would like to find partners and clients, both existing and new, to enable us to support you," says André Küüsvek.
He said NIB has a new strategy in place, approved just before last Christmas, which is geared towards taking more risk and working more with small and medium-sized enterprises.
"We feel that the Invest EU is exactly the right tool that fit this strategy."
"Of course, at the time of approval of the strategy, we did not even see what kind of problems we are facing now in April 2022. We thought we would be gradually coming out of the pandemic and things would open up again, which they have to some extent, but we did not of course foresee what the Russian aggression in Ukraine has brought about, meaning renewed concerns about energy security, food security and the whole connectivity of the region."
Time to accelerate the green transition
"Five of NIB's member countries have a direct boarder with Russia, so we are talking about the Ukraine economy plummeting because of the aggression, we see the sanctions on both Russia and Belarus, which will impact on all enterprises in the region. We would very much like to mitigate that somehow," says André Küüsvek, adding that "The green transition and profitable growth can go hand in hand."
"The Russian war on Ukraine and sanctions have highlighted the need to accelerate, rather than to slow down, the green transition and finding new renewable energy sources and free this region and Europe from the dependency of the fossil-based Russian fossil energy sources," André Küüsvek says.