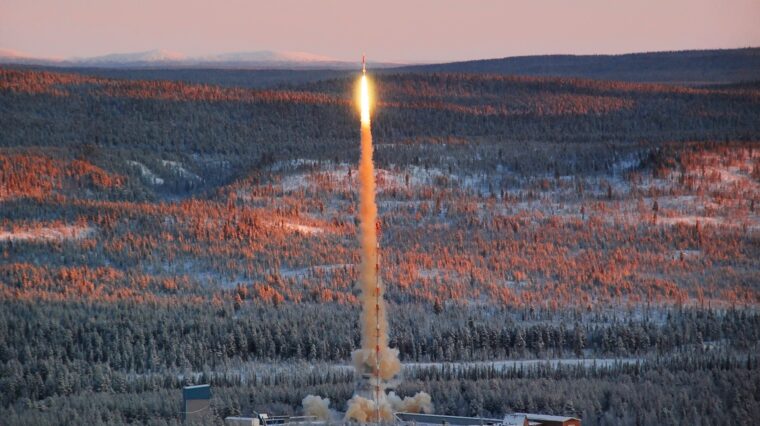 17 Dec 2014
NIB grants loan to upgrade of Swedish space centre
Esrange space centre. Photo: Swedish Space Corporation, Thilo Kranz
NIB and the Swedish Space Corporation (SSC) have signed a 12­-year loan agreement, totalling SEK 100 million (EUR 11 million), earmarked for modernising Esrange Space Centre in northern Sweden.
Located near the city of Kiruna inside the Arctic Circle, Esrange Space Centre will become Europe's most advanced space facility offering a broad range of infrastructural services to the international research community, with sufficient capacity to meet the increasing demand for access to space. The total project budget amounts to SEK 295 million.
Esrange Space Centre provides launches of sounding rockets and high altitude balloons for microgravity, atmospheric and astrophysics research. The satellite ground station at Esrange, a part of SSC's worldwide satellite communication network, daily communicates with 140 scientific and observation polar orbiting satellites. SSC also has its own ground stations in the United States, Chile and Australia.
"We hope that this NIB-financed project will contribute to the success of European space research and produce a broader spill-over effect on other academic organisations and companies involved in the aerospace industry", says Henrik Normann, NIB President & CEO.
The Swedish Space Corporation, a state-owned company, founded in 1972, provides specialised competence in space systems, space and satellite operations, rocket and balloon systems, launch services as well as flight test services. SSC has about 550 employees worldwide.
NIB is an international financial institution owned by eight member countries: Denmark, Estonia, Finland, Iceland, Latvia, Lithuania, Norway and Sweden. The Bank finances private and public projects in and outside the member countries. NIB has the highest possible credit rating, AAA/Aaa, with the leading rating agencies Standard & Poor's and Moody's.
For further information, please contact
Mr Tore Emanuelsson, Senior Manager Origination, at +358 10 618 0244,
Mr Dimitrijs Alehins, Senior Communications Specialist, at +358 10 618 0296,