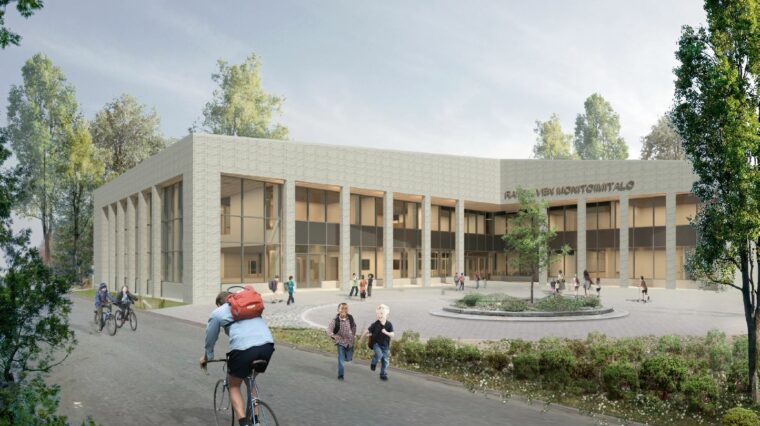 Rakokivi multipurpose facility. Illustration: City of Lahti.
18 Dec 2018
NIB financing new schools in Lahti, southern Finland
NIB and the City of Lahti in southern Finland have signed a EUR 10 million loan agreement for the construction and renovation of schools and day care facilities. The maturity of the loan is 5 years.
The municipal investment programme consists of the construction of three new educational centres (Laune, Rakokivi and Humpula) as well as the extension and renovation of two existing school facilities (Kivimaa and Länsiharju). The investment will improve the learning environment for 3,300 children in schools and day care centres. The total amount of the investment is EUR 100 million, covering the project work in 2017–2022.
Lahti is a city of 120,000 residents and the centre of a region of 200,000 people. The number of inhabitants has been growing in the past ten years. As a result, the number of children in both schools and day care centres has increased, and this process is estimated to continue in the coming years. In addition to rising demand, the need for investment has enlarged because of the aging day-care centres, which require renovation, and a reduction in the number of family day care providers.
"This NIB-funded investment programme will enable Lahti to offer more modern learning facilities that have a better capacity to meet the new educational standards", says Henrik Normann, NIB President & CEO.
With this investment, the City of Lahti is also targeting improved energy efficiency and reduced energy usage in the educational facilities. The improved energy efficiency will be achieved through improving thermal insulation, utilising modern technical efficiency solutions and installing LED lighting.
NIB is an international financial institution owned by eight member countries: Denmark, Estonia, Finland, Iceland, Latvia, Lithuania, Norway and Sweden. The Bank finances private and public projects in and outside the member countries. NIB has the highest possible credit rating, AAA/Aaa, with the leading rating agencies Standard & Poor's and Moody's.
For further information, please contact
Mr Olli Lempiäinen, Senior Manager Origination, at +358 10 618 0525, olli.lempiainen@nib.int
Ms Niina Rantti, Communications Officer, at +358 10 618 0265, niina.rantti@nib.int