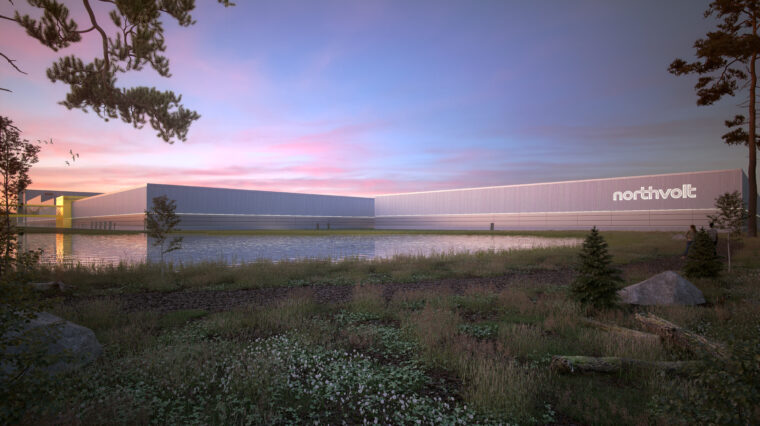 Visualisation: Northvolt
29 Jul 2020
NIB financing for Northvolt battery plant in Sweden
NIB has signed a 10-year loan agreement with Northvolt to finance the ongoing construction of Northvolt's large-scale lithium-ion battery cell manufacturing plant in Skellefteå, northern Sweden. The loan amount is USD 44.3 million (EUR 39.53 million).
Northvolt AB is currently establishing one of Europe's largest battery factories, Northvolt Ett, in Skellefteå, Sweden. Once completed, Northvolt Ett will produce up to 40 GWh of battery capacity annually. The batteries are designed for use in vehicles as well as for power storage and other industrial purposes. The first part of the factory is scheduled for start of production in 2021. Northvolt plans to start recycling batteries from 2022 onwards.
"NIB's participation in this project is relevant as electrification plays a significant role in de-carbonising the transportation sector. The production and sourcing of state-of-the-art lithium-ion batteries is a key element in this effort. Also, establishing an industrial-scale battery industry in Sweden will have significant spill-over effects with regard to employment, research and development, suppliers and recycling," says Henrik Normann President & CEO of NIB.
Northvolt is a European supplier of sustainable battery cells and systems. Founded in 2016 to enable the European transition to a decarbonized future, the company plans to deliver the world's greenest lithium-ion battery with a minimal CO2 footprint and the highest ambitions for recycling. Among Northvolt AB's owners, investors, industrial partners and customers are the founder Peter Carlsson, BMW AG, Stena AB, Siemens AG, Vattenfall AB and the Volkswagen AG.
NIB is an international financial institution owned by eight member countries: Denmark, Estonia, Finland, Iceland, Latvia, Lithuania, Norway and Sweden. The Bank finances private and public projects in and outside the member countries. NIB has the highest possible credit rating, AAA/Aaa, with the leading rating agencies Standard & Poor's and Moody's.
For further information, please contact
Mr Thomas Wrangdahl, First Vice-President, Head of Lending, at +358 10 618 0226, Thomas.Wrangdahl@nib.int
Mr Vytautas Brazaitis, Communications Unit, at +358 10 618 0235, Vytautas.Brazaitis@nib.int