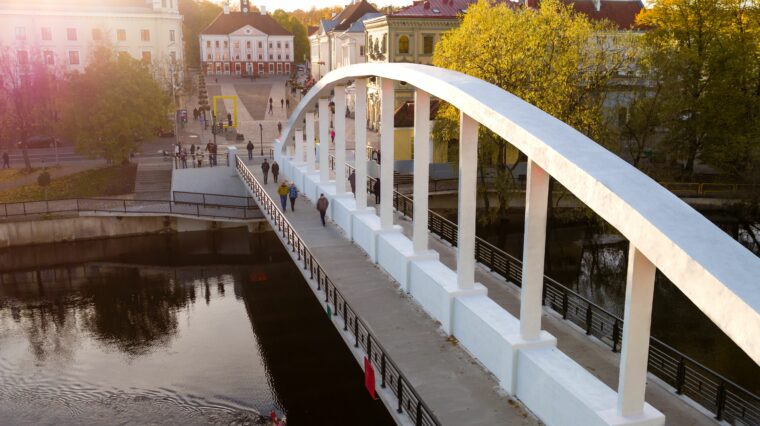 Tartu downtown. Image: Tarmo Haud
22 Nov 2021
NIB finances urban developments in Tartu, Estonia
NIB and the City of Tartu have agreed to a EUR 9.2 million loan for projects under the city's development programme during 2020–2023.
NIB and the City of Tartu have signed a 15-year uncommitted credit facility to finance the city's investments in social, sports and traffic infrastructure as well as childcare and educational sector in March 2021. The agreement allows Tartu to borrow up to EUR 18.8 million from NIB, out of which EUR 9.2 million has now been disbursed.
Social infrastructure projects include the construction of a new elderly home and a new social house as well as the reconstruction of Tartu's homeless shelter. The projects will increase the service capacity and provide productivity gains because of centralisation, therefore enhancing both the quality and the accessibility of social services. In addition, the programme entails the development of Tartu's sports and recreational infrastructure.
Road infrastructure investments consist of multiple construction projects aimed primarily at improving safety and traffic connections for pedestrians and cyclists. Moreover, street lighting in the Annelinn and Veeriku districts will be upgraded, reducing energy use by over 50 percent.
Part of the loan will also finance the refurbishment of childcare and educational sector buildings.
Tartu is the second largest city in Estonia and one of the oldest cities in the Baltic States. It has a population of around 97,000 inhabitants.
NIB is an international financial institution owned by eight member countries: Denmark, Estonia, Finland, Iceland, Latvia, Lithuania, Norway and Sweden. The Bank finances private and public projects in and outside the member countries. NIB has the highest possible credit rating, AAA/Aaa, with the leading rating agencies Standard & Poor's and Moody's.

For further information, please contact
Ms Kersti Talving, Senior Client Executive, Public Sector, at +358 10 618 0245, kersti.talving@nib.int
Mr Vytautas Brazaitis, Communications Unit, at +358 10 618 0235, vytautas.brazaitis@nib.int