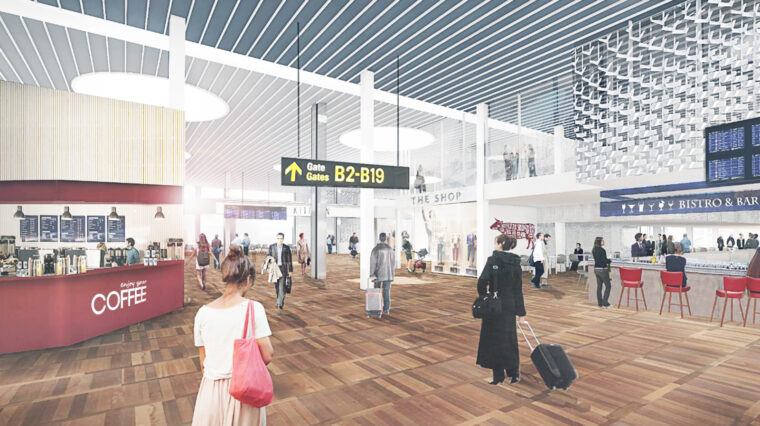 Terminal 2 Kastrup
19 Dec 2017
NIB finances the expansion of Copenhagen Airport
NIB and the Danish infrastructure operator Copenhagen Airports A/S have signed a ten-year loan agreement of DKK 900 million (EUR 121 million) to finance capacity investments and expansion projects at Copenhagen-Kastrup airport.
Copenhagen Airport is expecting a passenger turnover of 40 million travellers in the coming years, and aims to improve transport infrastructure and operational efficiency. The loan will finance four of the capacity expansion projects under the large-scale capacity investment programme.
The expansion of the central safety control system at the airport, which currently operates 20 tracks, will add five new tracks and improve both commercial and employee facilities. The project is expected to be completed in early 2018.
The second project financed by the loan is the expansion of Terminal 2. Approximately 4,000 m2 will be added to the terminal's airside. Further, a new metro bridge will be built to connect Terminals 2 and 3.
At Terminal 3, the granite floor will be replaced and the floor plan optimised to improve arrivals and customs flows. Both expansion projects at the terminals will be completed by summer 2018.
Additionally, a new Pier E will be constructed, which will add seven gates for both Schengen and non-Schengen traffic to the airport. Construction will be completed in 2019.
"The investment programme at Copenhagen Airport will improve service standards and operational efficiency. The expansion projects are essential for catering to the growing air traffic volumes and number of travellers, and will support the competitiveness of infrastructure", says Henrik Normann, NIB President & CEO.
Copenhagen Airport is the largest airport in the Nordic–Baltic region and currently the 12th largest in Europe measured by passenger traffic. Copenhagen Airports A/S is a listed company, with the Danish state holding 39.2% of the stock.
NIB is an international financial institution owned by eight member countries: Denmark, Estonia, Finland, Iceland, Latvia, Lithuania, Norway and Sweden. The Bank finances private and public projects in and outside the member countries. NIB has the highest possible credit rating, AAA/Aaa, with the leading rating agencies Standard & Poor's and Moody's.
For further information, please contact
Mr Stefán Jón Fridriksson, Senior Manager, Origination, at +358 10 618 0512,
Ms Lisa-Maria Altenberger, Communications Unit, at +358 10 618 0234,