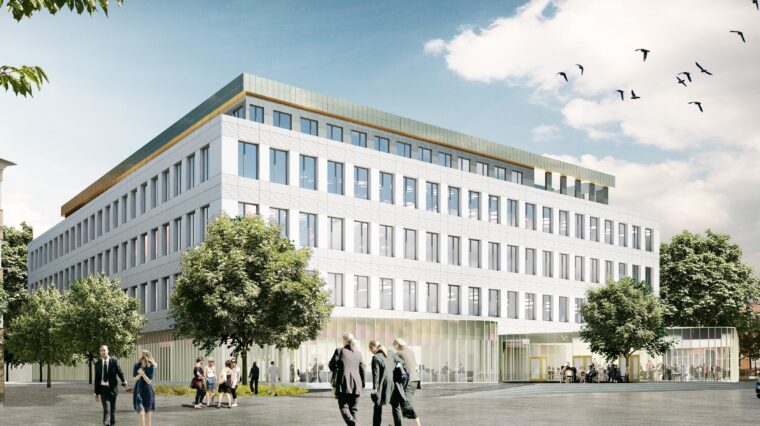 Hubben Uppsala Science Park
13 May 2016
NIB finances sustainable office buildings in Sweden
The Hubben building at Uppsala Science Park. Visualisation: Vasakronan AB.
NIB and the Swedish commercial property company Vasakronan AB have signed a long-term loan agreement of SEK 445 million (EUR 48 million) for the construction of resource-efficient office buildings in Stockholm and Uppsala.
The ten-year maturity loan will finance two new commercial properties, which are both to receive Platinum status under the LEED green building certification programme.
The first building project is situated in an attractive business location, the Frösunda area in greater Stockholm. Answering to the increasing demand for more office space, the new Frösunda building will have a total gross area of 16,000 m² and house up to 20 tenants with 1,000 workplaces upon completion in 2018.
The second project, titled "Hubben", is located in Uppsala Science Park, in close proximity to Uppsala University Hospital, the Swedish Medical Products Agency and several other academic and research institutions. Upon completion in 2017, the building will have an area of 12,850 m² and provide space for offices, laboratories and a conference centre.
"LEED Platinum-certified properties promote energy efficiency and better routines for tracing the environmental foot print of construction materials. The buildings are in line with NIB's environmental mandate, as they represent a more sustainable method of construction", says Henrik Normann, NIB President & CEO.
The estimated construction costs for the Frösunda project are SEK 400 million, while the Hubben building will be approximately SEK 490 million.
Vasakronan AB is Sweden's leading commercial property developer and is jointly owned by four Swedish National Pension Funds. In December 2015, the company owned and managed 180 properties around Stockholm, Uppsala, Gothenburg, Malmö and Lund.
NIB is an international financial institution owned by eight member countries: Denmark, Estonia, Finland, Iceland, Latvia, Lithuania, Norway and Sweden. The Bank finances private and public projects in and outside the member countries. NIB has the highest possible credit rating, AAA/Aaa, with the leading rating agencies Standard & Poor's and Moody's.
For further information, please contact
Mr Kim Krokfors, Senior Manager Origination, at +358 10 618 0517,
Ms Lisa-Maria Altenberger, Communications Unit, at +358 10 618 0234,