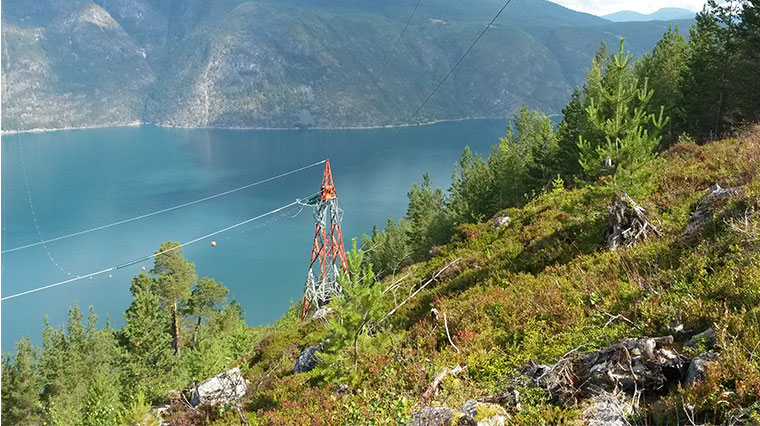 Image: Tor Morten Sneve / Statnett
27 Oct 2023
NIB finances Statnett's investments in the transmission infrastructure in Norway
NIB and the Norwegian transmission system operator Statnett have signed a 9-year loan of NOK 1 billion (approximately EUR 84.4 million). The loan contributes to investments in transmission infrastructure to meet the rising energy demand and support the green transition.
The upgrades and new capacity adds value to Norwegian power generation, supports electrification, contributes to reduced price differences and provides improved overall security of supply.
The loan will finance two projects. Statnett is upgrading the 300 kV power line between Aurland and Sogndal to 420 kV. This will mainly be accomplished by building a new power line parallel to the existing one, which will be removed after the new line is in use. At the same time, also a part of the transmission power line between Hove and Sogndal will be replaced with a new one. In addition, the Sogndal substation will be renewed.
The second project is the replacement of the existing 132 kV power line between Kvandal and Kanstadbotn in Northern Norway. The current power line is approaching the end of its technical service life.
"With this loan, we are contributing to meeting the rising transmission demand, which is essential for a successful green transition. The electrification of society requires not only new power generation but also investments in transmission capacity," says André Küüsvek, NIB President and CEO.
"Statnett appreciates this loan and the long-standing relationship with NIB. Both NIB and Statnett are strongly committed to support the green transition, and this loan will finance projects that are important parts of Statnett's efforts", says Cathrine Lund Larsen, Executive Vice President & Chief Financial Officer.
Statnett is the transmission system operator (TSO) of the Norwegian power system, developing and operating the transmission grid which together with underlying grids connects power producers and power consumers. Statnett co-owns cable connections to Sweden, Finland, Denmark, the Netherlands, Germany and the UK. The company has around 1,600 employees. The Norwegian State owns the operator through the Ministry of Petroleum and Energy.
NIB is an international financial institution owned by eight member countries: Denmark, Estonia, Finland, Iceland, Latvia, Lithuania, Norway and Sweden. The Bank finances private and public projects in and outside the member countries. NIB has the highest possible credit rating, AAA/Aaa, with the leading rating agencies Standard & Poor's and Moody's.

For further information, please contact
Patrik Marckert, Senior Banker, +358 10 618 0266, patrik.marckert@nib.int
Lotta Forssell, Senior Communications Officer, +358 10 618 0498, lotta.forssell@nib.int