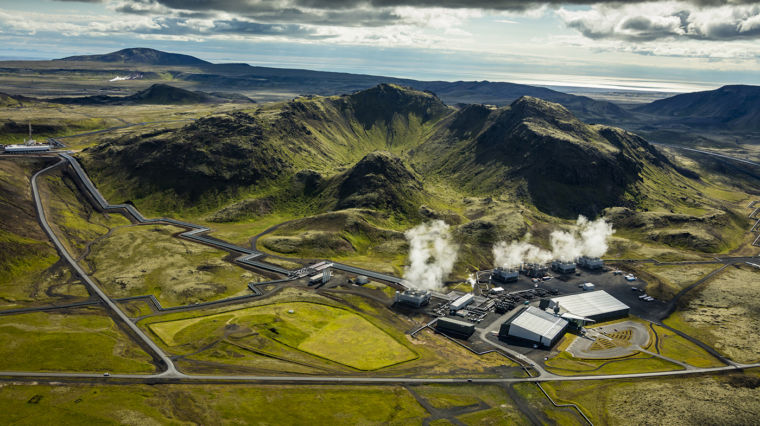 Photo: Orkuveita Reykjavikur
27 Nov 2020
NIB finances power production and distribution in Iceland
NIB signs a 15-year loan with Icelandic utility Orkuveita Reykjavikur to finance an investment programme to improve geothermal power production and electricity distribution networks in Iceland.
The USD 80 million (EUR 67.52 million) loan will help finance new make-up and reinjection wells, new steam pipeline connections, a new workshop building as well as an expansion of the thermal station in Hellisheiði geothermal power plant. The drilling of new make-up wells is a continuous activity to maintain the capacity of the geothermal power plants.
In the Nesjavellir geothermal power plant, the projects include new make-up wells, a complete control system update and replacement of equipment in the thermal stations.
The loan will also co-finance investments in the electricity distribution system, strengthening and replacing old equipment in the network, harbour electrification and the installation of smart meters. The electrification of the harbour area will allow for shore to ship electricity and thereby reduce the emissions from ships running on auxiliary diesel power when moored.
In 2006, NIB provided a loan to Orkuveita Reykjavíkur to finance the construction of the Hellisheiði Power Plant.
Orkuveita Reykjavíkur provides electricity, district heating, cold water, sewage and fibre-optic cable network to customers in Southwest Iceland. In the key segments of power and heating it serves over half of Iceland's population. The group owns and operates three power plants, the Nesjavellir and Hellisheiði Geothermal Plants and the Andakílsárvirkjun hydroelectric station, with a combined capacity of 431 MW of electricity. Orkuveita Reykjavíkur is owned by Reykjavík municipality (93.54%), Akranes municipality (5.53%), and Borgarbyggð municipality (0.93%).
NIB is an international financial institution owned by eight member countries: Denmark, Estonia, Finland, Iceland, Latvia, Lithuania, Norway, and Sweden. The Bank finances private and public projects in and outside the member countries. NIB has the highest possible credit rating, AAA/Aaa, with the leading rating agencies Standard & Poor's and Moody's.
For further information, please contact
Mr Kari Jaukkuri, Senior Manager, Lending, at +358 10 618 0237, kari.jaukkuri@nib.int
Mr Arild Moen, Senior Communications Officer, at +358 10 618 0496, arild.moen@nib.int