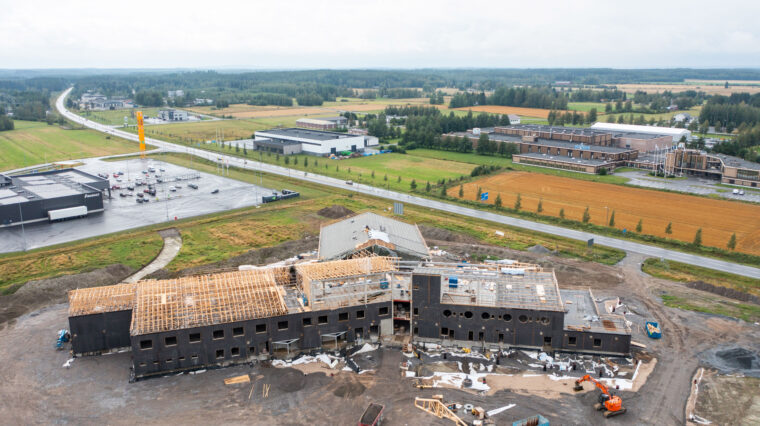 Construction of the Kauhava wellness centre. Photo: Antti Järvinen
2 Sep 2021
NIB finances new wellness centre in western Finland
NIB and Kauhavan Hyvinvointikeskus Oy have signed a 22-year loan agreement of EUR 9 million for the construction of a new wellness centre for social and health care services in Kauhava, Finland.
The investment is one of the largest for the municipality in recent decades. It will centralize social and health care services from 14 different locations and outdated buildings under one roof, improving operational efficiency and the quality of services.
The new wellness centre will help to improve health outcomes and reduce health care costs, alleviating the challenges that stem from the region's ageing population, as the demand for social and health care services is estimated to increase over the coming years.
The building is expected to be completed in August 2022. Total project costs amount to approximately EUR 18 million.
This is the second loan that NIB has granted to Kauhava. The Bank had also financed the construction of the city's new school and two day care facilities, which opened their doors last year.
Kauhavan Hyvinvointikeskus Oy is a limited company fully owned by the municipality. It was founded in 2019 to build, own and maintain the new wellness centre. Kauhava is a municipality of around 16,000 inhabitants located in Southern Ostrobothnia, Western Finland.
NIB is an international financial institution owned by eight member countries: Denmark, Estonia, Finland, Iceland, Latvia, Lithuania, Norway and Sweden. The Bank finances private and public projects in and outside the member countries. NIB has the highest possible credit rating, AAA/Aaa, with the leading rating agencies Standard & Poor's and Moody's.
For further information, please contact
Ms Taina Ulkoniemi, Senior Client Executive, Infrastructure, at +358 10 618 0231, taina.ulkoniemi@nib.int
Mr Vytautas Brazaitis, Communications Officer, at +358 10 618 0235, vytautas.brazaitis@nib.int