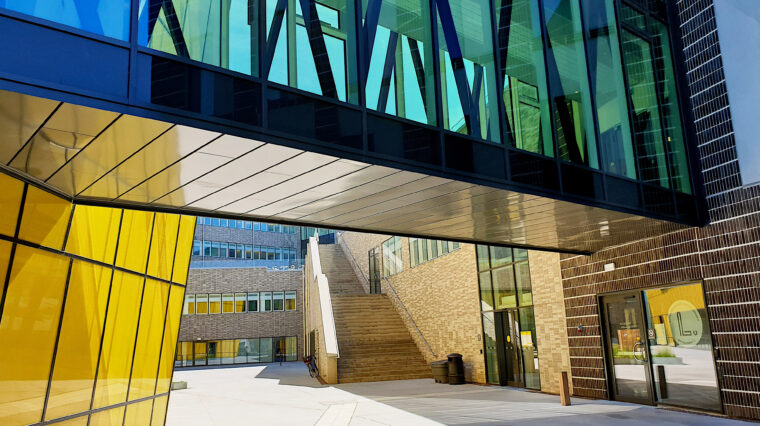 Image: Intea Fastigheter
23 Jun 2021
NIB finances new university campus buildings in Kalmar, Sweden
NIB and the Swedish real estate company Intea Fastigheter AB (publ) have signed a nine-year loan agreement to partly finance the second phase of the Linneaus University's new campus in Kalmar, Sweden.
The SEK 310 million (EUR 30.6 million) loan finances the construction of two new buildings, "Stella" and "Culmen", comprising 12,000 square meters of space. The facilities complete the construction of the eastern part of the Linnaeus University, which started in 2016.
The buildings were finalized in 2020 and include a large auditorium, classrooms, libraries, main university reception and offices for the university's administration, as well as cafés, shops and restaurants. By concentrating different premises in one location, the new campus is significantly more suited for learning as well as more integrated with the city centre.
"The city-integrated Linneaus University campus is an important urban meeting point encouraging new collaboration for research and business. It provides a hub for knowledge-based economy," says André Küüsvek, President and CEO of NIB.
The new facilities have an energy efficient design and are to be certified in accordance with the Gold standard under the LEED green building rating system. Green areas are planned in connection with the buildings' storm water control, heating and cooling control, as well as to create a pleasant environment for students and employees.
This is the second loan agreement between NIB and Intea. In 2018, NIB financed the company's investments in the first phase of the Linneus University campus modernisation, which included the construction of the new "Vita" building in the eastern part of the campus.
Linnaeus University is a Swedish state university with six faculties, and was established by the merger of Växjö University and Kalmar University in 2010. The University has nearly 35,000 students and 2,000 employees.
Established in 2015, Intea Fastigheter AB is a Swedish real estate company and has a portfolio of 29 properties. The company has its headquarters in Stockholm and local offices in Linköping, Halmstad, Östersund, Vänersborg and Kalmar.
NIB is an international financial institution owned by eight member countries: Denmark, Estonia, Finland, Iceland, Latvia, Lithuania, Norway and Sweden. The Bank finances private and public projects in and outside the member countries. NIB has the highest possible credit rating, AAA/Aaa, with the leading rating agencies Standard & Poor's and Moody's.
For further information, please contact
Ms Sari Cabell, Senior Client Executive, Materials & Real estate,
at +358 10 618 0519, Sari.Cabell@nib.int
Mr Vytautas Brazaitis, Communications Officer, at +358 10 618 0235, Vytautas.Brazaitis@nib.int