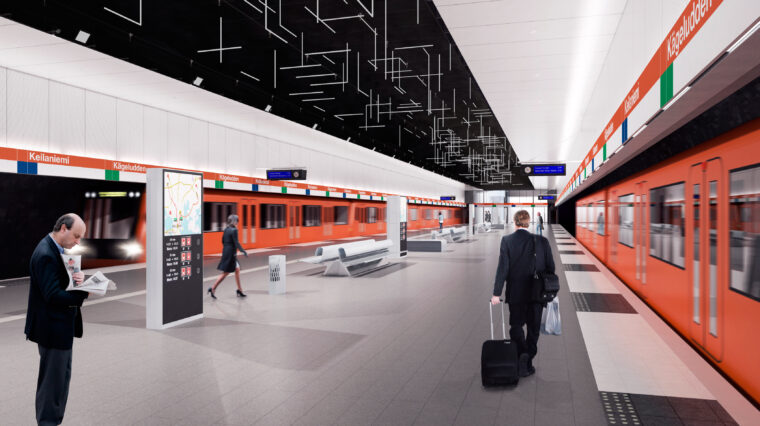 Länsimetro
12 Oct 2016
NIB finances new stretch of West Metro in Espoo, Finland
One of the new stations of the Länsimetro line. Visualisation: Länsimetro Oy.
NIB and the municipally owned company Länsimetro Oy have signed a loan agreement totalling EUR 150 million with a maturity of 30 years for the construction of an extension to the West Metro line in Espoo in Finland's capital region.
The loan will finance Phase 2 of the West Metro line, which will connect the westernmost parts of the city of Espoo with the country's capital, Helsinki. The new, seven-kilometre stretch will have five stations. It is expected to be completed in 2020 at the earliest.
The 14-kilometre, eight-station Phase 1 of West Metro has also been co-financed with a NIB loan signed in 2011 for an amount of EUR 120 million (click here for more information).
"The growing capital region of Finland needs modern and sustainable solutions for public transportation. The extension of West Metro is supporting this development by reducing carbon emissions and increasing the passenger capacity", says Henrik Normann, NIB President & CEO.
In total, the annual value of time savings in traffic is estimated to approach EUR 1 million by 2025 and to exceed EUR 3 million by 2050. It is estimated that 170,000 people will use the new metro line on a daily basis.
Länsimetro Oy is a company jointly owned by the cities of Espoo and Helsinki that was founded in 2007. It is implementing both phases of the metro line.
NIB is an international financial institution owned by eight member countries: Denmark, Estonia, Finland, Iceland, Latvia, Lithuania, Norway and Sweden. The Bank finances private and public projects in and outside the member countries. NIB has the highest possible credit rating, AAA/Aaa, with the leading rating agencies Standard & Poor's and Moody's.
For further information, please contact
Nordic Investment Bank:
Stefán Jón Fridriksson, Senior Manager, Origination, at +358 10 618 0512, stefan.jon.fridriksson@nib.int
Lisa-Maria Altenberger, Communications Unit, at +358 10 618 0234, lisa-maria.altenberger@nib.int
Länsimetro Oy:
Satu Linkola, Communications Manager, at +358 46 877 3392, satu.linkola@lansimetro.fi