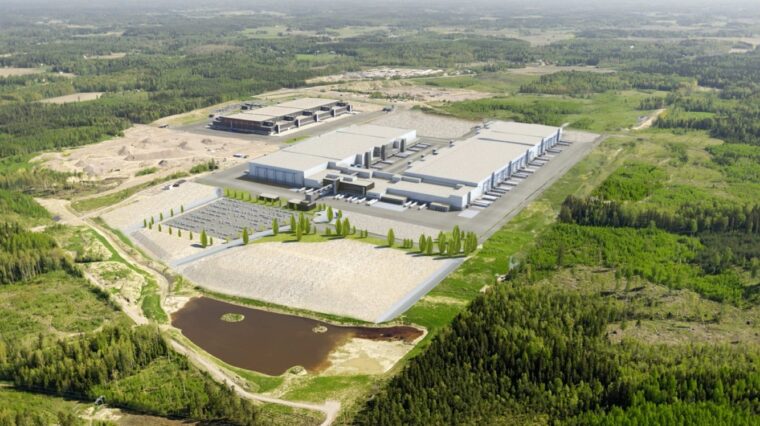 S-ryhmän logistiikkakeskukset Oy
26 Aug 2014
NIB finances new grocery logistics centre in Sipoo, Finland
Illustration of new logistics centre. Photo: S-ryhmän logistiikkakeskukset Oy.
NIB is contributing EUR 148 million to finance the construction of S-ryhmän logistiikkakeskukset Oy's new grocery logistics centre in the Helsinki region. The loan is part of a EUR 565 million syndicated credit facility agreement intended for S Group's logistics investments. Pohjola Bank plc and Nordea Bank Finland Plc acted as the mandated lead arrangers and coordinators of the facility, both having a similar share of the facility to NIB. In addition to NIB, Elo Mutual Pension Insurance Company and S-Bank Ltd acted as lenders both having a EUR 60 million share of the facility.
The investment will finance a new logistics centre for S Group's groceries, where a considerable portion of operations will be automated. S Group is the largest grocery retailer in Finland and S­-ryhmän logistiikkakeskukset Oy is owned by S Group's 20 regional cooperatives and SOK. The need for a new grocery logistics centre is urgent, as both the volumes and the amounts of products delivered to S Group stores have increased significantly, resulting in a lack of space at the current logistics facilities. When it is completed in 2019, the new logistics centre will cover an area of approximately 190,000 square meters, and it will gather under the same roof several logistics centres that S Group currently uses.
Optimizing automation in the new logistics centre is expected to generate substantial annual cost savings for the S Group by considerably lowering transportation costs and decreasing the logistics expenses.
The new building is designed to be energy-efficient and sustainable in many aspects, for instance utilising both geothermal and condensing heat in its heating. It aims to be certified in accordance with the BREEAM certificate, which is the world's most widely used environmental assessment to evaluate the sustainability performance of buildings. The new logistics centre would be the first industrial building in an NIB member country to receive a BREEAM Excellent rating.
S-ryhmän logistiikkakeskukset Oy was established in 2009 and owns those logistics properties that are considered the most significant in S Group's operations. S-ryhmän logistiikkakeskukset Oy has SOK's subsidiaries Inex Partners Oy and Meira Nova Oy as tenants.
NIB is an international financial institution owned by eight member countries: Denmark, Estonia, Finland, Iceland, Latvia, Lithuania, Norway and Sweden. The Bank finances private and public projects in and outside the member countries. NIB has the highest possible credit rating, AAA/Aaa, with the leading rating agencies Standard & Poor's and Moody's.
For further information, please contact
Mr Kim Krokfors, Senior Manager Origination, at +358 10 618 0517,
Ms Niina Rantti, Communications Officer, at +358 10 618 0265,