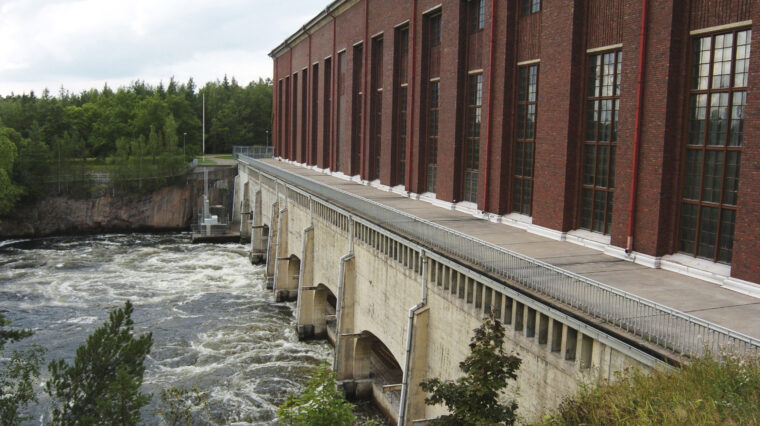 Imatra hydropower plant in Finland Photo: Fortum Corporation
27 Apr 2020
NIB finances hydropower upgrades in Sweden and Finland
NIB has signed a ten-year loan agreement of EUR 70 million with Fortum Oyj to finance the refurbishment of two hydropower plants in Sweden and one in Finland. The investment will improve safety, repair and renew the dam and spillway structures and extend the life span of the old hydropower plants.
The investment includes the refurbishment projects of exisiting hydropower plants in Imatra, Finland, and Långströmmen in Jämtland, Sweden. Both projects were finalised in 2019.
Fortum started to refurbish the hydropower plant Trängslet in Dalarna in 2019. It expects to complete the work in 2025. Fortum also plans to start refurbishing an additional hydropower plant in Sweden in 2020.
All hydropower plants were built between 1920 and 1960. The refurbishment includes the repair and reinforcement of dam structures and gates, expansion of spillway capacity, addition of new bride decks, as well as the renewal of electrical systems. The project will extend the lifetime of the dam structures with approximately 50 years, enabling continued renewable electricity generation.
The investments will upgrade the reservoirs of the power stations to improve the operational security of the units. The investment does not bring any new capacity to the network. However, the investment contributes to the security of supply and maintains efficient operation of the electricity market in NIB's member countries.
Fortum is a leading energy company that provides its customers with electricity, heating and cooling as well as smart solutions to improve resource efficiency. The company employs some 8,000 professionals in the Nordic and Baltic countries, Russia, Poland and India. In 2019, 59% of Fortum's electricity generation was CO2 free. Fortum's share is listed on Nasdaq Helsinki. www.fortum.com
NIB is an international financial institution owned by eight member countries: Denmark, Estonia, Finland, Iceland, Latvia, Lithuania, Norway and Sweden. The Bank finances private and public projects in and outside the member countries. NIB has the highest possible credit rating, AAA/Aaa, with the leading rating agencies Standard & Poor's and Moody's.
For further information, please contact
Mr Kari Jaukkuri, Senior Client Executive, at +358 10 618 0237, kari.jaukkuri@nib.int
Mr Arild Moen, Senior Communications Officer, at +358 10 618 0496, arild.moen@nib.int