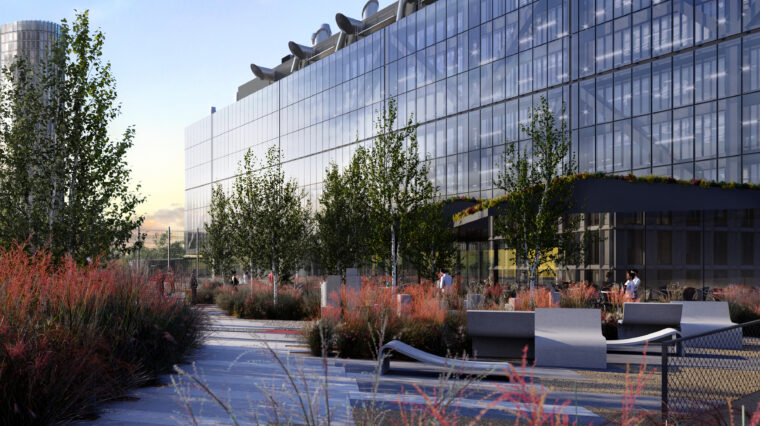 Building from the 5th floor terrace. Visualisation: Lords LB
10 Dec 2021
NIB finances green property developments in Riga
NIB and AS PN Project, managed by Lords LB Asset Management, have signed a EUR 25 million loan agreement for BREEAM Excellent-certified office construction in Riga.
The six-year-maturity loan will finance a 26,500-square-metre green office in Kipsala island in Pardaugava. The project is part of a larger Preses Nama Kvartāls property development project that will take place in several stages.
The new office building will receive BREEAM Excellent certification for its operational performance, and is a significant addition to the A-class office market in Riga. The development of Preses Nama Kvartāls and the revitalisation of the currently underdeveloped area should facilitate further transformation of Kipsala island and Pardaugava, which is set to become a central business district in the Latvian capital.
"This is the first NIB-financed BREEAM Excellent building in the Baltics. The project not only fosters green building developments in the region, it can also act as a showcase inspiring other firms to aim at higher energy efficiency and office worker wellbeing standards," says André Küüsvek, NIB President and CEO.
"A class office centre is a significant part of the Preses Nama Kvartāls project concept, creating the future financial and innovation centre in the very heart of the Knowledge Mile in Riga. Investments to the project will allow developing modern A class offices with premium work environment and versatile planning possibilities, that will help to attract new global level companies and start-ups. Revitalizing the historical Preses Nams territory with wide range of services, as well as infrastructure renovated according to the universal design principles and highly accessible to cyclists and pedestrians will certainly improve the life quality in the city," comments representative of "Lords LB Asset Management" Giedrius Bernotas.
Construction has started in 2021 and Preses Nama Kvartāls stage one is estimated to be completed in 2023.
SPV AS PN Project has been established for the project by Lords LB Asset Management, a Lithuania-based fund management company providing investment management services in the Baltic States. The company has successfully completed several property development projects, including the Baltic region's first BREEAM Excellent certified office building "K29" in Vilnius. The construction of Preses Nama Kvartāls' stage one is NIB's first project with Lords LB Asset Management.
NIB is an international financial institution owned by eight member countries: Denmark, Estonia, Finland, Iceland, Latvia, Lithuania, Norway and Sweden. The Bank finances private and public projects in and outside the member countries. NIB has the highest possible credit rating, AAA/Aaa, with the leading rating agencies Standard & Poor's and Moody's.
For further information, please contact
Mr Martin Lundström, Senior Client Executive, Project Finance, at +358 10 618 0426, martin.lundstrom@nib.int
Mr Vytautas Brazaitis, Communications Officer, at +358 10 618 0235, vytautas.brazaitis@nib.int