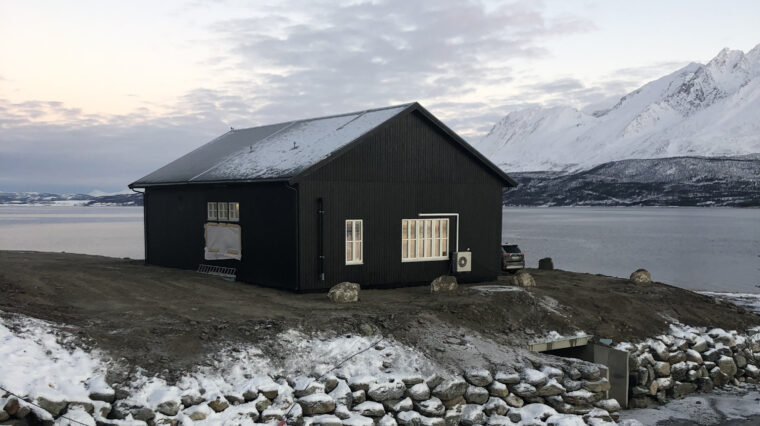 Ritaelva power station Photo: Nordkraft AS
27 Jun 2022
NIB finances construction of hydropower plants and networks in Norway
NIB signs a 7-year loan with the Norwegian utility company Nordkraft AS to construct four small-scale run-of-the river hydropower plants with a total capacity of 26.1 MW, and a regional grid and distribution network in northern Norway.
The NOK 500 million (EUR 48.61 million) loan will co-finance the construction of four small-scale (<10 MW) run-of- river hydropower plants in Øvre Russvik, Nedre Russvik, Ritaelva and Sveingård. The plants will have a total annual power generation of 68.7 GWh. All plants fulfil the technical screening criteria for hydropower in the EU taxonomy.
Nordkraft's regional grid investments will increase the transmission capacity in the eight municipalities of Harstad, Narvik, Kvæfjord, Ibestad, Lødingen, Gratangen, Tjeldsund and Evenes.
"Investing in increased energy capacity in northern Norway will enable the electrification of ferries, construction of charging stations for heavier machinery and allow a higher degree of electrification of the Evenes Harstad/Narvik Airport," says André Küüsvek, NIB President & CEO.
NIB's loan will finance 42% of the total project cost of NOK 1.2 billion, of which the investment in hydropower is NOK 320 million and grid investments is NOK 866 million. The loan project related to hydropower investments is eligible to be funded by NIB Environmental Bond proceeds.
"Nordkraft is very pleased to sign this loan agreement. We consider NIB an important and good supplement to our existing financing, and a good partner in our work with green investments in renewable energy and electrical infrastructure. NIB has been solution-oriented and an active contributor in an efficient process that has led to the signing of the loan agreement," says Eirik Frantzen, CEO of Nordkraft AS.
Nordkraft AS is a utility company based in Narvik in northern Norway, mainly producing electricity, operating hydropower, and wind power assets, and providing electricity distribution and fibre broadband. In 2021, Nordkraft AS and Hålogaland Kraft AS merged their businesses.
NIB is an international financial institution owned by eight member countries: Denmark, Estonia, Finland, Iceland, Latvia, Lithuania, Norway and Sweden. The Bank finances private and public projects in and outside the member countries. NIB has the highest possible credit rating, AAA/Aaa, with the leading rating agencies Standard & Poor's and Moody's.

For further information, please contact
Patrik Marckert, Senior Banker, at +358 10 618 0266, patrik.marckert@nib.int
Arild Moen, Associate Director, Communications, at +358 10 618 0496, arild.moen@nib.int