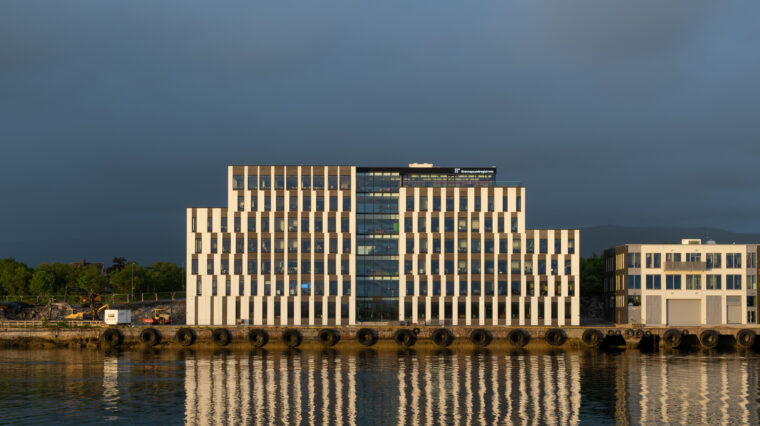 Photo: BYGG Tech AS
1 Sep 2022
NIB finances Brønnøysund Register Centre office building in Norway
NIB signs a 19-year loan with Søren Nielsen AS to finance the construction costs of the BREEAM-NOR Very Good certified 7-storey office building and related structures in Brønnøysund, Norway.
The NOK 375 million (EUR 39.33 million) loan is co-financing the 7-storey office building, which houses the Brønnøysund Register Centre, a Norwegian governmental administrative agency operating 19 national registers in the country.
The main office building was completed in July 2021. Further construction work and completion of related structures, such as parking facilities and the immediate surroundings of the register building are expected to be finalized by end-of summer 2023.
Søren Nielsen AS is a project company owning and developing the building complex let to the Brønnøysund Register Centre on a long-term lease agreement. Søren Nielsen is owned by the holding company Brønnøysund Kontorbygg AS, which in turn is owned by a consortium of investment companies.
NIB is an international financial institution owned by eight member countries: Denmark, Estonia, Finland, Iceland, Latvia, Lithuania, Norway, and Sweden. The Bank finances private and public projects in and outside the member countries. NIB has the highest possible credit rating, AAA/Aaa, with the leading rating agencies Standard & Poor's and Moody's.

For further information, please contact
Daniel Kangasmaa, Banker, at +358 10 618 0304, daniel.kangasmaa@nib.int
Arild Moen, Associate Director of Communications, at +358 10 618 0496, arild.moen@nib.int