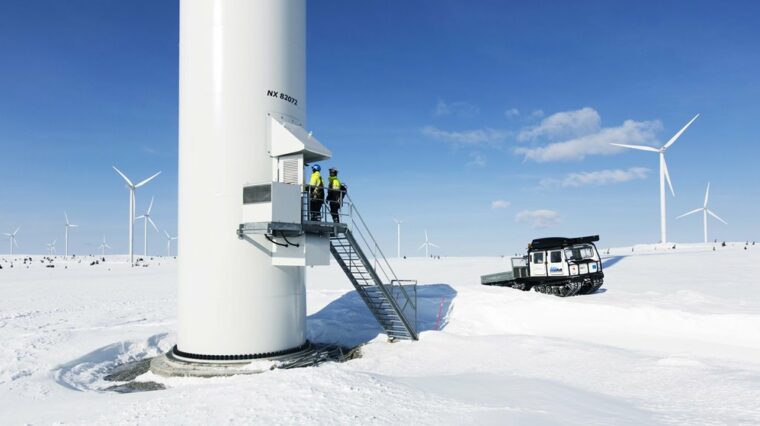 Blaiken wind farm
19 Dec 2014
NIB Environmental Bond loan to finance Arctic 225 MW wind farm project in Sweden
Blaiken wind farm Photo: Patrick Degermann
NIB has provided a 10-year loan to Skellefteå Stadshus for financing the construction of the Arctic Blaiken wind farm in the municipalities of Sorsele and Storuman in Västerbotten County, Sweden.
The SEK 450 million (EUR 48 million) ) loan, which is 100% financed by NIB Environmental Bonds, will be used to finance phases 2 and 3 of the Blaiken project. Phase 2 was ready in July, and phase 3 is scheduled to be completed in November 2015.
The park will then have 90 mills with a total capacity of 225 MW, making it one of Europe's largest onshore wind farms. All wind mills have specially designed de-icing systems for arctic conditions. The Blaiken wind farm started operations in 2013.
The investment is estimated to increase Skellefteå Kraft AB's annual electricity production by 370 GWh, compared to its total power production of 4.4 TWh. The increase is equivalent to approximately 3.8% of total wind power production in Sweden, and 0.3% of the country's annual electricity consumption.
"Wind power is one of the most sustainable ways to generate electricity, as it crowds out electricity generated from fossil fuels. The Blaiken project also creates jobs and economic growth in northern Sweden," says Henrik Normann, NIB President & CEO.
The loan is part of a long-term loan facility that allows Skellefteå Stadshus to borrow up to a total of SEK 900 million.
"Climate change is the greatest challenge of our time. Skellefteå Kraft is one of the most sustainable energy producers in Sweden and is happy to collaborate with NIB, which also has a strong climate-friendly approach," says Hans Kreisel, CEO of Skellefteå Kraft AB.
The Skellefteå Municipality's internal bank manages deposits of funds in the companies owned by the municipality.
"We are happy to say that we now get the Nordic Investment Bank as a complement in our debt portfolio, and we look forward to future cooperation," says Kristina Sundin Jonsson, City Manager and CEO of Skellefteå Stadshus AB.
The Blaiken wind farm is owned by the joint venture BlaikenVind AB, held by Skellefteå Kraft AB and Fortum Oyj. After the construction of phase 3, Skellefteå Kraft will own 86.7% of the joint venture. Skellefteå Stadshus AB is a municipally-owned holding company for Skellefteå Kraft AB.
NIB is an international financial institution owned by eight member countries: Denmark, Estonia, Finland, Iceland, Latvia, Lithuania, Norway and Sweden. The Bank finances private and public projects in and outside the member countries. NIB has the highest possible credit rating, AAA/Aaa, with the leading rating agencies Standard & Poor's and Moody's.
For further information, please contact
Yngve Söderlund, Senior Manager Lending, at +358 10 618 0239,

Arild Moen, Senior Communications Officer, at +358 10 618 0496,