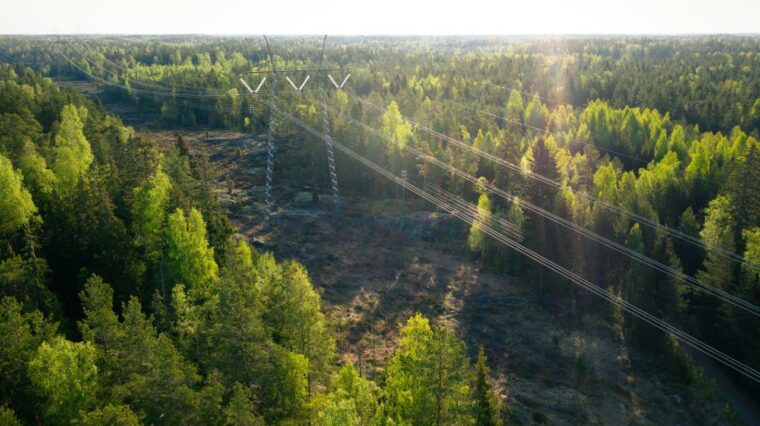 Image: Fingrid Oyj
17 Nov 2021
NIB continues cooperation with Fingrid to strengthen the Finnish grid
NIB has provided a new 15-year investment loan to Finland's transmission system operator Fingrid Oyj to finance the company's investment framework during 2021-2022. These investments include the construction of new and upgrades of existing transmission grid substations.
The EUR 70 million loan is eligible to be funded with the proceeds of NIB Environmental Bonds. The loan will provide green financing for Fingrid's investments that will increase the general network reliability of the electricity transmission for the society and industry as a whole. This is done by providing uninterrupted access to electricity and ensuring enough transmission capacity through the whole country and allowing Finland to retain its uniform price area in the electricity wholesale market.
Fingrid is responsible for electricity transmission in the Finnish main grid and plays a key role as Finland aims to reduce its CO2 emissions and increase the share of renewable energy resources in its production of electricity in accordance with the EU's energy and climate objectives.
The planned investments consist of new and upgrades of more than ninety electricity substations. These investments are a vital part to enable more than 4,000 MW of new wind power to be connected to the national grid.
"Strong demand for investments in energy infrastructure has a lot to do with Europe's drastically evolving, and greening, energy sector. Developing reliable and sustainable grid network is crucial for safeguarding both national and cross-border electricity transmission, and to bringing accessibility to different energy sources", says André Küüsvek, President and CEO of NIB.
"Green financing is an important part of Fingrid's financing strategy and comprehensively responsible operating model. We are very pleased with NIB's continued support and its latest decision to finance Fingrid's investment plan," adds Jan Montell, Fingrid's Chief Financial Officer.
Fingrid is a public limited liability company responsible for the transmission of electricity in the high-voltage transmission system in Finland. The system consists of over 14,000 kilometres of 400, 220 and 110 kilovolt transmission lines, and more than 100 substations. The power system is part of the inter-Nordic power system, and connected to Continental Europe, Russia and Estonia.
NIB is an international financial institution owned by eight member countries: Denmark, Estonia, Finland, Iceland, Latvia, Lithuania, Norway and Sweden. The Bank finances private and public projects in and outside the member countries. NIB has the highest possible credit rating, AAA/Aaa, with the leading rating agencies Standard & Poor's and Moody's.

For further information, please contact
NIB:
Mr Kari Jaukkuri, Senior Banker, at +358 10 618 0237, kari.jaukkuri@nib.int
Ms Iiris Anttalainen, Communications unit, at +358 10 618 0258, iiris.anttalainen@nib.int
Fingrid:
Mr Jan Montell, Chief Financial Officer, at +358 30 395 5213, jan.montell@fingrid.fi
Ms Marjaana Kivioja, Communications and Information Management Manager, at +358 30 395 5267, marjaana.kivioja@fingrid.fi