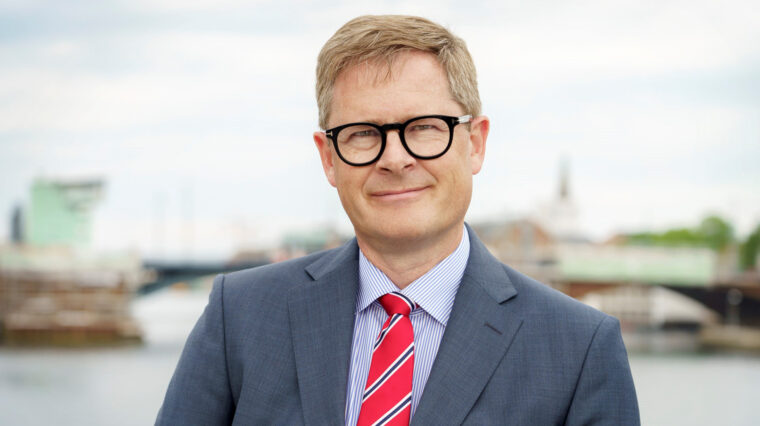 Kim Skov Jensen
14 Jul 2021
Kim Skov Jensen appointed new Chief Financial Officer at NIB
Kim Skov Jensen (Denmark) has been appointed Chief Financial Officer, Vice-President and Head of Treasury & Finance at NIB. He will be a member of the Executive Committee and responsible for the Bank's financial planning, reporting and accounting, balance sheet management, treasury activities, relationships with financial institutions and investors. Mr Skov Jensen will take up his appointment by 1 November 2021 at the latest.
Kim Skov Jensen has a longstanding career at Nordea. Currently he holds a position as Head of Markets & Treasury Financial Control in Nordea's Group Finance. Over the years, he has held several senior leadership positions in Nordea's Group Treasury and brings solid experience from commercial banking in the financial services industry.
"I warmly welcome Kim to our team. He comes with a strong track record and will be an asset for Treasury & Finance as well as other areas of NIB. Kim brings valuable leadership and financial experience to NIB from the largest commercial bank in the region", says André Küüsvek, NIB President and CEO.
"After working many years in commercial banking, I am proud to join the Nordic Investment Bank. NIB's business model is based on sound banking principles and it has a very attractive mission to support the productivity and the environment of the Nordic and Baltic region. NIB is a strong financial institution and I look forward to be part of the team which is known for its professionalism and dedication", says Kim Skov Jensen.
Mr Skov Jensen succeeds Björn Ordell (Sweden), who served the Bank as CFO since April 2015 and joined Handelsbanken as Head of Sustainable Finance & Debt Advisory at Handelsbanken Market in Stockholm in June this year.
NIB is an international financial institution owned by eight member countries: Denmark, Estonia, Finland, Iceland, Latvia, Lithuania, Norway and Sweden. The Bank finances private and public projects in and outside the member countries. NIB has the highest possible credit rating, AAA/Aaa, with the leading rating agencies Standard & Poor's and Moody's.
For further information, please contact
Mr André Küüsvek, NIB President and CEO, at +358 10 618 001, info@nib.int
Mr Kim Skov Jensen, NIB CFO as of November 2021, at +45 40 44 46 26
Mr Jukka Ahonen, Senior Director, Head of Communications,
at +358 10 618 0295, jukka.ahonen@nib.int