From left on stage: Thore Sekkenes, European Battery Alliance Program Director, InnoEnergy Scandinavia AB, Henrik Svenningstorp, CEO at SEEL, Erik Severinson, Head of New Car Programmes and Operations Strategy at Volvo Cars, Henrik Svenningstorp, CEO at SEEL, Jeanette Vitasp, NIB's Head of Lending. Nicolas Audibert, Director and NIB Country Lead for Sweden moderated the panel discussion. Photo: Carlos Zaya
29 Sep 2023
The future of mobility
A second discussion in NIB's seminar in Stockholm on 28 September, focused on the transformative future of mobility — a vital discipline for Sweden, given that transport contributes to nearly a third of the nation's CO2 emissions. With the panellists, including Erik Severinson of Volvo Cars, Thore Sekkenes from InnoEnergy Scandinavia, Henrik Svenningstorp of SEEL, and Jeanette Vitasp from NIB, the discussion delved into envisioning a mobility future that is automated, electrified and connected.
Nicolas Audibert, Director at NIB and Country Lead for Sweden, moderated the debate, and started by asking the panellists why is it important for our region to build a battery value chain?
The importance of building a battery value chain in Europe
Thore Sekkenes, European Battery Alliance Program Director at InnoEnergy Scandinavia AB, highlighted his mandate from the European Commission to champion this very cause. He emphasised the Nordic region's advantageous position, noting its proximity to a significant portion of customers—predominantly vehicle manufacturers.
Jeanette Vitasp, NIB's Head of Lending, said the battery value chain is a crucial opportunity for Sweden and Nordic.
"It's a window opportunity that we have right now, so from a sustainable growth and competitiveness perspective I see this as very important."
Erik Severinson, Head of New Car Programmes and Operations Strategy at Volvo Cars agreed and said that by participating now, we can actually shape how the battery engines look like five years from now.
"Otherwise we'll lose that opportunity to innovate and build. Timing is important."
Nordic capital versus U.S. funding models
How could this be done and is it enough capital in the Nordics compared to the US with its Inflation Reduction Act?
"Not all projects secure capital; it hinges on the project's efficiency and its likelihood of success. We see a significant interest in Sweden, and more broadly in Northern Europe, in green projects. However, these projects must present a sound business rationale. Moreover, financiers must believe in the projects' viability. Contrary to some perceptions, governmental funding in this region isn't as prevalent as one might think," said Severinson.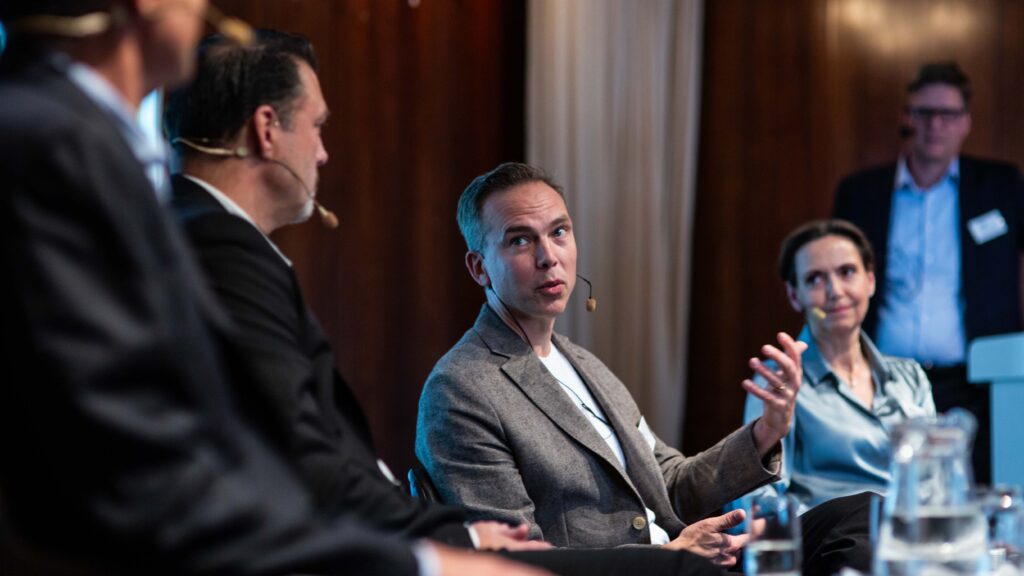 "If you compare our situation here to the Inflation Reduction Act in the USA, it's a completely different scenario. In the USA, businesses can receive 30-40% of their capital expenditures as upfront grants. There are also subsidies to bolster electric vehicle demand, such as USD 7,500 if the vehicles are regionally produced and eco-friendly. This is significant for us, as a large portion of our financing comes from debt. This debt is secured through volume commitments by our customers, ensuring future cash flows. However, there's also a considerable part that needs equity funding. This equity is not just for the battery plants; it's for our semiconductor investments, and for coping with global trends. The equity the companies hold, and that which is made available to them, has to be sufficient for various purposes. This is where I believe public funding can play a more prominent role, alleviating some of the pressures of equity financing for these projects. After all, these are substantial investments that need to be made," Severinson said.
Addressing the skills gap in electrification
You mentioned a shortage in competence. What specific skills are lacking, and how can this situation be improved?
Severinson said that while there is a perceived competence gap in Sweden, notable strengths exist.
"For instance, we possess considerable expertise in automotive, particularly in western Sweden, where together with Scania, we lead globally in automotive mobility. The challenge is to channel that competence into electric mobility."
"Not all nations have our unique blend of skills. In my view, it's essential to not only bring power to the people but also people to the power. As diesel production winds down at Volvo, we're transitioning our engineers from diesel to electric motors. They already possess a deep understanding of engine behaviour, so it's about repurposing and retraining the talent we have."
"High educational standards in this region mean we have an advantage. People in jobs today, like those involved in exhaust welding, might need to consider reskilling. However, while we may need some expertise from abroad, it's vital to realise that many competencies lie at the intersection of various sectors. For instance, increasing vehicle efficiency isn't just about the battery; it's about seamless integration. We need to address these inter-disciplinary competencies more holistically," said Severinson.
Sekkenes reminded that at its core the battery manufacturing is an energy-intensive chemical process.
"We're familiar with such industries. In fact, if we focus on the battery aspect, it could very well be the modern equivalent of the pulp and paper sector. Reskilling for this domain is necessary, but by no means unattainable," Sekkenes said.
Severinson said that the focus is often on engineering the finest product, but that engineering the most efficient process, whether for manufacturing a battery cell or an electric machine, is equally significant.
"If not more. In this transformative phase, there's immense scope for optimising processes. Consider this: only about 20% of an electric vehicle's cost is due to raw materials. The remaining 80% covers aspects like freight, labour, energy, and water. By optimising these components, we unlock substantial savings, ensuring greener and more affordable offerings for customers. Hence, process engineering's importance in this domain cannot be overstated."
Optimising charging infrastructure in Sweden
Is the charging infrastructure on track or is this is a sector in need of a national target?
Sekkenes rhetorically asked whether Sweden can improve its charging infrastructure, and answered that "[c]ertainly, but soon these concerns will fade. A Norwegian politician noted that in a decade, the challenge might shift to finding gas stations instead of chargers. While there's room for improvement, vehicles are evolving for longer ranges. Soon, many Nordic cars will rival or exceed the ranges of traditional combustion-engine vehicles."
Severinson spoke about how most car buyers focus on rare long trips when purchasing, considering situations like travelling with a full car in cold conditions.
"Yet, 99.9% of the time, they drive short distances, where electric cars excel compared to fossil-fuelled ones. The future isn't just about bigger batteries, which is akin to a temporary fix. It's about charging efficiency: how many kilometers can be charged per minute. With efficient, fast-charging networks, the battery's size becomes less crucial. If a car can gain a hundred kilometers in seven minutes and charging stations are abundant, then the emphasis shifts from battery size to charging speed. It's a combination of improving infrastructure, educating consumers about their actual usage, and preparing cars for rapid charging."
Sekkenes added that while high-end cars may come with large batteries and extended ranges, there's a trend towards average cars having smaller batteries.
"Some solutions even allow for battery swapping at stations, drastically reducing 'charging' time. Though we face challenges now, viewing them in a longer time frame brings perspective."
Erik acknowledged all the different solutions and stressed the need for standardisation of charging.
"Current electric car drivers, unless they drive Teslas, require various apps for different charging stations. Streamlining and standardising charging infrastructure will expedite its rollout."
Battery technology: present and future
The moderator then wanted to delve into battery development, saying that the market is dominated by lithium-ion batteries.
What's the future? Are solid-state or sodium-ion batteries on the horizon?
Svenningstorp talked about how lithium-ion batteries encompass various chemistries.
"Solid-state batteries, once seen as distant, now attract serious investment in Europe. While they've shown potential, they have issues like fragility. Historically, energy density in batteries has improved by 10% annually. If this persists, we're in for significant advancements."
Sekkenes said he is convinced that the lithium-ion technology will dominate for years due to its research backing.
"However, I believe the industry will diversify. Solid-state might appear in luxury cars soon, with broader adoption in a few years. Sodium-ion is also promising, especially for short-distance vehicles or stationary applications. I once thought we'd standardize on one solution, but now I see room for many in the coming decade."
Severinson agreed: "While we're developing around lithium-ion now, I doubt we'll see solid-state in vehicles before 2030. A key consideration is powertrain efficiency. Electric machines are vastly more efficient than combustion engines. In electric vehicles, energy optimization matters more than ever, as it's akin to a raw material. The industry's perspective on energy has fundamentally shifted in recent years."
Innovation through R&D and collaborations
The moderator then transitioned to R&D and product development: "Henrik, as the CEO of SEEL, can you shed light on the new test labs you recently launched?"
Henrik Svenningstorp, CEO of SEEL (Swedish Electric Transport Laboratory) – a joint initiative by Sweden's state-owned Research institute RISE and Chalmers University, partnered with Scania, CEVT, Volvo Group, and Volvo Cars – replied that SEEL is indeed specialised in the integration of battery cells and electric motors.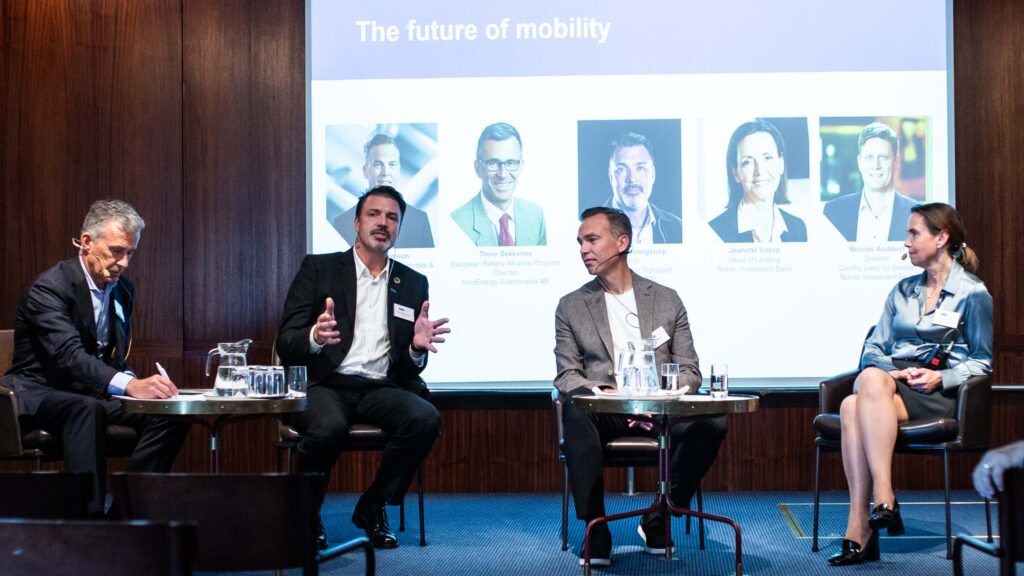 "Our labs facilitate R&D for next-gen components and systems. We test everything from battery cells to complete vehicles, including buses and trucks. We can also conduct abusive tests and certify products. Our facilities aim to be a hub for all professionals in this sector. While we are independently operated, we welcome collaborations with various companies, academia, and institutes."
"Your setup exemplifies public-private partnerships – initiated with public funds but serving private sector clients," Audibert commented.
"Yes, SEEL is a partnership between the Research Institute of Sweden and the Chand Foundation, backed by a significant grant from the Swedish government under a special European regulatory framework. Our focus is on the equipment, capability, and capacity we offer," Svenningstorp answered.
Severinsson, representing a client of SEEL, said that a major benefit for big clients like Volvo Cars is the proximity to development departments.
"Being able to have engineers nearby during testing is invaluable. Also, many labs have low utilisation rates, making collaborations like ours essential for driving innovation."
Challenges in raw material sourcing and refinement
"Let's discuss raw material sourcing, especially considering how crucial lithium is for batteries. With demand outstripping supply, will it remain critical, and what about other minerals?"
Sekkenes picked up and reminded that lithium prices have come down.
"So maybe lithium is not as scarce as we thought. But it's more about the inefficiencies of transporting it globally. Europe isn't running out of lithium; it's abundant here. Aside from lithium, there's manganese, nickel, cobalt, and graphite. Graphite is my primary concern. We can find all these minerals in the Nordics, but Europe's challenge lies in mining and refinement."
Severinson said that beyond mining, refining is vital.
"Much of our capacity is outsourced to China, where the environmental standards might not be as stringent. We should focus on creating sustainable, green processes closer to the end production."
Towards a transparent battery value chain
Jeanette Vitasp refered to how the EU's proposed sustainability labelling for batteries can help the situation.
Sekkenes informed that he is involved in this development and spoke of "battery passport" that tracks material sources, saying it is crucial to ensure industry transparency and compliance. By 2026, this passport is required for any battery sold in the EU.
Severinson agrees to this, but said the EU still needs a more cleare value chain.
"Many Chinese EVs flood the market, making it hard to trace material origins. We need transparency."
Battery recycling: current state and future visions
Given the importance of recycling, how are the Nordics progressing in this aspect instead of always extracting new materials?
Severinson said that the while there are ambitions, there is still a long way to go.
"Battery recycling will become significant about a decade after the battery's production, which makes current discussions somewhat premature. The focus should be on designing recyclable products. Moreover, NMC batteries have higher recycling value than others, so recycling is preferable to using them in second-life applications."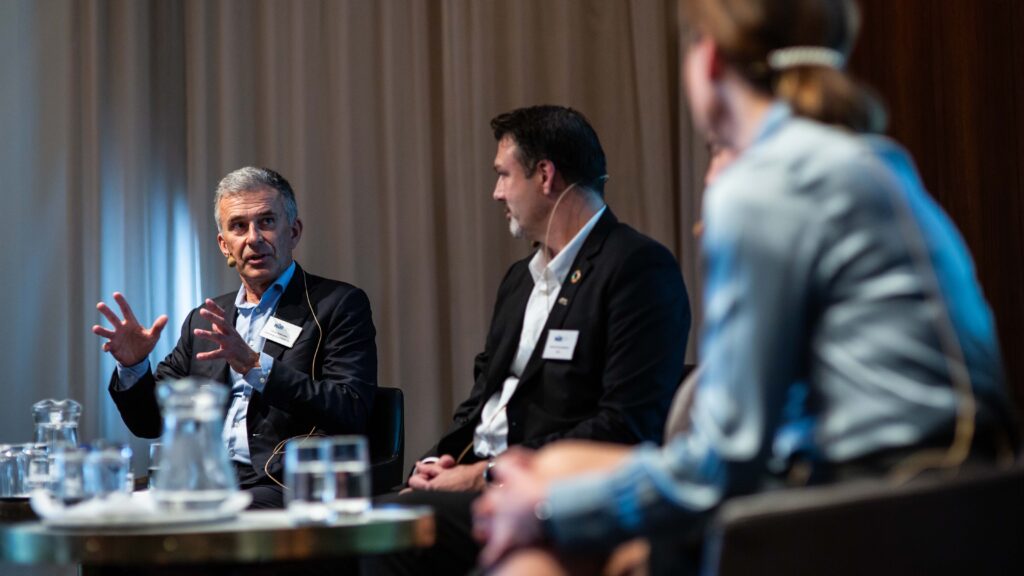 Sekkenes added that "[w]hile recycling is crucial for sustainability, we shouldn't expect it to be our primary raw material source anytime soon. For instance, despite recycling, we are still mining a lot of aluminium!"
Severinsson noted that some 50% of end life vehicles leave Europe, going to places like Africa, India and Russia.
"In the future, this could serve as a potential raw material source, but we need to ensure these vehicles are appropriately recycled."
This debate summary has been edited and condensed for clarity.
NIB has operated in Sweden since 1977. The Bank has provided EUR 19.2 billion (SEK 217 billion) to fund more than 590 projects in the country. We finance projects that improve the productivity and benefit the environment of the Nordic and Baltic countries.
In recent years, NIB has especially supported the automotive cluster in Sweden, which includes companies such as Scania, Volvo Cars, SEEL, Northvolt, AstaZero, and RISE. NIB's loans have funded projects such as electromobility, road safety, and material research. Here you can see what NIB is financing in Sweden.
Looking ahead, NIB aims to continue to support the green transition and accelerate innovation.