From left to right: Antilooppi's CEO Tuomas Sahi, Head of Sustainability and Property Management Hannamari Koivula and CFO Thomas Blumberg.
8 May 2023
Siltasaari 10: A historical treasure reborn
The bustling streets of Hakaniemi in Helsinki are steeped in history and vibrant culture. A shining example is the legendary Elanto department store founded over a century ago. In 2021, the iconic building reopened its doors after a significant renovation, co-financed by a EUR 40 million 10-year loan from NIB. We visited the new Siltasaari 10, meaning bridge island, to see the transformation for ourselves.
The eight-minute walk from NIB's offices to Siltasaari 10 takes us along a botanic garden and over a bridge across a small inlet of the Baltic Sea over to Hakaniemi. Here, the former Elanto department store was long a cornerstone of Finnish cooperative history. Opened in 1913, it hosted a diverse range of shops from groceries to herbs and clothing, cafes and restaurants. After a short period under the Sokos brand, the real estate developer Antilooppi Ky acquired the property in 2013, combining the department store and two wall-to-wall buildings.
"In Siltasaari 10, we have been able to give an old building a new life by finding it a purpose that we believe is going to keep serving its users for the next hundred years," says Tuomas Sahi, CEO of Antilooppi.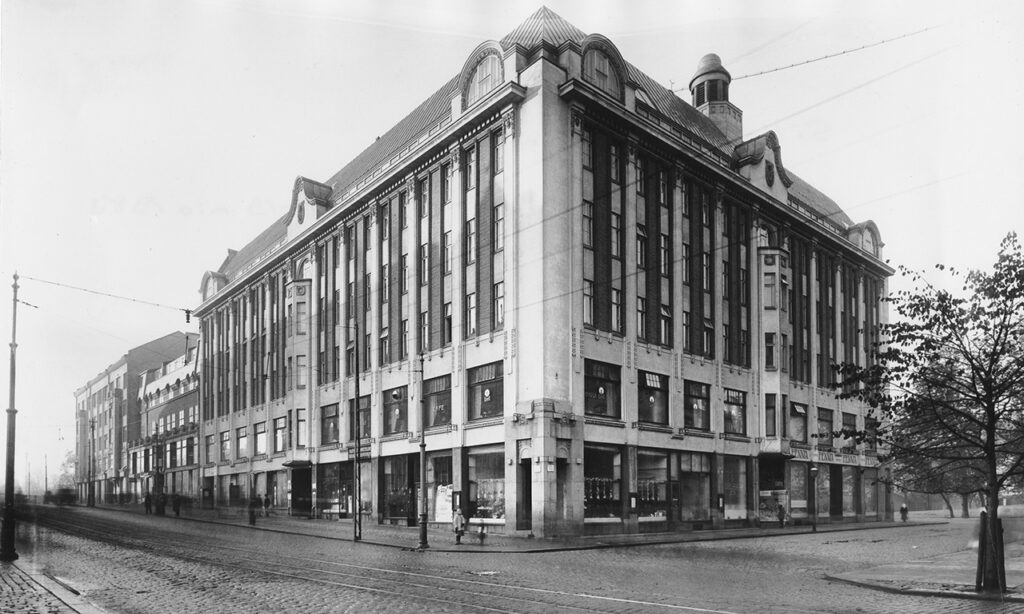 Elanto, officially Osuusliike Elanto, was a cooperative that operated between 1905 and 2003. In a cooperative, member customers are also co-owners. KUVA: ERIC SUNDSTRÖM / HELSINGIN KAUPUNGINMUSEO
Siltasaari 10
Antilooppi's approach to renovation is to honour the past while catering to the needs of modern urban dwellers. The refurbished Siltasaari 10 now offers 80% of its floor space for office use, attracting creative companies that embody the urban spirit of Hakaniemi-Kallio district. It still houses a HOK-Elanto grocery store, several restaurants, and a contemporary mixed-use area, boasting improved energy efficiency.
To visitors like us, the building can be seen as a symbol of the transformation of this area.
Ever-evolving Hakaniemi
Surrounded by the sea, Hakaniemi is an edgy and rapidly developing area of commerce, work and culture. Historically, this district close to central Helsinki developed into a centre of political activity for the working population in the early 1900s. After the wars, the trade union movement emerged, and Hakaniemi became a political power area for the strengthened labour movement.
Tuomas Sahi says it was important for him and his team to keep the urban rough-around-the-edges DNA of Hakaniemi.
"A property always has a close connection to its immediate surroundings, and the renovation of Siltasaari 10 has been done respecting the history of the building, catering for the needs of the evolving area and its residents as well as workers. The project is a testimony of how the old and the new Hakaniemi are brought together."
And so the rapid development of the Hakaniemi area continues. The City of Helsinki is currently making significant investments in the area, such as the renovated Hakaniemi Market Hall and a new tramline.
A sustainable flagship
The real estate investment sector accounts for 40% of global carbon emissions. Sustainability is therefore a core value for Antilooppi, and the Siltasaari 10 renovation reflects this commitment. The project has significantly improved energy efficiency, earning the highest green building certification, LEED Platinum. The company also plans to achieve WELL Gold level certification, which focuses on the health and wellbeing of property users.
People who are using Siltasaari 10's facilities will most likely appreciate its accessibility, prime location and excellent social facilities. The building houses a bike-storage facility equipped with 400 bike-parking spaces, as many employees will take advantage of its centralised location.
"With Siltasaari 10 we are proud that were able to repurpose and sustainably renovate an existing building, resulting in fewer adverse environmental impacts than a new construction," says Hannamari Koivula, Head of Sustainability and Property Management at Antilooppi.
Antilooppi's Chief Financial Officer Thomas Blumberg says Siltasaari 10 serves as a good example of their long-term work on sustainability.
"It's particularly great that our property development scheme met NIB's criteria, which focuses on responsibility and the green transition. We're delighted to have a financier and partner like NIB supporting this significant project," Blumberg says.
On our way back to NIB, we can't help to think about how the new Siltasaari 10 has succeeded in blending in the old and new Hakaniemi. It is a space that inspires interaction and fosters community, both within the building and its surroundings. As Antilooppi CEO Tuomas Sahi puts it, "Siltasaari 10 is meant to bring people in, to inspire interaction between people within the building but also with the surrounding society."
As the city continues to invest in the Hakaniemi area, Siltasaari 10 is a fine example of the power of innovation, sustainability, and respect for the past. The rebirth of this iconic building offers a glimpse into the sustainable future of the ever-evolving Hakaniemi neighbourhood.