"Leveraging our central heating system, we can act as mediators, converting excess electricity into heat energy for our customer base. In doing so, we aim to help balance the ever-growing electricity demand," says Ilvars Pētersons, Chairman of Rīgas siltums.
25 Aug 2023
Rīgas siltums: Pioneering sustainable district heating
In Latvia's capital, Riga, district heating company Rīgas siltums is charting new paths in sustainable heating. The Chairman, Ilvars Pētersons, delves into the company's strategic direction amid the evolving energy landscape.
Pētersons and his management team are currently completing a ten-year strategy proposal for the heat energy provider and the final approval is expected by the end of September this year. In this interview, Pētersons gives some insights into the company's future strategy and their perception of the way forward.
"The energy industry is undergoing a monumental transformation that offers numerous opportunities. These extend beyond enhancing our current operations and can lead to the emergence of entirely new sectors. We're at the heart of an immensely important industry, and its potential should never be underestimated," says Pētersons.
Rīgas siltums is the primary heat energy provider in Riga, responsible for its production, transmission, and sale, as well as maintaining internal heating systems of buildings. The fuel sources are mainly natural gas and wood chips, with wood chips constituting about half. The company is currently investigating the feasibility of other sources, such as combining wood chips with waste for energy production. Rīgas siltums produces approximately 30% of its thermal energy across its 5 heat plants and 39 boiler houses. About two thirds of the purchased thermal energy is purchased from Latvian state utility Latvenergo, while the remaining third comes from independent producers.
Currently, half of the energy produced by Rīgas siltums is from renewable sources, and the plan is to increase this to 90% by 2030. The company provides two-thirds of Riga's thermal energy, and it owns approximately 689 kilometres of the city´s 800 km wide heating network.
Energy exchange platform
This makes Rīgas siltums one of the largest central district heating companies by network size, not only in the Baltics, but also in several eastern European and some Nordic countries as well.
"We're in the process of devising a new decade-long company strategy which we've termed the 'energy exchange platform'. Originally established to generate and distribute heat, we now recognise a broader role we can play. For every megawatt hour produced, our goal is to obtain, rather than release, that energy into the atmosphere. We believe there's always a customer in need of this energy, demanding a more holistic approach from a technological standpoint."
Across Europe, the influx of wind farms and photovoltaic projects has led to fluctuating electricity prices, presenting challenges for network operators. Amid these challenges, the company is currently exploring electricity and has plans to integrate electric boilers.
"Leveraging our central heating system, we can act as mediators, converting excess electricity into heat energy for our customer base. In doing so, we aim to help balance the ever-growing electricity demand," Pētersons says, adding: "In the current unstable energy market our distribution network is really a great asset."
Exploring new gas solutions
Rīgas siltums has access to the only natural underground gas storage facility in Latvia and the Baltics. Historically, there was a strong focus on this, and alongside its heat distribution network, Riga has a well-developed natural gas distribution system.
"However, as we consider the sustainability challenges of natural gas, we're now exploring the production of hydrogen and synthetic methane. This shift offers us the potential to evolve beyond just heating, allowing us to produce methane and integrate it into our existing gas networks. Our goal is to make customer connections greener across the region."
While Pētersons admits these are ambitious plans, he is confident that hydrogen and synthetic methane production will become economically viable.
"The positive outlook fuels our optimism for the future."
Emulating the electricity market
The proposed new strategy focuses on the company´s networks and heat production. The plan is to make a clear separation between these functions, so that its networks would remain under regulatory oversight, while opening its production to a more competitive market environment.
"Our long-term vision is to emulate the flexibility seen in the electricity market, allowing for spot pricing, dynamic rates, and more. Ideally, we'd want our customers to have choices, like sourcing heat from various energy retailers or opting for sustainably produced heat. While such a system isn't yet operational in Latvia, our aim is to foster this kind of flexibility for the advantage of our consumers and the wider community," says Pētersons.
Winter's pricey wake-up call
The company´s significant role in Latvia's heating sector makes it crucial for them to provide stable tariffs to provide visibility for their customers. Responding to questions about the influence of last winter's soaring energy costs on the company's strategic direction, the chairman said:
"Indeed, the high prices served as a significant impetus. It's clear that we don't wish to find ourselves in such a situation again. This experience underscored the importance of diversifying our energy sources to minimise risks. It was a major factor in our decision to explore how we can evolve to prevent similar challenges in the future. We've also reevaluated our contracting methods for natural gas and wood chips. We're proactively designing processes to better prepare for future uncertainties, aiming to mitigate risks as effectively as possible."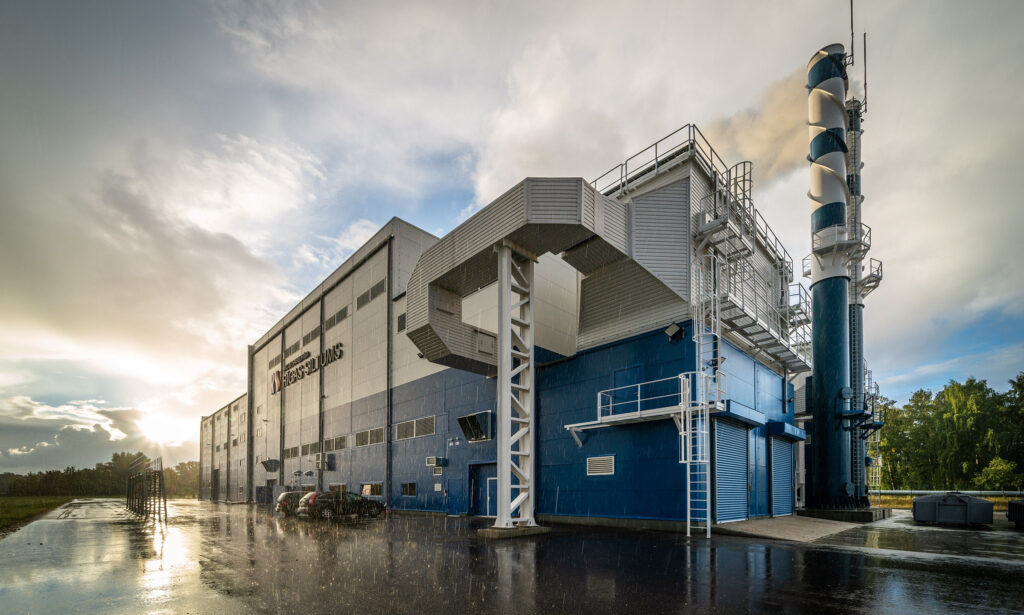 Modernising infrastructure
As part of this approach, the company is currently replacing outdated infrastructure, replacing pipelines from the 1960s and 1970s to enhance performance and decrease energy losses, increasing overall efficiency.
The company is also in the process of boosting energy generation from renewable resources like sustainable biomass. This shift aims to lessen dependence on natural gas and enhance efficiency. The firm will also add equipment, such as heat pumps and flue gas condensers, to refine energy output in current facilities. This initiative will introduce 53,000 MWh of renewable energy and cut primary energy use by 29,000 MWh. The distribution system's expansion will accommodate more clients, leading to increased revenue and customer base. Additionally, it will help in reducing air pollution, contributing to a cleaner environment.
The investment for these projects is budgeted at EUR 29 million, of which NIB is financing 70% through a ten-year loan signed earlier in 2023.
Economic and financial strategies
The chairman says that the current regulatory framework and the way the tariff system is structured in Latvia require improvements. He emphasises the need for a system that inherently supports and finances green initiatives.
"Obviously, when we do projects and we involve local financing or finance ourselves, typically project by project, we really see in the future what is needed and that is more programme-based financing. There is more potential to be taken from EU funding. So there could be a combination. The major issue at the moment is that we see the need to improve the tariff system to be transparent and more reflecting the future needs of society and also the business – to have a good balance here."
Rīgas siltums is 48.995%-owned by the City of Riga and the State of Latvia equally, with Enerģijas risinājumi.RIX Ltd owning 2% and the state-owned utility Latvenergo Joint Stock Company owning 0.005%.
Challenges and the road ahead
"Our shareholders are keen on seeing our operations extend beyond Riga, presenting a clear opportunity for us to expand our network reach. However, a significant challenge is that many other heat distributors in the region lack sufficient engineering capacity.
"We, as operators, can actively engage more with residential sectors and offer enhanced energy efficiency services. We possess both the ideas and the capabilities to achieve this, which I believe can significantly bolster the green transition across the Baltic states."
The chairman emphasises the need for regulatory reforms and clearer definitions of innovation to drive the green transition forward.
"Our primary need for governmental support revolves around an improved regulatory framework. This would allow us to address financial challenges and enhance information exchange, as well as educate society about green initiatives. There's significant room for growth in this regard. We also seek more operational freedom for companies, especially in terms of regulatory restrictions, to foster growth and innovation. One challenge, especially for state-owned companies, is defining budgets for innovation. The concept of 'innovation' is often ambiguous, making it challenging to allocate resources. We believe that better dialogue and collaboration are necessary for progress in these areas."
What advice would you offer to other heat distributors in the region aiming to adopt greener operations?
"We continually learn from our peers. Currently, we're observing companies in Norway, Sweden and Finland to understand their advancements in this domain. I believe district heat companies need to reassess, reinvent, and rejuvenate their strategies. While the nature of heat distribution and production may not allow for swift changes, there's undeniable room for innovation, particularly in automation and digitalisation. I'd urge companies to delve deeper into the realms of electricity and automation because that's where the future is headed," says Pētersons.
"These should be focal points when planning the growth of our networks and heat production processes."