André Küüsvek, President and CEO of the Nordic Investment Bank, noticed that Denmark was surprisingly underrepresented among the bank's investments. He has now set out to change that going forward. PR/NIB/Marjo Koivumäki
27 Feb 2023
NIB has an appetite for green Danish investments
This is a translation of an interview with NIB President & CEO André Küüsvek, that was published in the Danish business daily newspaper Finans on 22 February 2023, adjusted for NIB's website. The article is originally written in Danish by Finans journalist Victor Emil Kristensen.
Historically, Denmark has made up very little of the portfolio at the Nordic Investment Bank. That will change going forward, with green investments in particular making Denmark interesting, the bank's CEO said in his first interview in Denmark.
André Küüsvek, who took the helm of the Nordic Investment Bank (NIB) in 2021, was surprised to find that Denmark made up a relatively small portion of the bank's portfolio.
"It was astounding to see that Denmark made up a much smaller proportion of our portfolio than the size of the Danish economy and its ownership of us would suggest," he explains at Radisson Hotel in the centre of Copenhagen.
Here, the NIB's top executive is giving his first interview in Denmark over black coffee, croissants, bacon and eggs.
"I was told that Denmark had an absolutely world-class loan system with long-term fixed-rate financing that could hardly be matched anywhere else. But I questioned that. Surely there must be a private sector, industrial companies and, not least, a green transition that is interesting to us," says André Küüsvek.
The Nordic Investment Bank is based in Helsinki and is owned by the Nordic and Baltic countries.
He is a long-term investor with a low appetite for risk, where Danish investments have become significantly more since Andre Küüsvek took over the reins. In his first year as CEO Denmark was the primary destination for investments for NIB, which sent nearly a third of its funds towards Denmark. This is partly spurred by the fact that Denmark is the only Nordic country that has its country manager stationed in the country. It's a long way from Helsinki to Copenhagen and having boots on the ground helps.
In 2022 the volume increased even further, and according to André Küüsvek it is particularly the green investments that are interesting. Out of the eight loans that NIB provided in Denmark in 2022, totalling one billion euros, half were earmarked for climate and energy projects.
Here Denmark is in a unique position, according to André Küüsvek.
»Denmark has great experience in offshore wind compared to virtually all other countries. And renewable energy is going to be the core of the green transition. That is clear to everyone. It is also clear to everyone that it is going to require substantial investment,« says the bank director.
Nordic Investment Bank
Nordic Investment Bank, NIB, is owned by Denmark, Estonia, Finland, Iceland, Latvia, Lithuania, Norway and Sweden and provides loans for activities in these countries or for Nordic companies' activities in developing countries. Sweden has a share of 34.6%, while Norway and Denmark have shares of 21.5% and 21.1%, respectively. Finland owns 17.7%, while the Baltic countries and Iceland own only a few percent.
The Bank has its headquarters in Helsinki, Finland, and provides financing for up to half of a given project.
NIB has significantly increased its activities in Denmark in recent years. Over the past 16 years, the Bank has loaned just over five billion euros in Denmark, of which almost one billion euros was lent just in 2022.
NIB raises funds for loans by issuing bonds that are sold on the international capital market.
Source: NIB
»There is also a need for infrastructure. The power needs to go on the grid, the hydrogen needs to go in pipelines. That is necessary if companies are to be given the opportunity to switch over and say: Hey, we would like to replace all our lorries with ones driven by electricity. We would like to support everyone from producers of green energy to the infrastructure for the individual company.«
This has been the case so far with the Danish power cable to the UK, Viking Link, while also having granted a billion loan to industrial conglomerate FLSmidth's efforts in reducing its CO2 footprint.
André Küüsvek's announcement comes shortly after Danish authorities decided to scrap up to 23 gigawatts of subsidy-free offshore wind, a tenfold increase of Denmark's current amount, out of fear of violating EU legislation. This announcement has caused investors to question whether Denmark is the ideal harbour for green investments.
André Küüsvek does not come to the same conclusion.
"I'm not surprised that companies prefer one form of offshore wind arrangement while authorities prefer another. As long as a direction is decided upon, we're safe," he says.
"I'm not going to be the judge of that. But it's clear that if we were an investor in one of the projects, I'd be making it clear that this isn't exactly what we'd counted on."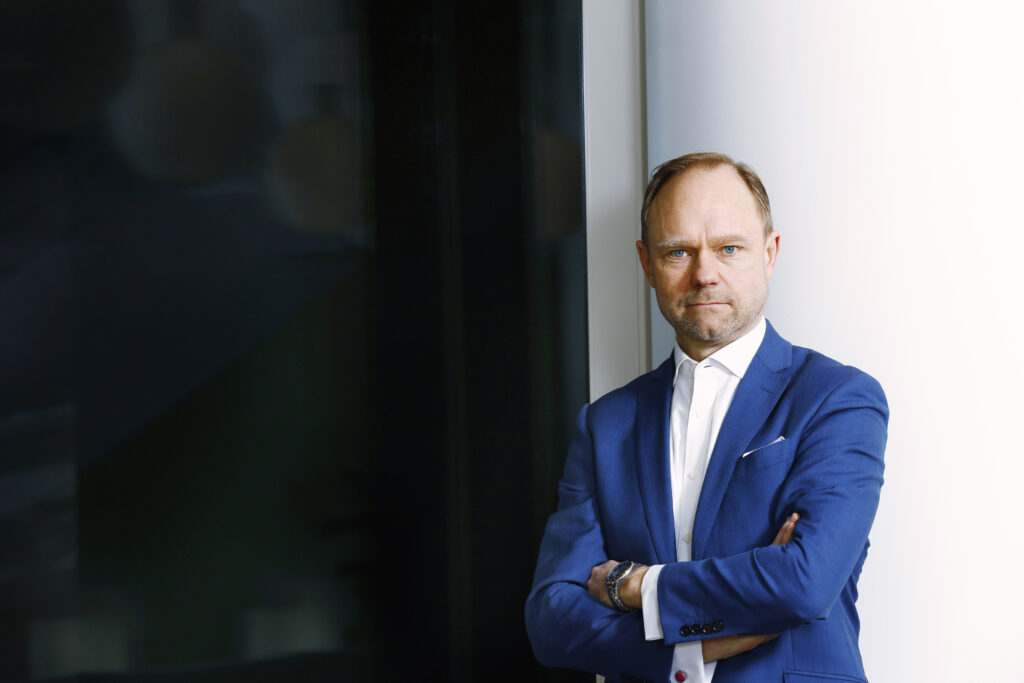 The day before had been spent in meetings with Danish companies, and once breakfast is swallowed, this day will go the same way, before André Küüsvek returns to Finland. He makes it clear, however, that Denmark is particularly interesting when it comes to green investments for NIB.
Traditionally, the Nordic Investment Bank has had a very limited appetite for risk. This is according to the top boss, and a review of the many billions that the Investment Bank has sent to Denmark confirms the picture. Investments in railways, research in sugar beets, and money for the purchase of breweries are not exactly a step into the unknown.
The tides are changing, and so is the investment bank, which is increasingly looking towards Denmark. With an ambitious, enormous hydrogen plant, plans for the production of liquid green aviation fuel and hydrogen pipelines, it will be hard to avoid risks if you want to be part of it.
"It's up to the experts to decide what the fuel of the future will be. As an investor, I don't think it's completely clear. But if we are afraid of risk, we won't build anything in the meantime. So, we will lose the green transformation. So, we must take certain risks, and for some, those risks will pay off. It is up to us as investors to make the right choices," says André Küüsvek.