S Group's automated logistics facility in Sipoo. Photo: Marjo Koivumäki
4 Dec 2018
Logistics centres have gone digital in Finland
Oat flakes, rice, coffee, fruit juice… Green trays loaded with food items circulate on conveyor belts around a logistics centre so big it could easily house 23 soccer fields. The trays each travel to a specific location in the centre and are lifted by robots onto sky-high shelves, ready to be picked up again for delivery to grocery stores.
S Group's almost-completed logistics centre in Sipoo, in the Helsinki metropolitan area, is expected to be up and running in January 2019. With a price tag of EUR 600 million and dimensions reaching 200,000 m2, it is by far the company's most significant project in terms of investment and size.
Approximately 1,000 trucks visit the centre every day to transport goods to more than 1,100 S Group stores in Southern Finland.
The centre is certainly one of a kind. "This is one of the largest and most automated logistics facilities in the world. Usually, warehouses only store a specific range of products", explains Mr Pasi Suutari, Vice President of Real Estate at S Group. "But here, we are able to store all product groups offered in our shops in the same location, and we have the technology to process them."
The centre has six different temperature zones, the coldest being the 540,000 cubic metre freezer with minus 26˚ C. There is even a separate ripening room for bananas. More than 50 million kilograms of fruit will pass through it every year.
Digitalisation benefits consumers
The centre's machine-based processing of goods starts once the truck drivers have unloaded their vehicles, and scanned and lifted the items onto the conveyor belt. This is when the robotics step in. Products are re-distributed and sorted according to each grocery store's shelf-specific orders, preparing them for pick-up and delivery.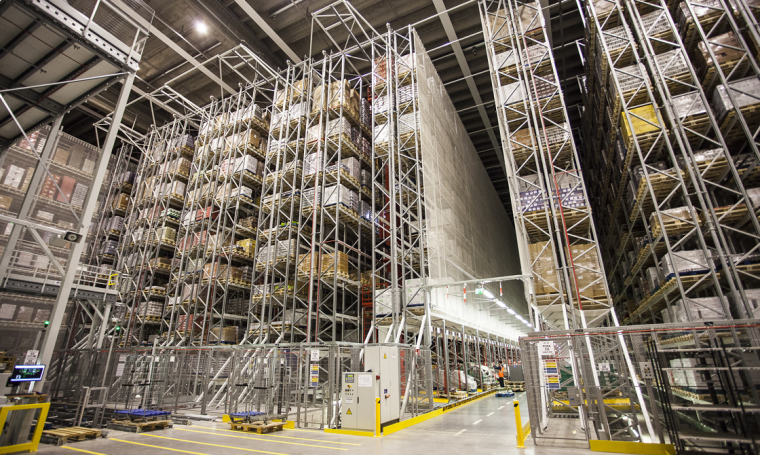 S Group's logistics centre in Sipoo, Finland. Photo: Tuukka Mielonen, S Group.
The automation at the centre has also affected the packaging of goods. It has incentivised manufacturers to change their boxes to "robot-fitted models" that follow standard measurements. This creates advantages for the consumers too: The automated processes keep the uniform packages undamaged, and the delivered goods are in better shape. Also, as the goods arrive at the stores in the right unloading order, they reach the end-customer in a timelier manner.
"The state-of-the-art digitalisation and automation of this centre enables us to take away all the unnecessary costs from the value chain and make products cheaper, which benefits of our customers", adds Mr Suutari.
In addition to its advanced technology, the Sipoo Logistics Center was also the first industrial property in the Nordic countries to be certified according to the BREEAM Excellent environmental standard for buildings. It has several energy efficiency solutions installed.
"The facility's heat demand is covered by geothermal energy, condensation heat and bioenergy. Our strategy is to utilise renewable energy always when feasible", says Lea Rankinen, Senior Vice President, Sustainability and Stakeholder relations at S Group.
An industry-wide trend
In Järvenpää, half an hour north of the Finnish capital, another logistics centre is set to receive BREEAM Excellent certification: Lidl Suomi's new 62,000 m2 distribution centre, which will also start its operations in early 2019, will operate purely on green energy.
"For the Järvenpää centre, we set a number of ambitious environmental goals, so aiming for BREEAM certification was a natural step", says Mr Kalle Hintikka, project manager at Lidl.
The international discounter chain Lidl entered the Finnish grocery market in 2002, and since then has made a significant effort to combine digitalisation with sustainability.
"Automation at the new distribution centre is not about the products and logistics, but about energy efficiency. The building constantly optimises its energy consumption in relation to the weather, the energy price and the load of the electric grid", explains Mr Hintikka.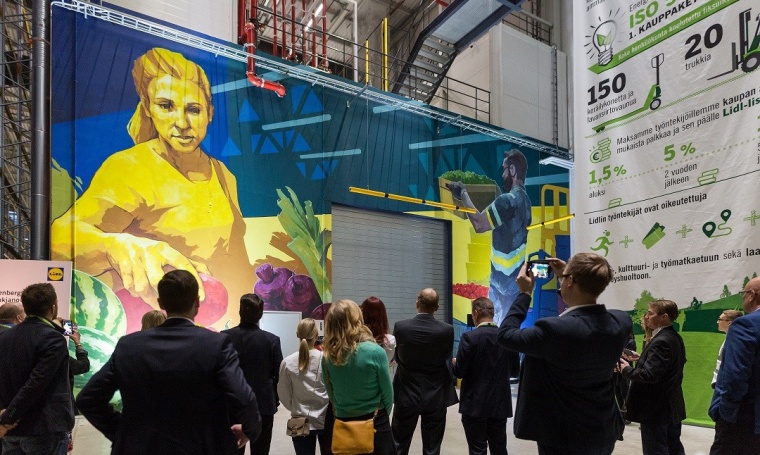 Visitors at Lidl's logistics centre in Järvenpää. Photo: Lidl Suomi Ky.
The centre has its own solar power plant consisting of 1,600 solar panels. Waste heat generated by the facility is fed directly to Järvenpää's district heating network.
"With the building automation system, Lidl is aiming for energy savings of up to 50%", says Mr Hintikka.
Lidl's low-price business model is often pointed to in connection with the company's sustainability approach.
"In the grocery sector, issues such as recycling, food waste prevention, and energy and material consumption have to be taken into account to ensure sustainable operations. Digitalisation and automation have opened up new solutions for these concerns," says Ms Maija Järvinen, CSR Specialist at Lidl. "And building certifications such as BREEAM contribute to making these efforts visible."
"We think that responsible products shouldn't be luxury goods – everyone should be able to afford them. We are making this possible through large volumes and clear, effective supply chain management. This way, consumers are not paying for inefficient operations", Ms Järvinen concludes.
Both the S Group and Lidl logistics centre have received financing from NIB. The first loan to S-ryhmän logistiikkakeskukset Oy was provided in August 2014 and extended in 2018. The loan to Lidl Suomi was granted in 2017. Both projects are financed with the proceeds of NIB Environmental Bonds.