A car rolling on the Hisingen bridge in Gothenburg. NIB is not only financing the bridge but also the electrification of the whole automotive sector. Image: Jukka Ahonen
16 Jun 2023
Gothenburg – the automotive industry on the move
Those who watched the iconic TV-series "Knight Rider" in the 1980s might remember when the artificially intelligent car KITT spoke for the first time and how it gave the driver Michael Knight a fright. When visiting the automotive industry in Gothenburg today, it is clear that the fantasy of the 1980s is becoming a reality ‒ the sector is undergoing the largest transformation since its establishment.
The vehicles of the future will be electrified, autonomous and connected. Soon we can just jump into a vehicle and relax. They will allow changing lanes and finding destinations without there even being a human behind the wheel.
Given that the electricity is produced from renewables, the vehicles of the future will also be more environmentally friendly than current ones. They are most likely to be in more frequent use, as more people will share them. Mobility will be regarded more as a service than a possession.
Spearheading the change
To get a grip of what might be coming, Gothenburg in Sweden is the place to be. It is the hub of automotive industry with long roots in manufacturing and innovation. The transformation will require investments in the whole value chain including renewable energy and battery factories.
Johan Trouvé, CEO of the West Sweden Chamber of Commerce, says that Gothenburg has become the economic engine of the whole country. Despite the pandemic and the war in Ukraine, the region is performing well.
Looking at the city from the rooftops of the Chamber of Commerce on a sunny day, one immediately sees multiple tall construction cranes against the blue sky. It tells us the story of a city in motion: "Something new is happening here every week. Something is being built. New companies are being established. Thousands of jobs will be created. The biggest challenge is to get enough competent workforce."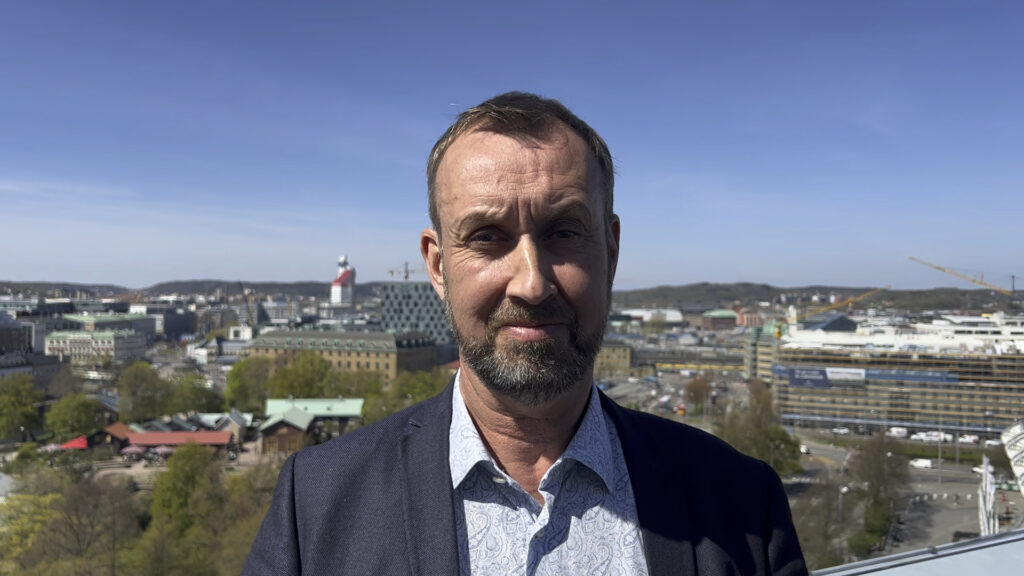 The main driver for growth is the automotive industry. "The automotive industry is the largest industry in Sweden. Gothenburg is the home of the two largest companies – Volvo AB and Volvo Cars. They are very important for West Sweden and for the whole country", Trouvé says.
Now the automotive cluster in Gothenburg is undergoing a huge transformation which aims at no less than the total electrification of mobility. This transformation is not only charging the industry, it is powering up the whole region.
The car of the future is electric and software-based
Volvo Cars was established almost hundred years ago in Gothenburg. On 14 April 1927, the very first series-produced Volvo Car rolled out of the factory gates on the island of Hisingen. Only 297 cars were sold – clearly less than planned as the cabriolet was not a big hit in harsh Nordic conditions.
Now, nearly 100 years later Volvo Cars is a big global brand. Since 1999 it has been separated from its former parent Volvo AB which is known for its heavy trucks, buses, and construction equipment. Last year 615,000 cars were sold, out of which 11 per cent were fully electric.
Volvo is promising even more for the future. The company is striving for annual sales of 1.2 million cars by the mid-decade, and at least half will be fully electric. By 2030, all Volvo cars will be fully electric.
"It is now widely accepted that the age of the internal combustion engine is coming to an end. After relying on oil for well over a century, the automotive industry is now entering a new phase", says Erik Severinson, Head of Strategy & Programme Management, at the headquarters of Volvo Cars.
"You need to recognise that all future growth in the automotive industry will be electric. For us, this is a very strategic decision. Being able to bring the right products at the right time and to take a big market share in a growing segment we will also fulfil our total growth plan and contribute to a more sustainable mobility service to all our customers."
Electrification is expected to bring more room for a vehicle's passengers. Software and autonomy make the car turn into an entertainment centre of sorts beyond the confines of immediate reality. The car may even be used as a working or meeting space. It could also facilitate leisure time, providing a base away from home. Furthermore, it can function as an energy storage device.
Volvo Cars see hybrid cars as a bridge technology for the next 5‒7 years. Technology is needed in particular if the charging infrastructure does not yet allow the use of fully electric cars. Hybrid cars also help to make customers more accustomed to electric cars in the future.
According to Severinson, the Nordics are in a strong position to lead the way in sustainable mobility: "We have a solid demand for electric cars. The Nordic countries are also among the most advanced in terms of providing sustainable energy sources. We have competent people. There are many growth possibilities. We need to be able to compete with the US and China to attract this industry to our part of the world."
We look through the window at the Volvo Cars headquarters. Severinson shows the spot where the company has decided to build a new battery plant together with Northvolt. The factory which is now in the permitting phase should start production in 2026 with a potential capacity of up to 50 gigawatts (GWh) per year.
One key asset of Volvo has always been safety. Already in 2007 the company set up a vision that no one should be seriously injured or killed in a new Volvo car.
Before leaving, we also pay a visit to the Volvo Crash Centre where on average one car is tested per day. The purpose is to simulate real-life car accidents with the goal of having no one killed in a new Volvo car. We see human dummies which are used in the tests. When the cars crash with different speeds and angles, dozens of ultra-high definition cameras document the events.
Next to the speeding tracks we see a red construction which looks a bit like an animal. We learn that it is indeed used when a car accident with a moose is simulated. This is a very important safety aspect in the Nordics!
Collaboration between businesses and research centres
The crash centre is part of Volvo Cars. However, the company is not innovating in vacuum. It has extensive research cooperation with Swedish universities, local sub-suppliers, and research institutes. A key player in the field is Sweden's state-owned Research institute RISE.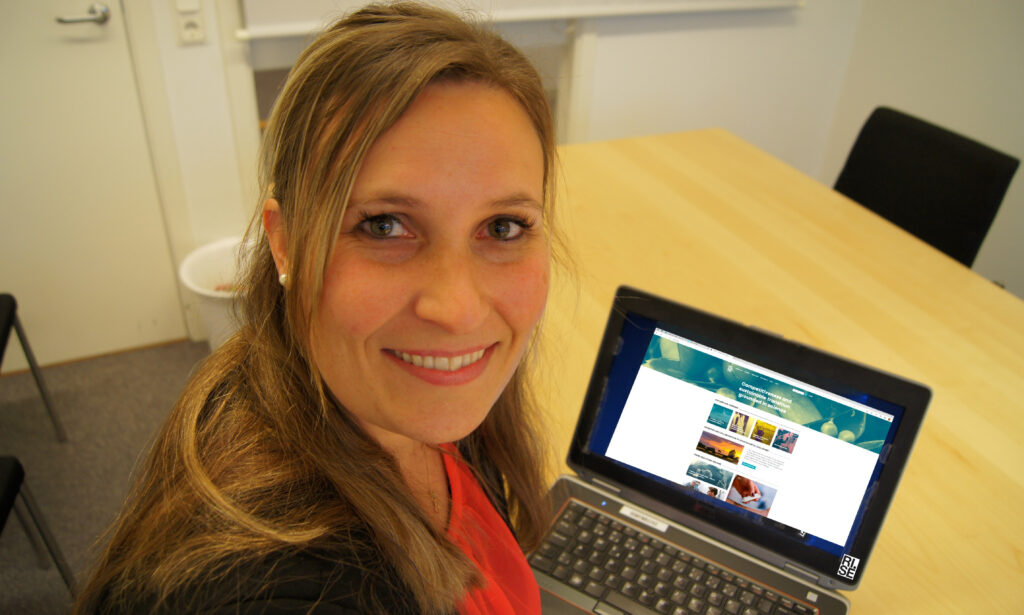 "The collaboration between the public and the private sector is extremely important for the transformation of the automotive industry. The sector is experiencing a significant change driven by technology advancements, environmental concerns and evolving consumer expectations. The collaborations help to address these challenges and seize the opportunity of innovation and progress", says Maria Rovik, Vice President Electrification and Reliability at RISE – Research Institutes of Sweden.
We pay our first visit to SEEL, which is short for the Swedish Electric Transport Laboratory. The special purpose company was established by RISE together with the Chalmers University of Technology in Gothenburg. The company's industrial partners are Scania, CEVT, as well as Volvo Group and Volvo Cars. They bring security that testing needs remain for years to come.
SEEL is a good example of collaboration between the private and public sector. The laboratory will provide a test centre for electrified transport.
"We received public money for this investment. This is the only way to build the facility as we have done. This makes sure that we can also accommodate academia. We are an open facility for everyone in Europe. In particular, this helps to support small and medium-sized enterprises in picking up new and innovate ideas that will support the industry as a whole", says Henrik Svenningstorp, the CEO of SEEL.
The laboratory is situated approximately 15 kilometres from the centre of Gothenburg, next to the old Säve airport. We walk towards the brand-new building which is almost ready to start tests. It will be taken into use in September 2023.
From the inside the facility looks like an engineer's dream with countless machines, cables, technical elements and details. "In this building we will be testing everything from charging systems, power electronics, battery cells, modules, packs and electrical motors all the way up to complete vehicles as well as heavy duty trucks and busses", Svenningstorp explains.
He continues: "We are now in front of a historical shift which is challenging for many companies, as well as academia and institutes. We are there to support and boost the shift that is needed in order to bring new products and to be competitive in Sweden and Europe. If we are successful here, the end-users will in the future see vehicles which are more energy and cost-efficient. Electrification is the way to go not only for passenger cars but also more and more in the heavy-duty segments."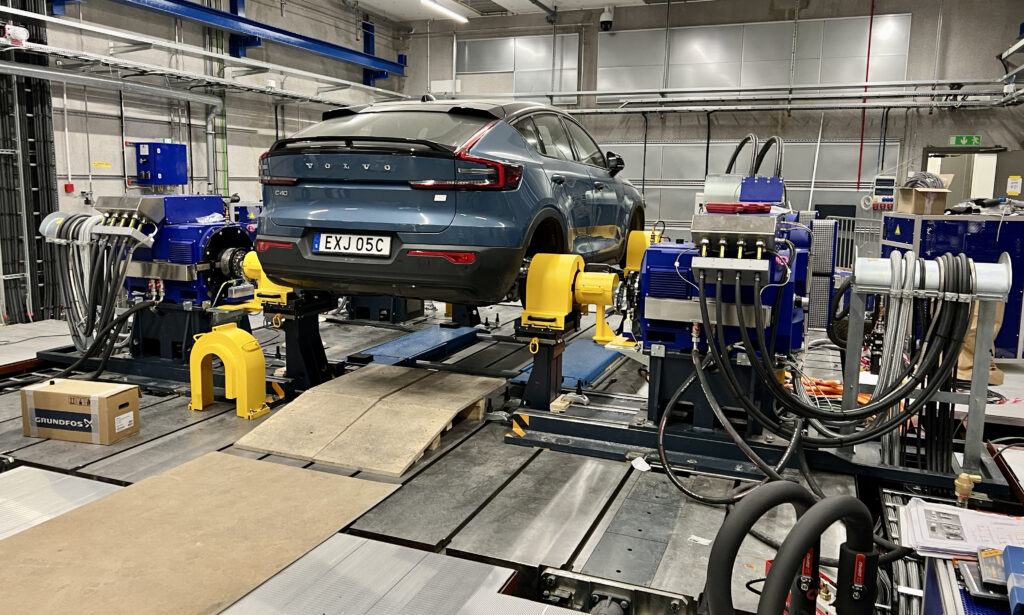 Automated vehicles are already here
The future of mobility is not just electrified, it will also be automated and connected. To get a view on that we need to visit another laboratory AstaZero, which is also partly owned by RISE.
AstaZero is a full-scale test environment for a safe, sustainable and automated transportation system. It is the first dedicated facility of this kind in the world.
The test site is situated in Sandhult. It consists of several indoor and outdoor tracks where safety systems and autonomous technologies can be tested in all kinds of traffic situations in both urban and rural environments.
The name is a combination of partly ASTA Active Safety Test Area and Zero, which refers to the Swedish Parliament's vision for road safety with zero dead and seriously injured in traffic.
Peter Janevik, CEO of AstaZero, greets us and first shows the map of the facility. A dominant feature is a six kilometre long road loop. Inside there are, for example, high-speed areas, a multilane motorway and cycle paths. Again, almost anything that a traffic engineer could dream of! "There are a lot of tests and research going on both on the automated vehicles and also on the systems needed around them such as automated charging", he explains.
Soon we will hit the road to see the testing field in reality. Photographing is not allowed as some business secrets could be revealed. Most of the roads look just like the regular ones we drive on every day and this is actually the whole idea. The environment should look natural. Suddenly, the sun turns to almost equally bright LED lights – and we find ourselves in a 700-metre tunnel which is the world´s longest indoor testing track. Soon, we are outside again and visit more testing grounds where cars and trucks are moving and approaching different objects such as dummy cyclists and other vehicles.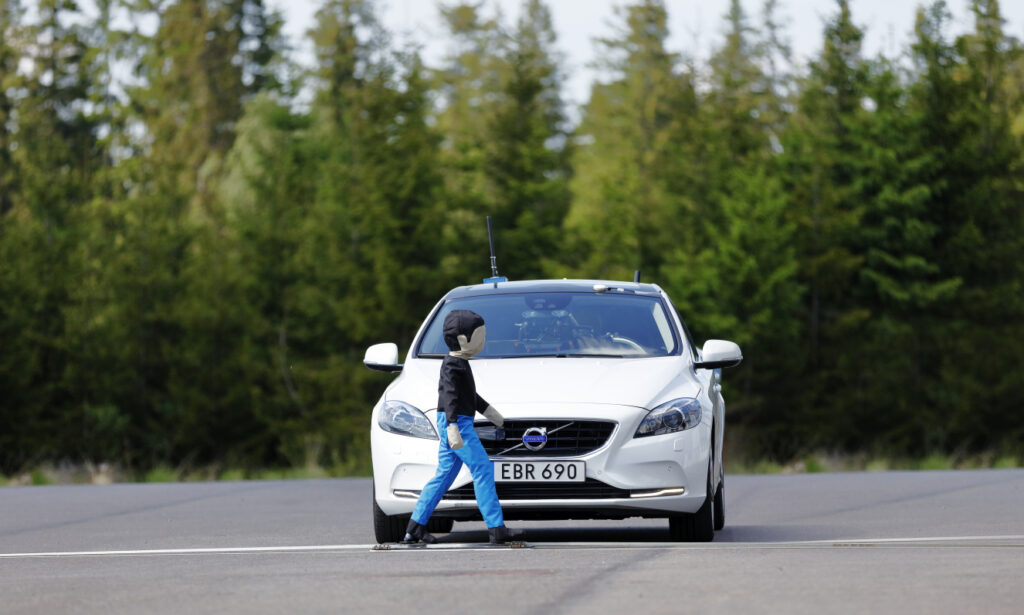 What we see during the tour will be trickling into our lives more and more. Janevik says, "In some confined areas they are already operational like in Norway (Brønnøy Kalk mine). There are also small vehicles which carry cargo and goods to people (such as the Estonian Starship). In a couple of years we will also see robot taxis."
Smooth ride?
The direction is clear but is it going to be a smooth ride? At least the road becomes a bit bumpy as we go from the asphalt to gravel.
"The challenge for the whole industry is to be able to prove that the systems are as reliable and safe as needed. There is so much testing that needs to be done! This is a big challenge in itself."
What about humans? Michael Knight got really scared when his car KITT talked to him for the first time.
"If you have been driven by an automated car, the experience is like having a taxi driver. You trust somebody that you don't know but they have been qualified for certain work. This is exactly what the automated cars will be as well. Maybe it feels a bit new the first time, but after a while it will not be different than using a monorail at the airport between the terminals", Janevik says reassuringly.
All of this should lead to more sustainable and safe traffic. After listening to Janevik, I start to think that the KITT car in Knight Rider has already become a relic from the past. Janevik is of the generation which remembers the smart fantasy car well.
"At least some of the jokes that KITT made belong to the past. Some things that KITT could do, such as interacting with humans, can already be done. Others – like independent thought and action are harder to realise. There will be a mix and it will happen, but in a different way than KITT embodied", Janevik concludes.
The Nordic Investment Bank has financed Volvo Cars, Northvolt, SEEL and Asta Zero with its long-term loans.