David Bolder in front of the headquarters of the World Bank Group in Washington D.C. Photo: David Bolder.
26 Aug 2022
Chasing mathematical problems
David Bolder has dedicated his career to chasing corporate puzzles, and then write about and publish his approach and solutions. At the Nordic Investment Bank (NIB), he has applied mathematical concepts to rethink the Bank's economic capital framework. David, who recently left NIB as Head of Model Development and Economic Capital, is currently leading the World Bank Group's model risk function in Washington DC.
What attracted David to NIB in July 2019, then working his second stint at the World Bank, was a challenge to rethink NIB's economic capital framework. Coming from large global international financial institutions (IFIs) such as the World Bank and Bank of International Settlements, he was drawn to NIB.
"NIB, with a meagre 200-odd employees located in Helsinki, manages a balance sheet of over EUR 35 billion, which essentially is a medium-sized IFI with a workforce of a small-sized IFI. It's fair to compare that to a welterweight boxer fighting in the cruiserweight class. Other than the challenge itself, that is what I admired about NIB."
His "factory" of five employees within NIB collects raw data from the financial markets, cleans and quality assures that data, then plugs the data into their models to calculate an array of metrics to answer questions related to asset risk, liquidity, and leverage. These metrics guide senior management to steer the bank's strategic direction and to report to the control committee and external stakeholders.
Dave was also involved in the organizational restructuring process of the risk and compliance department away from the finance and treasury function.
"The objective was to create a distinction between the first and second line of defence at NIB. The first line of defence was the people that are taking the risk, while the second line of defence are those controlling the risk."
On his passion about mathematics and solving practical problems
Raised in Sault Ste. Marie in Northern Ontario, Canada, Dave had not foreseen himself building a career at IFIs during his university days in Vancouver where he studied mathematics and operations research. It was not until a professor recommended him to a research position at the Bank of Canada that the stage was set for the rest of his career.
"Many people study at university for many years, and they then go to work and never directly use the concepts they have studied; but for me, there are many core ideas from university that I still use every day," says Dave.
On his book: Modelling Economic Capital
It was during the time NIB updated its statutes including the adoption of a risk-based comprehensive framework for capital and liquidity management that Dave was tasked to revisit and modernize the bank's economic capital methodologies, particularly on the credit risk side.
"Six months into the job, I already started writing down a lot of things that I did as we went through an extensive validation exercise and made changes to the model," says Dave.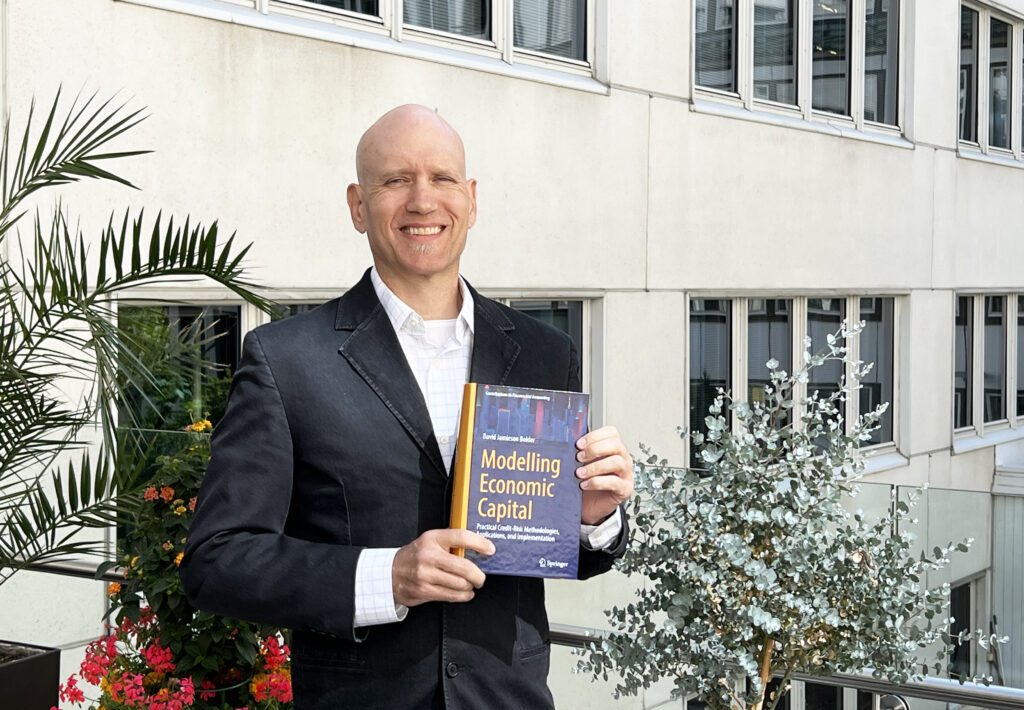 It was the former Chief Risk Officer of NIB who told David: "Dave, if you put this all down on paper, you should write a book." Two and a half years later, he published Modelling Economic Capital.
Memories at NIB
When Dave came to Helsinki, he came with his wife and 16-year-old son who immediately fell in love with the city. With his son approaching university, Dave knew from the start that three years was going to be a point of reflection, not to mention a challenge for his wife, a teacher, who would have to navigate the qualification requirements to continue her teaching career in Finland, which required additional years of studies. Hence, it was natural for him and his family to return to North America.
Looking back at his time at NIB, he will always remember the idea of being able to tackle an interesting and challenging multi-faceted piece of the puzzle and the opportunity to work on it with an excellent team.
"I was fortunate to have some very talented, committed, and competent young people working for me, and to the best of my ability I was able to form them into a team. At the end of my time at NIB, I was proud of how well that team functioned. For me, that was the most meaningful experience: working with other people, seeing them develop, seeing them contribute in a positive way and build something together. I'll never forget that."
Role at the World Bank Group: Previously a player, now a referee
Now at the World Bank, Dave is responsible for the model risk governance function. Models themselves are created by humans and are a source of risk. His task is to validate models, manage model inventory, and supporting model owners.
"At NIB, I created models together to build a framework. Now I am overseeing other individuals' models from all four divisions of the World Bank Group and giving my two cents worth. That's quite fun, because I get to see a lot."
NIB's position relative to other IFIs and NIB's outlook
According to Dave, NIB is essentially like the International Finance Corporation, which is immense compared to NIB, but has many similarities in terms of market-based pricing, lending to corporates, non-sovereign governments, as well as governments. It can do the whole gamut.
"NIB has quite a footing in the corporate sector, so they are not as countercyclical as traditional development banks. However, increases in interest rates and widening of credit spreads presents a countercyclical additionality for NIB to utilize its position as an IFI and AAA/Aaa ratings to continue to borrow at relatively low rates. Clients can benefit from a relationship with NIB, which can pass on some of the savings from the credit intermediation."
What will Dave miss most about NIB and Helsinki?
As we wrap up the interview, Dave mentions that he will miss his team at NIB the most. "It's very rewarding and challenging to be responsible for this whole factory from the methodologies to the framework and briefing various levels all the way to the Executive Committee and the Board of Directors. That's clearly something I'll miss because here I kind of jump from one model to the next, I don't have a fixed responsibility other than the whole collection of models. There, in Helsinki, I had a level of ownership I guess that I don't have here so I know I am going to miss that."
Dave will also miss Helsinki's bike lanes, which have been a large part of his commute to NIB's office, a commute he will probably not replicate now in DC as it's just not as safe.
His admiration for NIB strengthened during his time here in Helsinki. "It's really amazing what NIB does in such a lean and focused way."