The capacity of cement kilns usually defines the capacity of a cement plant. Photo FLSmidth
26 Jan 2023
Building a New York in terms of cement every third day
"Windmills require cement, steel, copper, aluminium, raw earth elements and all these comes from mining. It is the same for electrical cars. We will need the same amount of copper in the next 50 years as we have used in the lifetime of humanity, so the transition to a low-carbon society is heavily dependent on cement and mining," says Wouter de Groot, Vice President Sustainability, Marketing and Public Affairs at FLSmidth, adding "That is why we need to get it right."
FLSmidth is a Danish engineering, equipment, and services company that supplies productivity improvements for the global mining and cement industries. Recently, it announced an ambitious sustainability programme to reduce emissions in its cement and mining operations to zero by 2030. To help achieve MissionZero, as the programme is called, FLSmidth has secured a sustainability-linked loan from NIB.
"For us, it is important to send a message to the financial community with this sustainability-linked loan, saying here's how one can improve the performance of hard-to-abate industries by putting money behind green technology," Wouter de Groot says.
"So far, the signal that this loan has sent, also to the people in our organisation, is phenomenal."
FLSmidth's operations span the globe, and the company has more than 12,000 employees in more than 60 countries.
Ambitious targets
In October 2022, NIB and FLSmidth & CO A/S signed a seven-year EUR 150 million sustainability-linked loan. The loan is linked to FLSmidth's sustainability performance and climate targets and creates financial incentives if it reaches them. The three targets are to become carbon neutral in its own operations by 2030, to direct 30% of the spend to suppliers with similar decarbonisation targets and to reduce downstream scope 3 GHG emissions 56% per revenue from use of sold products.
"We will now deliver on MissionZero as we have promised, and the target agreed with NIB, as those go hand in hand. These people know their stuff and ask the relevant questions. We had detailed discussions on how a target can actually transform your business, or not, and that is actually what we want," Wouter de Groot says.
"The fact that cement and mining combined contribute to more than 10% of the global CO2 emissions in the world—which is more than shipping and second after steel production—makes this a huge opportunity."
"The mining and cement companies are not the greenest of companies by their very nature, but they do understand what is needed to reduce costs and meet regulations in order to keep their licence to run. Globally, we are building another New York in terms of cement every third day, and 75% of the buildings standing in 2025 have not yet been built. Therefore, the mining and cement companies are on the lookout for those who can supply the technology with the best figures, and that's why we are here."

Wouter de Groot, Vice President Sustainability, Marketing and Public Affairs at FLSmidth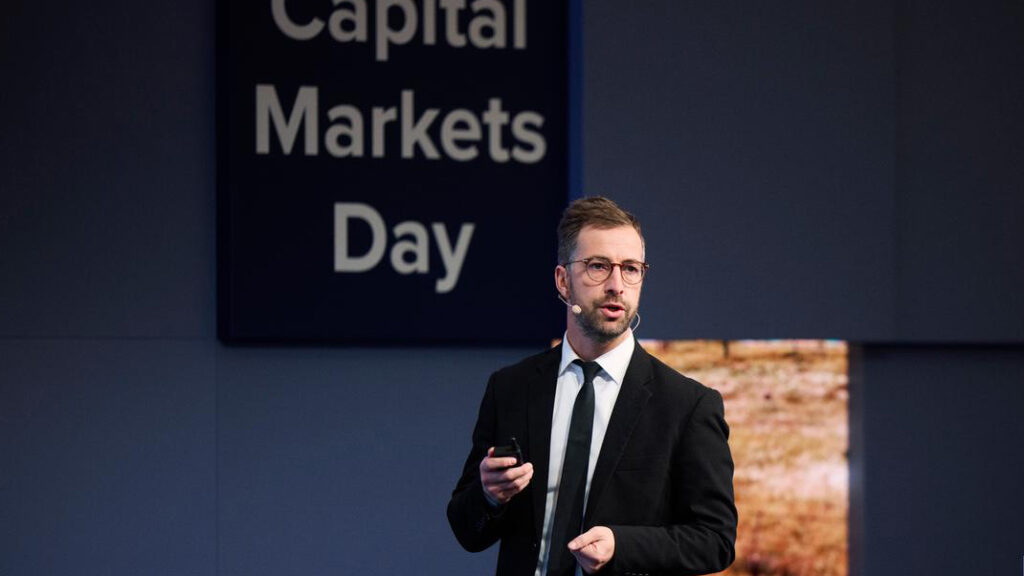 Reaching the targets
"We have essentially promised that FLSmidth will have a shop, where you as an operator of a mine or a cement plant, can find all the technologies and competencies that will enable you to do this by the 31 December 2030," Wouter de Groot says. "That is essentially our philosophy."
The proceeds from the sustainability-linked loan will mainly go to fuel FLSmidth's R&D investments.
"Today, roughly 60% of our R&D spend is going to sustainability, so the coming years will to a large extent drive further investments in cement and mining R&D related expenses. We are trying to fill up the shelves in our shop, and then apart from the funding, it is of course also to reach targets that further helps us and drive progress."
In order for FLSmidth to become carbon neutral in its own operations by 2030 (scope 1), the main measure is to buy renewable electricity and improve processes. For the company's scope 2 emissions, which are indirect emissions from the generation of what it purchases, it aims to engage with emission intensive sub-suppliers to direct 30% of its spend on those with similar decarbonisation science based targets for their own operations by 2025. In 2021, that ratio was 5%.
"We purchase a lot of steel and increasingly we want to purchase that steel and those raw materials from suppliers that have similar goals to reduce their emissions."
Lastly for its scope 3 emissions, which are a result of its own activities but occurring from sources not owned or controlled by itself, FLSmidth will increase its sales of less-polluting equipment relative to its sales by 56%. So, what does that mean? Wouter de Groot explains this ratio of economic intensity as follows: "If we would sell 10 pumps with annual usage emissions of 10 kilograms during the first year, total emissions would be 100 kilos. If the next year we sell the same amount of pumps, but two of them come from a supplier that has invented a pump that is twice as energy efficient and emits only 5 kg, we would lower emissions to 90 kg in that second year. We defined these emissions by revenue, stating the associated emissions for every Danish krone we sell for."
"Last year we sold a clay mixing solution a cement customer, which cut emissions by 40%. If every cement blender in the world would adopt this technology, you could cut global CO2 emissions by 3%. I don't think there was anyone else last year that introduced a technology that can cut CO2 emissions by 3% overnight," says Wouter de Groot.
MissionZero
Wouter de Groot compares FLSmidth's MissionZero with the task of "putting a man on the moon".
"We quickly realised that we could not do this on our own in the time given to us. In our industry, the time between an idea and a product actually hitting the shelves can take ten years, so we needed to find partners that were already part of the puzzle with whom to team up and bring these products faster to the market."
An important aspect of MissionZero is to get people engaged.
"When engineers see a problem, they go and solve it. Some of our engineers felt we were being too ambitious, and that what we were promising was impossible, so once when introducing this programme at FLSmidth, one of our process engineers stood up and said it was a really nice story, and that 'here in Denmark we have a story about the emperor who never found good enough clothes and ended up naked on the streets. That was the kind of reaction we got sometimes, but since that introduction we have mostly seen the demand grow for these products and services," says Wouter de Groot.