New schools and public buildings in Knivsta are being constructed according to the passive house concept. Image: Knivsta Municipality
23 Nov 2017
Active planning for passive houses in Knivsta
In Sweden, it is not just larger cities that are expanding. The small town of Knivsta has been experiencing some of the strongest population growth, in percentage terms, in the country. Providing a sustainable living environment for the growing number of inhabitants has become a priority for the municipality.
About half an hour north of Stockholm lies the municipality of Knivsta, a town with a population of around 17,000. At first glance, it may look like any other small town in Sweden, yet Knivsta has started a number of remarkable initiatives for its community that gained it international attention.
Its convenient location right in the middle of the growth region of Stockholm and Uppsala, just ten minutes away from Arlanda international airport, has made the former railroad town popular with commuters. In 2015, Knivsta was identified by Statistics Sweden as the fastest-growing municipality in the entire country.
In an interview with NIB Newsletter, Simon Granit, CFO of the municipal real estate company, and Kent Ryberg, the manager responsible for business growth, discuss the challenges and opportunities that come with rapid population increase in a small town.
"In 2013, the municipal council unanimously decided that Knivsta is to become a pioneer in energy-efficient urban development, with a focus on preserving open space and the environment", Mr Granit explains. "This is also in line with Sweden's national strategy for sustainable regional growth."
"Knivsta is expanding rapidly, and is showing no signs of slowing down. It's mostly young families that move here, so today the population has an average age of 37", Mr Ryberg adds.
"Our mission is to keep up with this growth, and to provide people with opportunities, attractive living environments and access to public services. We are working on a number of projects to strengthen the quality of life that people desire."
Energy-efficient schools for social cohesion
A recent long-term loan from NIB is supporting the municipality's efforts and will finance the construction of new pre-school and primary school buildings, as well as sports and cultural centres, with space for up to 960 children.
"We estimate that the demand for enrolment in primary school will increase by 30–40% until 2030. The new schools will promote self-directed learning activities and foster integration, which is essential for social cohesion in a growing community", Mr Granit explains.
The facilities are constructed in line with the passive house standard for energy-efficient buildings.
"The passive house method implies that due to the level of insulation and effective ventilation of the buildings, they will require little energy for cooling and heating", he says.
"The main building material for the schools is wood, which has excellent thermal insulation properties. We had to adapt the construction design accordingly, but the use of wood significantly reduces the CO2 footprint of the buildings and supports better indoor air quality, which has clear health benefits."
The town's middle school, Högåsskolan, which opened in 2015, was also constructed according to the same passive house design principles, as were entire residential neighborhoods in Knivsta.
"The passive house concept has suited our needs quite well, in public and residential buildings alike. We are already seeing benefits in the lower costs for heating in winter and cooling in summer, and are usually experiencing fewer problems after the construction is completed", says Mr Ryberg. "Several new housing projects are on the way."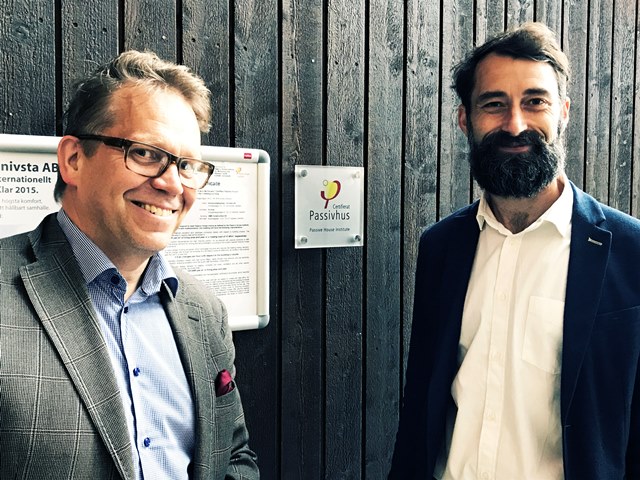 Tore Emanuelsson (NIB, left) and Simon Granit (Knivsta municipality) in front of the Passive House certification at Högåsskolan.
Global place branding
Most recently, in September 2017, Knivsta was listed in a proposal by Peter Eriksson, Housing Minister of Sweden, for the establishment of nine new sustainable urban areas and cities. The idea is to provide the growing population with eco-friendly homes and public infrastructure.
Knivsta's urban planning is also receiving attention from abroad.
"This October, the first international passive house conference was held here", Mr Ryberg says. "The concept originated in Germany, and experts in the field of energy and sustainable construction from all over Europe came to Knivsta and participated."
"We had to put very little money into marketing ourselves; our location and our growth policy have done that for us. Working with NIB in this context was another form of recognition for our development strategy and the environmental work we are doing. In the end it was what has contributed to a better loan deal for us", says Mr Granit.